05 June 2020
Everything You Need to Know About the New mySolarEdge App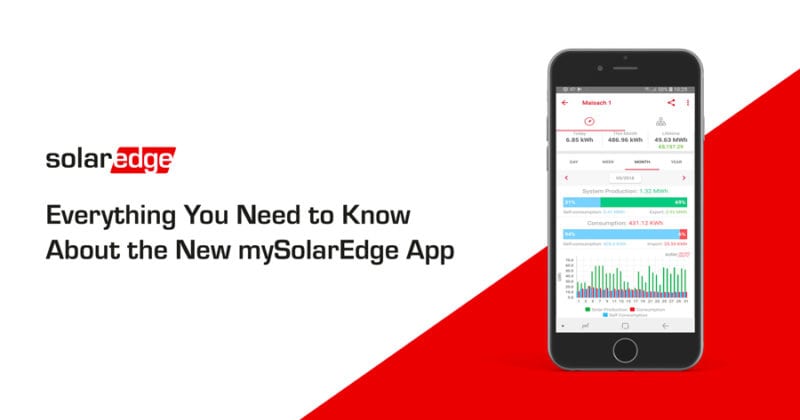 The mySolarEdge app is a new monitoring app for residential and commercial system owners. The app incorporates all the same monitoring functions as the original SolarEdge Monitoring app, with the addition of some key new self-service features.
The original Monitoring App is slowly being phased out and will become limited to solar professionals only, so it is advised users change over to the new mySolarEdge app as soon as possible.
Benefits of the mySolarEdge app
Thanks to the new self-service capabilities, SolarEdge system owners can quickly and independently resolve standard system issues, rather than requiring a site-visit from a technician. This allows system owners to have less reliance on their installers and reduce the time it takes for issues to be resolved. Full access to these self-service capabilities is only available to those with screen-less LCD inverters (also referred to as a SetApp-enabled inverter). However, system owners with older inverter models will still be able to access the mySolarEdge, but may not be able to access these functions.
In addition, the mySolarEdge app allows users to independently change their Wi-Fi password and connection settings, rather than needing to go through their system installers.
The mySolarEdge app has several other benefits including:
Gain real-time visibility into your energy use and production
Compare today's production to past measurements
Track your system's performance with mobile-optimised features
Control home appliances remotely
Set smart schedules to maximise your energy savings
Manage your EV charging from anywhere
Getting started with the mySolarEdge app
Setting up your mySolarEdge app is easy. Simply follow the below steps:
Download mySolarEdge for free on iPhone (App store) or Android (Google Play store).


Please note, to be able to use mySolarEdge, you must have Apple iOS 11 or higher or Android version 6 or higher.
Log-in to mySolarEdge:
Existing SolarEdge Monitoring users:
Log-in to the app using your existing SolarEdge monitoring username and password. If you can't remember you login credentials, please contact your installer.
New to SolarEdge/don't have a SolarEdge Monitoring account:
You will need to register for a new account. Please contact your installer to set up your account.
All historical data from the original SolarEdge Monitoring app will be automatically migrated over and displayed when users change to the new mySolarEdge app.
How to use the mySolarEdge app
The mySolarEdge app essentially uses the same platform function and layout as the original Monitoring app, with the addition of three new features:
Change Wi-Fi password
View inverter status for inverters without an LCD screen
Access Support Centre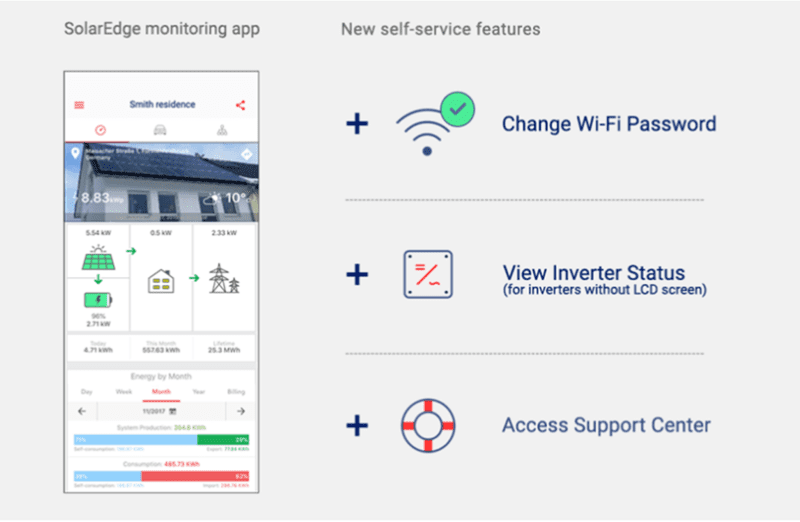 The following videos explain how to use and understand your mySolarEdge app:
mySolarEdge Overview and First Log-In: See how you can monitor your site, operate smart energy devices and troubleshoot communication issues directly from your mySolarEdge app.
Checking the Inverter Status Using mySolarEdge: Connect your mobile phone directly to your inverter to view the production status of your SolarEdge system, even if you are not connected to the monitoring platform.
Configuring the Inverter Communication Using mySolarEdge: Learn how to reconnect your SolarEdge inverter to your home Wi-Fi router, in cases where the Wi-Fi password or your internet provider have been changed.
We hope you found this information helpful. If you have any issues, please visit our Support website here.

back to blog