10 April 2017
Heat Pumps as an Alternative to Battery Storage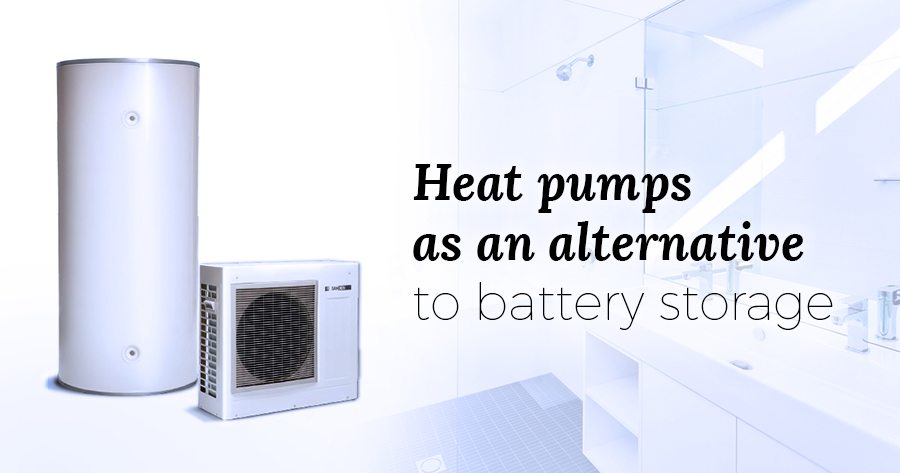 If a brand new battery storage system is out of your price range, don't worry – a hot water system may be your next best bet.
When operating at peak performance, many solar PV systems generate more electricity than their household can use. When this happens, the system's inverter exports any excess electricity to the grid.
In the early days of solar the majority of homeowners were more than happy to export this excess, receiving a feed-in tariff of up to 60 cents per kilowatt hour or unit of electricity. Since 2011 however, this feed-in tariff was reduced to just 7 cents per kilowatt hour in WA, and even less in other states.
Because homeowners are forced to purchase this same electricity back from the grid for 26 cents per kilowatt hour when the sun isn't shining, many are unsurprisingly looking for ways to limit the amount of electricity they sell back to the grid.
While doing everything you can to maximise the use of your solar electricity during the day is one strategy, alternatives like battery banks and EVs to store electricity for usage later on are becoming more popular.
Although efficient, these alternative technologies can be pricey, and in terms of payback periods, may not yet stack up. This is where hot water systems like Heat Pumps come in.
Heat Pumps


Hot water makes up around 20% of all electricity usage in Australian homes, making it one of the largest demands on your energy consumption.
While most Australian homes have gas, electric, or rooftop solar thermal water heaters, Heat Pumps are growing in popularity.
A Heat Pump is basically a refrigerator in reverse. Through efficient compressor technology, it utilises ambient energy around the unit to heat the water stored inside the storage tank. Heat pumps use a refrigerant with a boiling point well below that of water, therefore, even if it's cold outside, it's still warm enough to cause the refrigerant to boil.
Heat Pumps used one-quarter of the energy an electric water heater uses, making them highly energy efficient.
Heat Pumps as "Battery" Storage
By using built-in timers, it's possible to ensure the majority (if not all) of the heating in your Heat Pump takes place during the day when your solar PV system is generating electricity. Using only solar electricity to power your heat pump will provide a near 100% offset.
Your Heat Pump will heat water and store it in your tank for free use later on, not dissimilar to how excess electricity is stored in a battery.
According to Renew Economy, this could boost the value of your excess electricity by at least five times. This is due to gas now costing more (per equivalent unit of energy) than what electricity retailers would pay you for your feed-in tariff, and Heat Pumps being 450% efficient, when compared to gas water heaters which are just 70% efficient.
How Much Excess Solar Energy Do I Need?
To heat the average sized 300L Heat Pump, around 3.5kWh of excess solar electricity are required every day.
To find out if your system is exporting at least 3.5kWh per day, simply take a look at your latest electricity bill. If your feed-in tariff value was more than $15 for a two-month period (60 days x 3.5kWh x 7 cents = $14.70), you should be fine.
Instead of paying more than $600 on gas heating per year, use your free excess solar energy instead. Valued at just $90 per year according to your energy retailer (365 days x 3.5kWh x 7 cents = $89.43), switching to a Heat Pump will result in savings of nearly $500 annually.
Heat Pumps – The Bottom Line


While $500 savings annually sounds great, the above figures do not take into account the upfront cost of a Heat Pump.
Thankfully Heat Pumps are entitled to government rebates otherwise known as STCs, just like solar. Purchasing a system like a 315 Litre Sanden Heat Pump Tank would generate savings of around $1,100 off the upfront cost of the unit.
While batteries may still be too expensive/unfeasible for some homeowners, Heat Pumps present a great way to store excess solar energy, and receive significant savings.
For more information about Heat Pumps, and if they're right for your home, click here for a no obligation callback.

back to blog