17 August 2020
Infinite Energy Awarded ISO 45001:2018 Certification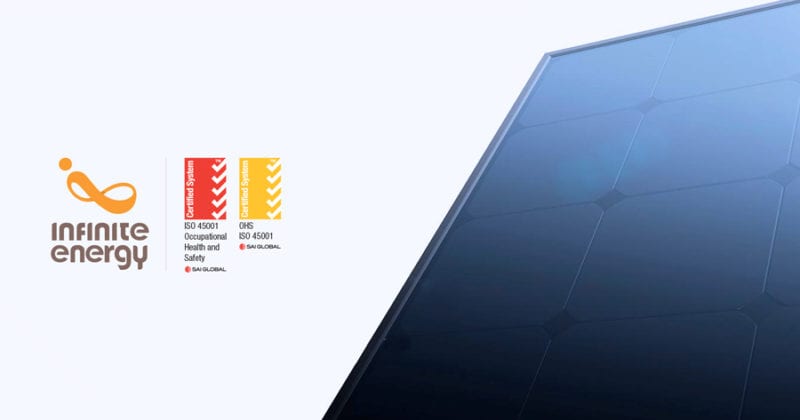 Ensuring the health and safety of our staff is paramount to our business and we are constantly striving to improve our Occupational Health & Safety (OH&S) management systems. One of the key ways we do this is by ensuring we operate our business in a way that abides by international safety standards. Earlier this month, Infinite Energy proudly received certification for ISO 45001:2018; the new international standard holding organisations and individuals responsible for safe work systems.
This standard brings great improvements to safety within the workplace and is an upgrade to our existing AS/NZS 4801:2001 certification.
Infinite Energy has been awarded the ISO 45001:2018 standard for design, quoting, project management, supply and installation of commercial solar PV systems.
About ISO 45001
ISO 45001 is a recognised International Standard that outlines requirements for specific occupational health and safety (OH&S) management systems. The standard provides organisations with guidance to develop their OH&S systems, allowing for improvement in preventing workplace injury as well as quality control. 
ISO 45001 is applicable to  organisations of any size or industry.
Having our Occupational Health and Safety Management System conformant to this standard helps Infinite Energy to:
Provide a safer and healthier workplace for all employees, contractors, customers and visitors;
Increase productivity and efficiency through fewer workplace incidents and downtime;
Increase customer confidence, through a proactive approach to the safety and health of personnel;
Reduce safety and health hazards and risks in the workplace through worker consultation and involvement;
Improve competency of personnel through increased awareness; and
Complete all projects, including solar installations, to the highest safety standards, protecting our business and our clients.
If you would like anymore information on how we implement OH&S into our workplace, or would like a free, no obligation quote, please contact us today.

back to blog