02 March 2020
Infinite Energy Becomes a SMA PowerUP Partner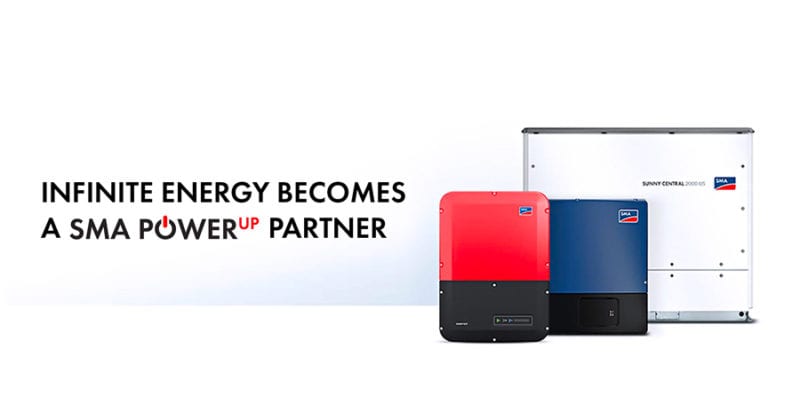 Infinite Energy is excited to announce we have recently become a SMA PowerUP Trusted Solar Energy Partner! This highly regarded partnership is a testament to our close work with SMA and providing reliable, trustworthy products and advice to our customers.
The SMA PowerUP Partnership involves providing participating partners access to special offers which can be passed on to our customers, exclusive training as well as support in sales and business development directly from SMA.


 What does this mean for you?
The partnership provides several benefits for both our customers; .
Extra -year warranty upgrade: Infinite Energy customers will enjoy an extra 5-year warranty upgrade on SMA inverters, free of charge.
Free system monitoring: This extra warranty will also provide SMA residential customers with free monitoring through SMA Smart Connected for the warrantable life of the inverter. The monitoring is conducted by SMA technicians 24/7, allowing you to receive real-time updates on any events that may affect system performance. If an error occurs, the technician minimises the downtime of the system.
Better advice and support: The partnership will also provide Infinite Energy sales consultants in-depth training to acquire technical support skills, sales training and up-to-date product information, ensuring better knowledge and sales advice for you as a customer.    
About SMA
SMA was established in 1981 and is a globally recognised leader in photovoltaic inverters, a key component in all PV systems. SMA have a proud history built on quality, innovation and reliability. For over 35 years, SMA have grown their business, with operations in Germany and China, including subsidiaries across 20 countries and 4 continents. The company is headquartered in Niestetal, Germany.
SMA's technology has won multiple awards and is protected by more than 1,200 patents and utility models. The global leader offers a wide range of products and solutions for both residential and commercial applications, as well as large-scale PV power plants. Intelligent energy management, digital energy solutions and comprehensive services and operational management of PV power plants are also included in SMA's product range.
If you would like any further information on our product range from SMA or would like a free, no obligation quote for a solar PV system, please contact us today.

back to blog