06 October 2017
Infinite Energy Launches Sonnen Solar Batteries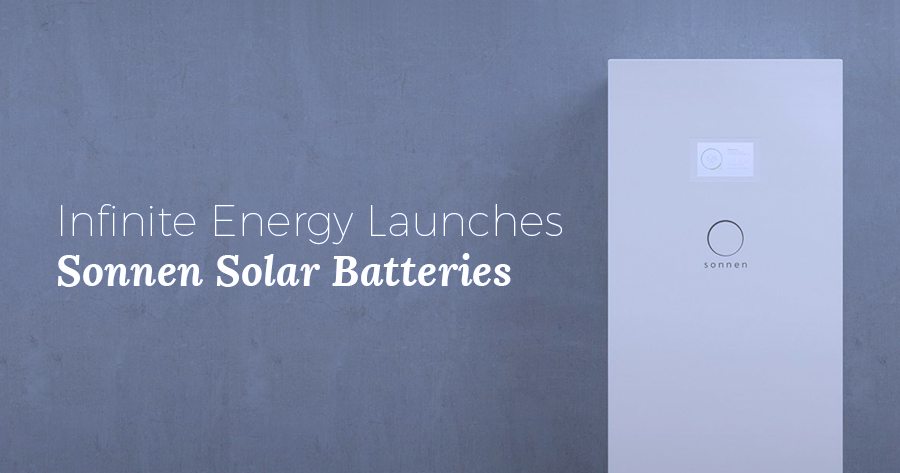 About Sonnen
 
Headquartered in Wildpoldsried, a Bavarian village that is already running on 100% renewable and clean energy, Sonnen is Germany's number one lithium-storage system manufacturer.
Founded in 2007, Sonnen works with a mission to help the world transition to energy sources free from carbon-based emissions within the next 10 years.
In Germany, Sonnen already utilises innovative digital technology to interconnect thousands of people to share their excess energy on a non-profit basis, and hopes to accomplish the same in Australia.
Infinite Energy is proud to add Sonnen's solar battery (sonnenBatterie) to our stellar lineup, giving our customers access to one of the most economical battery banks on the market today.
About the sonnenBatterie


Built in Germany, the sonnenBatterie is an intelligent storage system designed to store excess solar energy, and automatically adjust the electricity usage in your household to maximise energy independence from the grid.
When installed in combination with a solar PV system, a Sonnen solar battery can help reduce your former grid usage by up to 75%, resulting in significant savings.
sonnenBatterie is compatible with both single and three phase homes.
Long Lasting


Designed for a minimum lifespan of 10,000 charging-cycles, Sonnen solar batteries boast one of the longest lives of any residential battery bank.
Guaranteed for 10 years, you can rest assured your sonnenBatterie will supply you with clean energy for many years to come, protecting your family from inevitable electricity price rises.
Safe and Reliable
 
Sonnen solar batteries are manufactured using Sony's new generation of lithium iron phosphate (LiFePO4) batteries. Commonly used in smartphones, laptops and electric cars, Sony lithium iron phosphate batteries are safe, reliable and proven to perform.
Offering a greater longevity and higher safety than most other lithium-ion batteries, lithium iron phosphate also stands out as the only battery component that occurs naturally and does not contain any toxic heavy metals.
Easy Installation
 
With a built-in battery inverter, intelligent energy manager, measurement technology, and complete operating software, a sonnenBatterie comes as a complete system.
This means that in contrast to competing battery storage systems, Sonnen solar batteries are ready for connection instantly, making for a quick and easy installation process.
Easy to Monitor


The sonnenApp allows you to check your energy usage and production anytime, anywhere.
Giving you the ability to easily monitor, analyse and control the supply and demand of your household, the sonnenApp allows you to take complete control of your energy usage.
Flexible Sizing


Because every home has its own specific electricity needs, Sonnen solar batteries have been designed as a multi-stage storage system that can be adapted to suit the most specific and diverse energy needs.
Sonnen batteries can store 2kWh of electricity per unit, and can be expanded in blocks of 2kWh up to 16kW, giving you greater flexibility than competing batteries.
This means you don't have to waste money on excess capacity you won't use, and if you decide you'd like to increase your storage in the future, you can easily do so.
Easy Retrofit


Because Sonnen solar batteries are AC coupled and come with a built-in battery inverter, they can be easily retrofit with existing solar PV systems.
This means if you already have solar PV, you can install a sonnenBatterie without touching your existing system.
Specifications
 
| | |
| --- | --- |
| Specs | sonnenBatterie |
| Dimensions | 69.5cm x 70cm x 22cm (H x W x D) |
| Storage size | 2kWh – 16kWh (expandable in steps of 2 kWh) |
| Output | 1.5kW – 3.3kW |
| Lifespan | 10,000 charge cycles |
| System intelligence | With the use of predictive charging you maximize your PV output |
| Warranty | 10 years or 10,000 cycles, whichever comes first |
sonnenFlat


An energy tariff exclusive to sonnenBatterie owners, signing up for sonnenFlat will mean you receive a guaranteed amount of electricity for a low monthly fee. In return, some of the electricity stored in your sonnenBatterie will be used to assist in the stabilisation of the electricity grid.
You new sonnenFlat monthly bill will replace both your normal electricity bill and fixed supply charge, meaning significant savings for your household.
sonnenFlat has enjoyed overwhelming success in Germany, and will be available in Australia shortly.
With over 30,000 installations worldwide, Sonnen solar batteries are one of the smartest and most economical batteries available today.
For more information on sonnenBatterie, give us a call on 1300 074 669, or request a call back by clicking here. 

back to blog