30 April 2020
Infinite Energy Launches the New SENEC V3 Hybrid Battery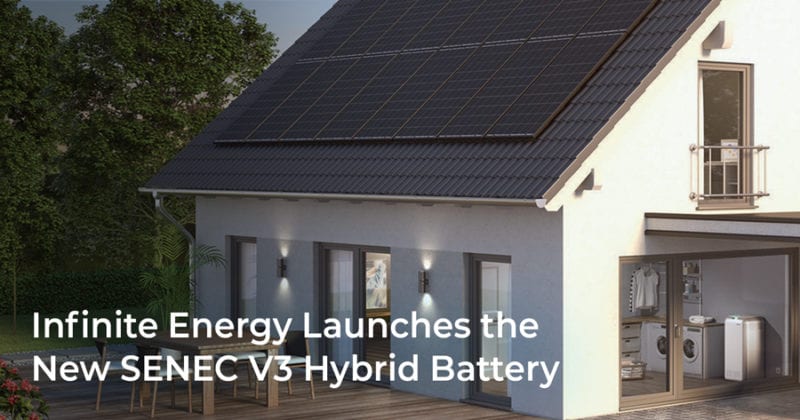 Infinite Energy has recently introduced an exciting new product to our battery selection - the SENEC Home Version 3 battery.
The SENEC battery is an intelligent, all-in-one-system. It contains a hybrid inverter, which is capable of managing both the electricity output of solar panels and charging a battery system, rather than requiring two separate inverters. The system also contains a battery module and battery management system all in the one case. The battery is capable of cycling twice a day, allowing you to support your energy needs during your morning and evening peaks when energy usage is high and cannot be supported by solar alone.
When your solar PV system produces excess energy, your battery can store this power to be available when you need it most, like at night. Using your stored energy is also much more economically viable than feeding it back to the grid for a minimal amount.
Suitable for a range of homes and small businesses, the battery is available with a capacity of 5kWh and 10kWh. The design of the system gives you the freedom and opportunity to increase your storage capacity in the future as your energy consumption increases, allowing battery storage modules to be increased in 2.5kWh increments.


Benefits of the SENEC V3
The SENEC V3 is particularly ideal for households with high energy usage on single phase power, as the battery connects to the solar via DC Coupling. DC coupling essentially allows single-phase households in WA to expand their system size while remaining within the restricted inverter limits of 5kW's set by their network operator. For example, the system could be upgraded to 8kW's by delivering 5kW's of AC to power the house, while simultaneously delivering 3kW's of DC power to charge the battery from the inverter. Remaining within the 5kW inverter capacity limit is essential for system owners to be eligible to receive STC's and have their application approved by Western Power.
Another key feature of the SENEC battery is that it offers floor mounting rather than wall mounting, making it easier to meet recently updated safety standards for home batteries in Australia.
Lastly, the SENEC app allows users to take control of their system. The SENEC app is a state-of-the-art monitoring system that allows you to view and manage the performance of your system, and track savings as you go. The platform is internet-connected, enabling automatic software updates and intelligent energy management free for users.


About SENEC
SENEC is a wholly owned subsidiary of one of Europe's largest energy supply companies, EnBW Energie Baden-Württemberg. SENEC have been at the forefront of decentralised storage solutions in Europe since 2009, and have recently launched their battery storage solutions into Australia in 2018. SENEC were selected as the exclusive provider of small-scale battery storage systems for the Western Australian Horizon micro-grid project, which aims to run the coastal Pilbara town of Onslow on up to 70 per cent renewables. SENEC also have their Australian HQ in Perth, ensuring timely and reliable onsite service and support.
If you would like any information on the SENEC battery or would like a free, no obligation quote, please click here.

back to blog