17 December 2018
Market Update: SunPower Stability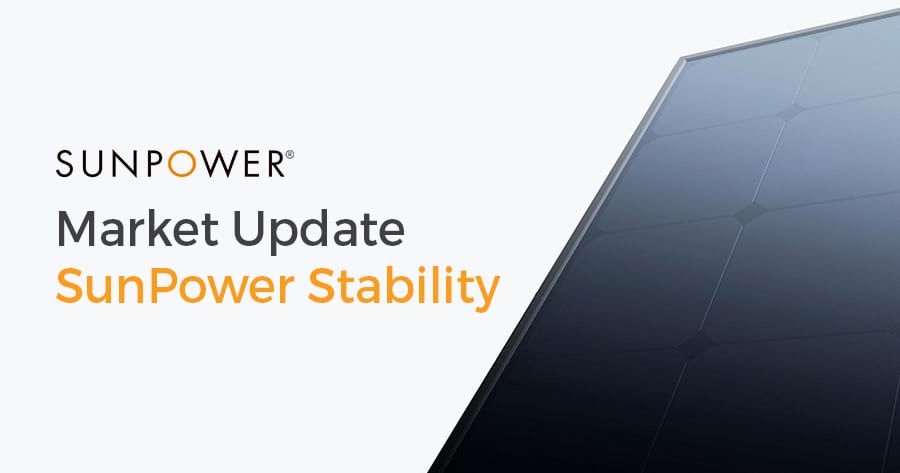 SunPower Corp is a leading, innovative solar panel manufacturer with a 30+ year history. Known for their premium, highly efficient solar cells and collaborations with NASA and numerous world-record-setting solar projects, SunPower has earned their position amongst the top solar panels in the world.
As with any tall poppy, some out there try and cast doubt toward SunPower, and as masses agree the technology is untouchable, some naysayers choose to focus their dispersions on SunPower financial position. However, these are superficial arguments, and as always, the future for SunPower remains positive.
Backing by Total
SunPower are majority owned by French Oil & Gas giant Total SA (USD$140 billion market cap) who views SunPower as a key strength in their long-term transition away from fossil fuels. Recently, Total have deployed 200MW of Sunpower cells for their fleet of 5000 service stations.


#1 in the USA
SunPower commands the #1 spot for market share in both commercial and residential markets in the USA. There is even more good news for Silicon Valley based SunPower:
With USD$2.5billion of sales pipeline
Recent announcements that make it mandatory for solar to be installed on all new Californian homes. SunPower were already experiencing a 28% year-over-year revenue growth, this is set to explode!
The acquisition of SolarWorld Americas 500MW production facility in Oregon being retooled for P-Series panel production, making SunPower the largest solar panel manufacturer in the USA.
Recent exemption from Trump's solar trade tariff 201, allowing the company to capitalize on strong US market demand, and provides an extra $2million in cash each week!


Upcoming Projects Using P-series Panels
SunPower has continued to maintain promising growth in all facets of the business. With several projects recently announced, the future is bright!
The 349 MW Limondale utility scale PV project based in NSW, will be the largest solar farm in Australia. The project is expected to be in full operation by mid-2020 and will supply power to three states and major city centres.
Major construction company, Caterpillar, have announced they will enter into a joint venture with SunPower and will offer SunPower's latest P-Series throughout their dealer networks in Southeast Asia, Africa, South America and the Middle East. Caterpillar has praised the P-Series panels for their efficiency and shingle-cell design which allows for multiple paths for electricity flow and minimises any losses in power caused by shading.
The rigorous testing and competitive process to be selected as the sole PV provider for these initiatives showcases SunPower's ability to outperform other solar panel manufacturers. 


Warranty Debits
SunPower was the first solar company on the market to offer a 25-year warranty on their panels. The combined power and product warranty is a demonstration of the quality of modules produced by SunPower, and their long-term commitment to customers.
Due to such low failure rates, SunPower has accumulated $156 Million in warranty reserves on their balance sheet which is more than double that of other well-known brands in the industry. Warranty reserves appear as a debit (negative) on financial statements, and this debit continues to grow because their panels rarely fail. This is a bit ironic – in that manufacturing a high-quality solar panels that fail far less than others actually negatively impacts their balance sheet!


Heavily Invested in R&D
In 2017, SunPower reported it had invested around US$25 million in the last 12-months on a new R&D and pilot line facility located at its headquarters in San Jose, California. 
This level of investment has maintained SunPower's top position in the crystalline solar manufacturing industry over the past decade for investment into R&D and is a testament to their long-term strategy and financial stability.
SunPower has continued to maintain their position in the market as a premium solar panel manufacturer. Their resilience is a testament to their capabilities as a company.
If you would like more information on our SunPower panels, contact us today to speak with one of our expert energy consultants.

back to blog