10 January 2019
Meet the Infinite Energy Team: Aaron Browne - Quality Assurance Manager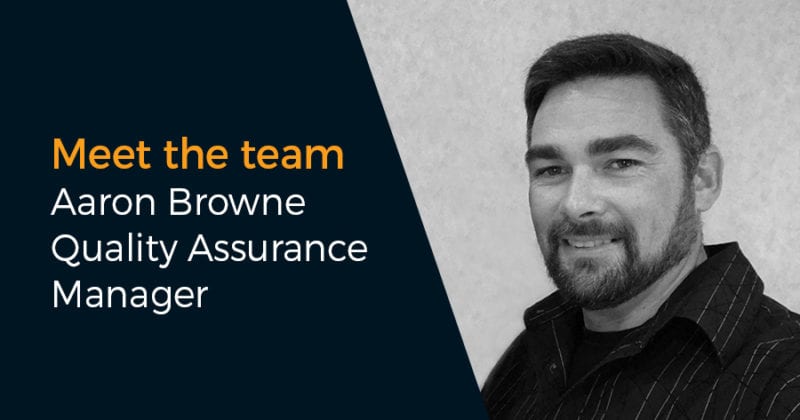 To give you an insight into our workplace, we'll be shining a light on some of the wonderful people who play an important role in Infinite Energy's success. For our first interview, we take a look into the role of our Quality Assurance Manager, Aaron Browne.
Tell us about your current role at Infinite Energy?
I have overall responsibility for managing the prequalification and onboarding of our installation teams and working closely with our installers to ensure they are meeting consistent quality and OH&S standard across our business. I am also responsible for overseeing the quality assurance and safety of our installation teams on our projects.


What do you find most interesting about your role?
I'm involved across the diverse range of projects that Infinite Energy deal with, ranging from residential systems, to large-scale commercial and off grid solar. Each project has its own unique requirements so ensuring these are met is what makes my role particularly interesting. 


Tell us about your previous roles, and how you got to where you are today?
I have significant experience in the renewable energy industry, having started work in the industry in 2003. I am a qualified electrician and CEC accredited installer and have personally installed over 3Mw of off-grid and 6Mw of grid connected solar PV systems. 
Since 2010, I have served in various inspection and over-site roles, including acting as an Electrical Superintendent for Australia's largest micro grid and energy storage companies, an authorised inspector for the Clean Energy Regulator, and an electrical inspector for a local government authority.
Recently, I was announced as a successful applicant for the Clean Energy Council Installer Reference Group (IRG) for 2019-2020. The IRG is an advisory committee made up of industry professionals, installers and designers that assist the CEC in improving the small-scale PV and battery installations industry. 
More information on the IRG and a list of successful applicants can be found here. 


How do you carry the skills you learnt in your previous roles into your current role with Infinite Energy?
I find having an extensive background in electrical and renewable energy compliance assists in the Quality Assurance inspections of installations. I also provide installers with much needed technical support to achieve and maintain a high level of quality.


What's been your most exciting project yet?
An app-based tool to assist with conducting inspections and the reporting of the findings that I have been working on.


How would you describe the culture at Infinite Energy?
The culture at Infinite Energy has a strong emphasis on quality, and making sure all staff members feel valued.
I also find that management is prepared to invest in the staff to up skill them for the purpose of completing their role more effectively. I am currently completing several training courses such as Cert 4 WHS and will complete the SA building supervisors' course in 2019.


One of Infinite Energy's core values is Integrity. How do you think we demonstrate integrity as a business?
I believe Infinite Energy show an industry leading level of integrity due to our exceptional service to past clients; something that most solar retailers fail to provide.
Also, the introduction of my role to audit contractors shows the level of dedication to clients and providing quality service.

back to blog