19 September 2017
SunPower Announces New Industry-Leading Warranty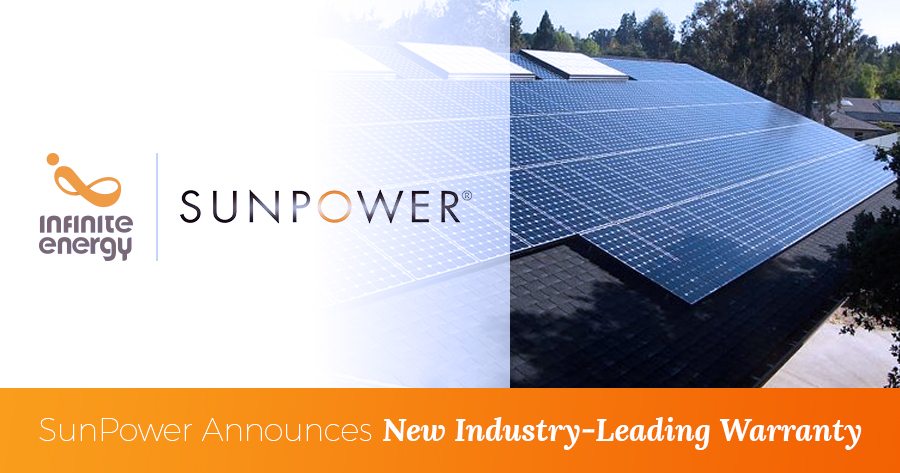 Boasting one of the best solar panel warranties in the world, SunPower has announced the industry's leading maximum degradation rate in their new E and X-Series solar module warranties. Degradation is an industry term used to describe the decline in output that all solar panels experience over time.
Guaranteeing maximum power performance and product quality for 25 years through extreme weather, wide-ranging temperatures, panel ageing and more, SunPower panels are among the safest long-term energy investments for businesses and homeowners.
The new warranty for SunPower E- and X-Series solar panels reduces the former maximum degradation rate of 0.40% down to 0.25%.
Degradation is something all solar panels experience, but at varying rates. SunPower's rate of 0.25% is 50% less than annual degradation rate quoted for conventional panels.
As a result, in addition to performing to at least 98% of their rated power for the first year, SunPower modules are guaranteed to maintain an unprecedented 92% power level at the end of 25 years.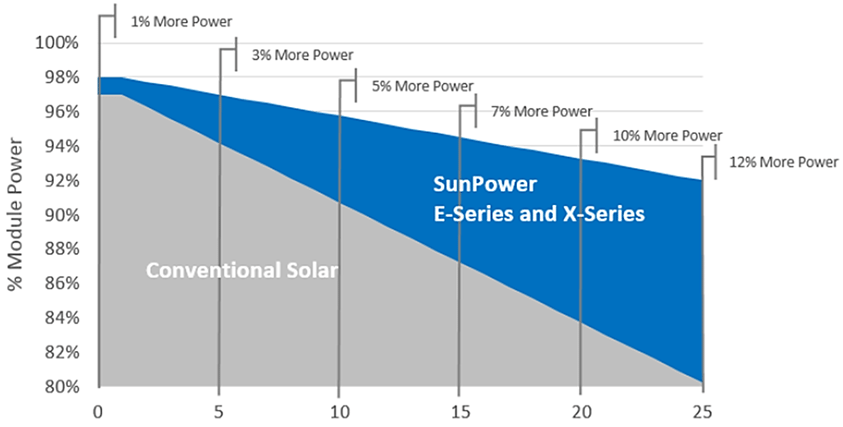 With the industry's lowest power degradation rate, SunPower panels deliver more electricity and consequently more savings over their lifetime.
In comparison, many conventional solar panels like Conergy, Hanover, Jinko Solar, Panasonic, REC, Tindo, only guarantee 80% after 25 years.
In addition, unlike conventional solar warranties that typically cover just the panels, SunPower's product warranty also includes the servicing needed to repair or replace defective parts, in addition to transport and labour costs.
| | | |
| --- | --- | --- |
| Panel Brand | Panel Capacity at Purchase | Panel Capacity after 25 years |
| SunPower | 327W | 301W |
| Conventional Panel | 327W | 262W |
According to SunPower President and CEO, Tom Werner, SunPower's industry-leading warranty is all about giving customer's peace of mind they are choosing the best product when purchasing SunPower modules.
"We believe the best warranty starts with having the best product. Our proven performance is validated by our customers' results, as well as extensive field testing under a wide range of real-world conditions, well beyond traditional industry specifications. SunPower stands behind its products so that customers have confidence and peace of mind when they choose SunPower to go solar."
Infinite Energy is SunPower's exclusive WA premier partner and their E20-327W module is one of our most popular panels. For a no obligation quote on a SunPower solar PV system, click here.
About SunPower
Based in the US, SunPower has focused solely on solar power for 30+ years. Designed with patented SunPower Maxeon technology; SunPower solar cells produce up to 50% more energy per square foot than other solar technologies, and are up to three times more reliable.
Given their efficiency at converting light into electricity; SunPower panels also perform better in higher temperatures, making them perfect for Australian roofs. They also remain efficient during the initial break-in period, unlike other brands which can lose 3% efficiency when first exposed to sunlight.
All solar panels are backed by a 25-year combined warranty, covering manufacturing defects, power output, labour and transport costs.

back to blog