06 July 2020
Sustainability at Infinite Energy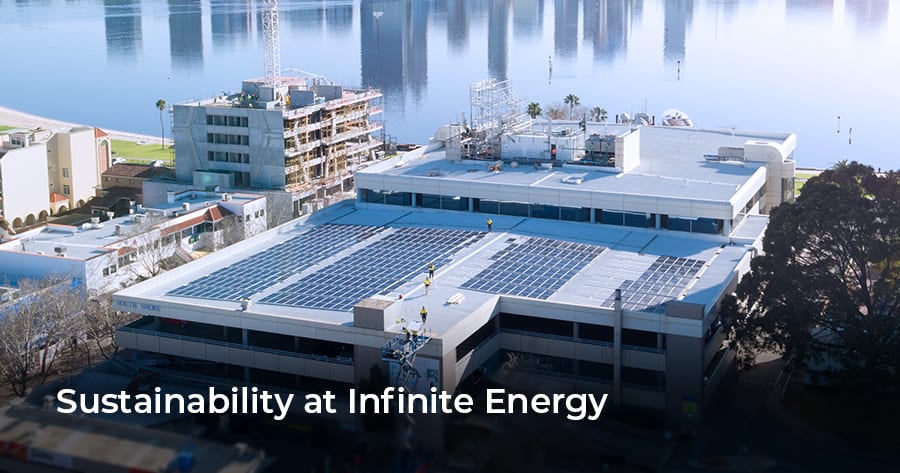 Sustainability in the workplace has been a hot topic over the last few years;  a joint study last year from Salmat and ACRS found that 72% of shoppers rank ethical brand behaviour in their top three purchasing priorities and that the environment is the most important social issue to consumers.
At Infinite Energy, we recognise the damage that can be done to the environment by unethical business practices and so our aim to provide the best experience for our customers while also working hard to improve the environmental and social aspects of the world in which we operate.
Our team members are all committed to ensuring a sustainable future for our planet with our great range of renewable energy products and systems, but we also 'practice what we preach' by reducing our own use of natural resources within our workplace and increasing our use of energy-efficient products and technologies that deliver value to our clients and communities, and help to protect the planet.
Some of the ways we work to promote these values within Infinite Energy are:
Complying with all relevant environmental regulations and requirements
Educating the public on and promoting the benefits of renewable and solar energy through our social media channels, website, blogs, consultations, publications and events
Ensuring every step of our supply chain have responsible social and environmental systems in place
Ongoing research and integration of new renewable energy technology with improved concept and designs
We also have a range of practical ways that we actively undertake to improve the sustainability of our office that are simple to replicate into your own workplace, including:
Using renewable solar energy in our office produced by multiple solar systems on our roof
Monitoring our energy and water consumption online via Greensense
Avoiding the use of paper wherever possible; for example, sending quote documents as PDF files and recycling all waste material where possible
Avoiding the use of postal services to save on transportation and on paper
Keeping our energy usage low wherever possible; for example, we use low-energy light bulbs throughout the office and ensure all of our computers are shut down over-night
Recycling equipment that is no longer of use to the company; for example, giving away items such as computers and printers that we no longer use via the Gumtree website
Making use of recycling schemes by our printer manufacturers to recycle our old toner cartridges and drums
Purchasing products made with recycled paper, such as toilet paper and hand towels or products with a lower environmental impact; for example, recyclable coffee capsules, and low or phosphate-free dishwashing liquid and hand soap that come in recyclable packaging
Avoiding additional pollution caused by unnecessary travel by making use of video and audio conferencing, telephone and email
To learn more about Infinite Energy's sustainability policy or to find out how we can help your workplace reduce its carbon footprint by investing in renewable solar energy, contact us today on 1300 074 669.

back to blog