15 March 2018
Why You Should Install a Sanden Heat Pump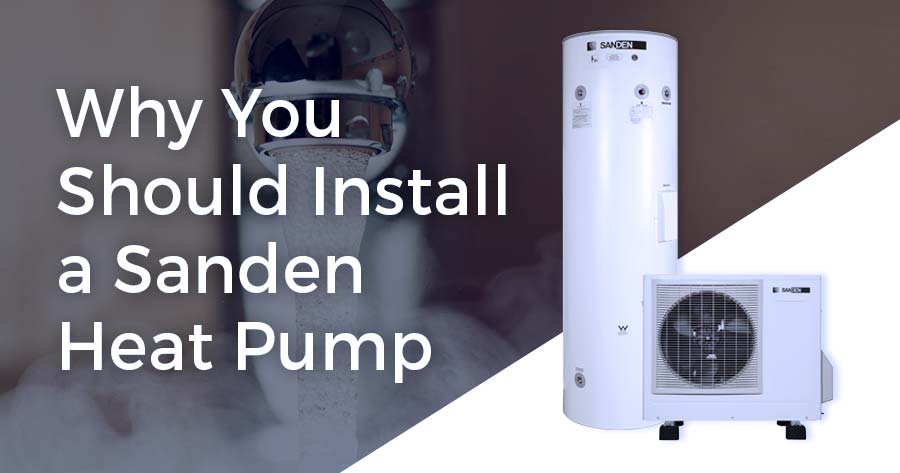 Sanden Heat Pumps have become one of our most highly sought after renewable energy products. To find out why, we'll first look at what a Heat Pump is.
What is a Heat Pump?


Heating water is a major energy user in most homes, consuming up to one-quarter of your total annual energy supply.
Heat pumps are a great way to help significantly lower this energy cost, displacing a large amount of the electricity or gas you'd have to buy to heat your water, and instead utilise modern compressor technologies to efficiently deliver hot water for your home. 
How do Sanden Heat Pumps Work?


A Sanden Heat Pump is basically a refrigerator in reverse. Through industry-leading compressor technology, it utilises ambient energy around the unit to heat the water stored inside the storage tank.
Sanden Heat Pumps use the refrigerant ozone-friendly refrigerant R744 which has a boiling point well below that of water. Therefore, even if very cold outside, it's still warm enough to cause the refrigerant to boil.
Once it has been turned into gas, it passes through a condenser within the water tank and the water is heated up. This results in a system that requires substantially less electricity to heat water than conventional hot water systems.
Benefits of Sanden Heat Pumps


More Incentives
Infinite Energy is proud to stock Sanden Heat Pumps, which are not only the most energy efficient heat pumps on the market, but also offer the highest level of STCs.
A huge incentive for both homeowners and businesses, STCs offer substantial discounts off the upfront cost of renewable energy systems, including Heat Pumps.
This means by purchasing a Sanden Heat Pump, you'll receive the biggest discount off the upfront cost of the system when compared to other Heat Pump brands.
More Energy Savings
Sanden's Eco Plus Heat Pump uses just 1kW of energy to generate 4.5kW of heat. This is a whopping 80% less energy than traditional hot water systems.
When considering that electricity price hikes will continue to hit households, Sanden Heat Pumps clearly become one of the best, financially sustainable options on the market.
Your long-term savings are guaranteed by Sanden's 15-year tank warranty.
Easy To Install
Because access to your roof is not required, Sanden Heat Pumps are easy to install, and much like a conventional electric system, feature flexible tank location.
The 315-litre stainless steel tank is fully insulated for minimal heat loss and is mains pressure rated.
Quick Heating
Compared to a conventional electric system, Sanden Heat Pump feature up to 50% faster heat recovery.
In ambient air temperature of 20°C, it takes just 4 hours to heat 315 litres of water (from 17°C to 65°C).
Plus, thanks to its in-built freeze protection, Sand Heat Pumps are suitable for all climates, all year round.
Whisper Quiet
Sanden Heat Pumps operate at a whisper quiet 37dB. This is the equivalent of sitting in a quiet library – virtually silent. 
Three Tank Sizes Available
The Sanden Eco Plus Hot Water Heat Pump system is available in three tank sizes, 160L, 250L, and 315L.
This allows you to size your tank for your home's energy consumption needs.
Environmentally friendly
Choosing a Sanden Heat Pump over electric or gas water heaters will not only save you money, but also reduce your CO2 emissions.
Investing in a Sanden Heat Pump for your home means less energy, less impact on the environment, and more savings.
If you'd like to learn more about Sanden Heat Pumps and how they could benefit your home, click here for a no obligation callback.

back to blog