21 March 2018
WINAICO Awarded with Top Brand PV 2018 Seal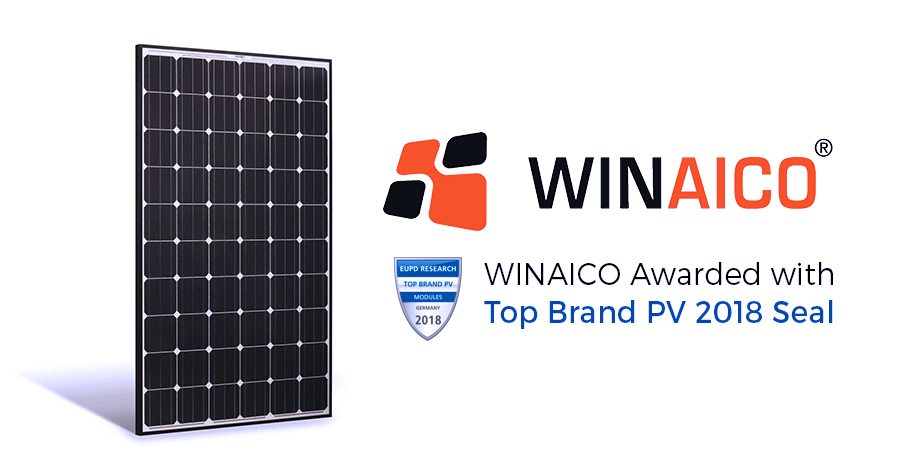 A global PV brand based in Taiwan, WINAICO manufactures and distributes crystalline high-performance modules worldwide.
EuPD Research, one of Germany's leading research firms, has awarded WINAICO with the Top PV Brand seal for the very first time.
Based on a number of criteria including brand awareness, customer satisfaction, recommendation rate, and market share, only a handful of manufacturers receive the Top Brand PV seal every year.
According to WINAICO Vice President of Global Sales, Sascha Rossman, the award is a testament to the outstanding quality of WINAICO modules, "We are proud to be rated as a Taiwanese company in the German PV market. The award shows that our sustainable sales strategy and the outstanding quality of the WINAICO modules are rewarded by the installers."
Infinite Energy has stocked WINAICO panels for a number of years and is proud to be the exclusive partner of WINAICO in WA.
To find out why WINAICO has established and maintained such a stellar reputation in the solar industry, read on.
Proven Reliability


An industry leading manufacturer of PERC solar panels, WINAICO is proud to be a multiple award winner in the industry. For example, Solar Power World, the leading online and print resource for news and information regarding solar installation, development and technology in North America, recognised WINAICO's WSP-310M6 PERC monocrystalline module as one of the Top Solar Panel Products for 2015.
WINAICO also beat out 11,000 other tested modules to take the top position at the PTC rating. A higher PTC value indicates a larger, real yield per installed Watt, and therefore more savings.
In addition to their 25-year linear performance guarantee, WINAICO panels come with a 15-year product warranty. This exceeds the industry standard for glass backsheet modules by five years, and thanks to the inclusion of labour in 2016, is one of the most comprehensive in the whole solar module market.
PERC Cell technology


PERC cell technology reflects light that is unused in conventional cells, thus increasing light absorption. Effectively optimising the performance of your cells, PERC cell technology leads to a higher daily profit compared to standard modules.
Stringent Testing


All WINAICO modules undergo electro-luminescence testing which ensures 100% cell quality. Electro-luminescence testing is able to detect any internal damage, microcracks, hot spots, soldering errors and other imperfections, which are not visible to the naked eye.
Complementary 2-year Insurance


In order to further safeguard your investment, WINAICO provides complementary 2-year whole of system insurance. This covers all unforeseen losses due to damage or destruction of the system, or interruption of service and loss of yield.
Proven to Perform in Australian Conditions


WINAICO's modules have been shown time and time again to perform better than competing panels at the Desert Knowledge Australia Solar Centre, demonstrating a high performance under extreme conditions.
Better Performance in Weak Light


About two-thirds of the average annual radiation is in the range of weak light. Modules from WINAICO have superior weak light performance with an above average efficiency, generating you extra yield in weak light conditions.
WINAICO vs LG


Highlighting WINAICO's superior specifications, here's how they compare to popular LG Solar Panels.
| | | |
| --- | --- | --- |
|   | WINAICO Panels | LG Panels |
| Glass Thickness | 3.2mm | 2.8mm |
Thinner glass allows a solar module to flex more. Because solar cells are very brittle and prone to micro-cracks (which can lead to dangerous and faulty hotspots) when glass flexes in high winds, the thicker the glass the better.
| | | |
| --- | --- | --- |
|   | WINAICO Panels | LG Panels |
| Withstand hail stones of | 35mm | 28mm |
LG panels are designed and tested to withstand hail stones up to 28mm. WINAICO however, was one of the first manufacturers to pass the new more rigorous Hail Impact Test which repeatedly shoots 35mm hail stones at higher speeds (98kmh v 83kmh). While it may not seem like much of a difference, it's equivalent to approximately four times the kinetic energy.
| | | |
| --- | --- | --- |
|   | WINAICO Panels | LG Panels |
| Mechanical Load Test | 10,000 Pa | 5400 Pa |
LG panels have passed the Mechanical Load Test of 5400 Pa, while WINAICO panels have passed the ML Test to 10,000 Pa, demonstrating superior module strength.
| | | |
| --- | --- | --- |
|   | WINAICO Panels | LG Panels |
| Glass Thickness | 3M Solar Acrylic Tape | Silicon Bead |
WINAICO uses pressure-sensitive 3M Solar Acrylic Tape for frame-glass bonding, while LG uses a cheaper silicon bead. Damp Heat tests have show that panels with 3M tape as a sealant are 25% less prone to dry resistance degradation than panels using silicone.
To learn more about award winning WINAICO solar panels, contact Infinite Energy today on 1300 074 669, or click here for a no obligation callback.

back to blog