Don't Let Your Business Get Left Behind Electric Vehicles are Here to Stay
While EV's may seem like a new technology, a staggering 50% of all current EV's on the road today were sold in 2015 alone. This quick uptake is only expected to increase thanks to EV's lower upfront, running and ongoing costs when compared to petrol/diesel vehicles.
Infinite Energy now offers Electric Vehicle Chargers designed for private, commercial and public use. We can help you decide which EV Charger is best for your needs, design you a fully customised solution for your site, and install your new EV Charger(s) with minimal fuss.
How Infinite Energy Can Help Your Business/Strata
Offer existing customers an added level of convenience
Draw new customers to dine/shop/stay at your premises instead of a competitors
Attract and retain high quality staff
Appeal to and help retain high value, sustainably-minded residents
Installing EV Chargers at Your Premises Can be Done in Just Four Steps:
Step 1
Infinite Energy's will evaluate the feasibility of installing EV Chargers at your business/property.
Step 2
Infinite Energy will put together a customised quote. If you're happy to go ahead, an installation date time will be agreed upon.
Step 3
Infinite Energy will install your new EV Chargers, and demonstrate how the charging station operates.
Step 4
Infinite Energy will provide support and billing functions as required.
Enquire About EV Chargers for Your Business
Wallpod: EV HomeCharge (Type 1 & 2)
Wallpod: EV Commercial Charge
BasicCharge: EV Pedestal
SecuriCharge: EV Wall Unit (2way version)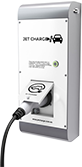 SecuriCharge: EV Wall Unit has been designed specifically for use in public, exposed locations, Heavy duty yet discreet, SecuriCharge: EV Wall Unit is also vandal resistant.
Ev Box: BusinessLine

EV-Box – BusinessLine has been designed for installation at businesses, municipalities and major public charging networks. A global leader in EV charging infrastructure, choosing EV-Box guarantees quality and peace of mind.
Partners & Sponsorships
Brands We Carry
© 2022 Infinite Energy
Privacy Policy
Terms of Use