21 January 2020
SunPower Launches Equinox Storage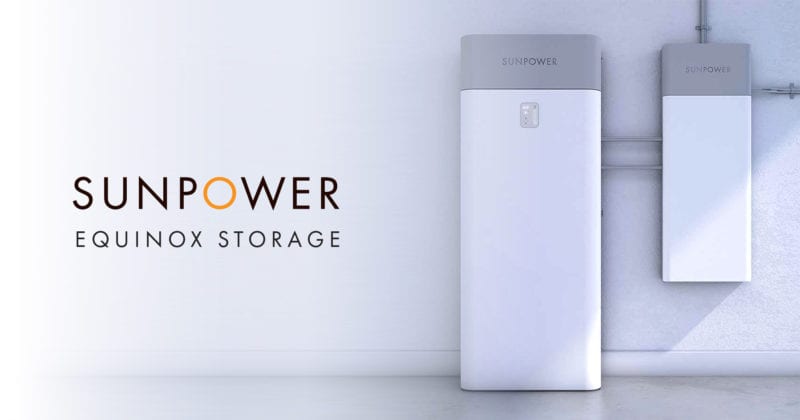 SunPower has recently launched its newest product in the U.S – The SunPower Equinox™ system. The Equinox™ is SunPower's fully integrated solar and storage solution that provides the convenience of having a reliable solar system and battery in one. This is the company's first leap into battery storage, and it looks promising. Although still only available in the US, we can't help but feel hyped about SunPower's newest product.
Here's what you need to know about The SunPower Equinox™ system.

A Comprehensive Solar and Storage Solution
The SunPower Equinox™ functions to maximise your solar use. Each SunPower Equinox™ solution includes the full system package; SunPower panels, microinverter, InvisiMount® Hardware, EnergyLink™ monitoring software and an optional battery. Each component works seamlessly together, providing an all-in-one system from the SunPower brand.
Each panel in the SunPower Equinox™ system is equipped with the company's world-renowned patented Maxeon® technology; designed for maximum power, reliability and durability. As with battery storage, the Equinox™  Storage holds the excess solar energy during the day to be later used at night and provides seamless backup power to keep your selected essentials running during blackouts. On top of the many system features, the sleek, minimalist design of the Equinox™ system looks fantastic as well.
The Equinox™ Advantage
The Equinox™ is certainly something to be excited about. SunPower continues to innovate in the solar industry with their latest product being the only residential solar and storage solution designed by the one company. The package offers several benefits, including:
Energy Independence
Solar PV systems can provide you with energy independence by generating free, renewable energy and reducing the amount of electricity you need to draw from the grid. By utilising battery storage in conjunction with your solar PV system, you can further reduce your grid consumption, as well as avoiding unpredictable and increasing energy price hikes, particularly during times of peak demand.
By increasing your solar self-consumption, you can reduce electricity costs and maximise your savings further than with just a solar PV system alone. 
Backup Electricity
The Equinox™ Storage allows your home to maintain power during an outage by acting as a back-up generator. The system lets you pre-select appliances that you would like to utilise the stored energy during outages before installation, such as your fridge, lights and TV.
Micro Inverter
Behind each panel is a highly efficient microinverter. Microinverters can offer precise reliability and performance by adapting to external conditions such as shade, and ensures only part of the panel is affected, rather than the entire panel like when conventional inverters are used. The location of each microinverter behind the panel means there's 70% less parts and components to be built into the system, resulting in a seamless installation process. 
Unified monitoring
The EnergyLink™ system monitoring provides real-time data on your energy consumption and production and allows you to control your settings from anywhere with just a smartphone, tablet or laptop. The intelligent and intuitive software monitors your solar, home energy use and utility rates together to determine which power source to use—maximising your use of solar and reducing peak-time charges. It also lets you choose how your stored energy is used by allowing you to easily adjust how much energy to save for backup. Your system will always be on, thanks to the 4 automatic communication back-ups; Ethernet, Power Line Communication, WiFi and Cellular.
Warranty
SunPower is highly regarded in the solar industry for their leading 25-year product and performance warranty on their panels. Continuing with this sought-after feature, the SunPower Equinox system is backed by the company's Complete Confidence Warranty. Each system includes a 25-year warranty on the panels, microinverters, and InvisiMount® Hardware racking material. Both the EnergyLink™ software and Equinox™ Storage battery have an industry standard 10-year warranty. The key benefit to having a warranty from the one brand is the simplicity of a single point of contact. Rather than acquiring warranties from 4 or 5 different companies, SunPower manages the system as a whole. On top of this, SunPower provides free labor and shipping on all their warranties, which many conventional warranties don't cover.
Backed by the SunPower Brand
SunPower ensures that the Equinox™ provides homeowners with better control over their electricity usage and improves the amount of solar power they self-consume. What's more, SunPower is highly regarded in the solar industry and is seen as one of the most trusted brands on the market. The company aims to provide a complete solar solution under their name with the Equinox™ system.
This unrivalled product offering by SunPower is sure to be a success. While there is limited availability in California, the company is expecting a nationwide release in 2020. Currently there is no mention of plans for the product to be available in Australia.
If you would like any information on our SunPower panels or would like a free, no obligation quote, please get in touch today.

back to blog