06 January 2020
Why Do So Many Solar Companies Go Bankrupt?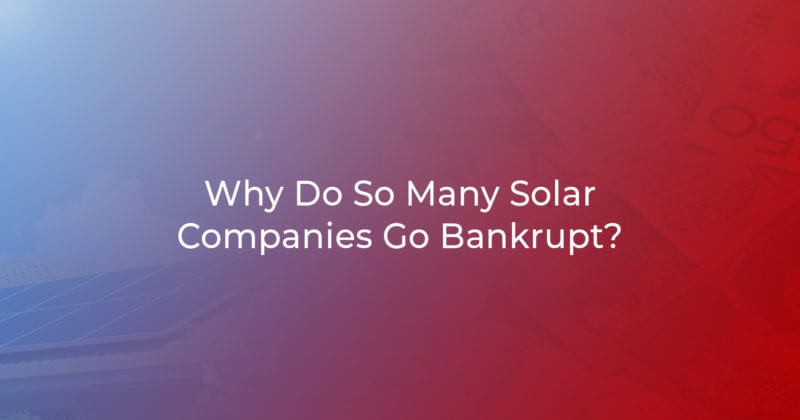 The "Solar Boom"
The solar industry in 2020 is booming. It looks vastly different compared to its situation 10 years ago. From dramatic price drops in the last decade, to the improved manufacturing process, solar is becoming much more affordable and well-received amongst homeowners and businesses.
The "solar boom" is especially evident in Australia. By the end of 2018, the number of Australian households with solar PV installations has reached 2 million – meaning an average of six solar panels are installed per minute across the country.
In the middle of this growth however, many solar companies are leaving the industry. Unfortunately since 2011, more than 750 solar companies have closed, gone into liquidation or other circumstances that indicate negative trading conditions. This leads to an epidemic of installed systems where the retailer is no longer around. These systems are referred to as 'orphaned' systems, and currently there is between 480,000 to 600,000 orphaned systems on roofs in Australia.
In a clearly flourishing industry, how is it possible that an alarming number of solar companies are going into liquidation?

When a Solar Company Goes Bankrupt…
If worse comes to worst and a solar company declares bankruptcy, it can often come down to their approach towards their failing products. Cheap prices may lure customers in, but what lies beneath are inadequate business practices and poor management. Reports suggest that solar companies go into liquidation when they repeatedly face claims due to poor workmanship, product malfunction or failure and are unable to rectify these.  
Even with warranties, there are cases where the manufacturers will not honor them. When a company tries to overlook consumer claims repeatedly, the liabilities stack up – more so if they are cheap, low-quality panels. Cheaper panels fail much faster and with the number of solar installations happening in Australia, a company could be left with hundreds of failed system components at one time if not dealt with correctly.
This is usually when the company decides to declare bankruptcy, as it would cost them less instead of trying to replace a huge number of failed products. This leaves the customer with very few options for replacing their faulty product, often leaving them to scrap their current system and start again with another company. This is extremely costly for the customer but could be prevented by choosing a stable solar provider.
Another cause for a solar company to shut down is when legal action is taken against them – for false advertising or breaking consumer laws. Often these companies mislead their customers into buying a cheap system by making false claims on the products and their performance.

What do consumers need to know?
Prevention is always best. Selecting a reputable solar provider, with quality, reliable products will protect you from the risks mentioned above.  
For those looking to install a solar PV system, here's what you need to know:
Do your research
Just like with any investment you make, doing your research is a critical aspect of ensuring you choose a quality retailer. Online research can include doing a background check of the company, such as checking the office address is a legitimate location, and not just in a storage shed or someone's backyard. You should also confirm that the company has been around for more than 5 years, as the 5-year mark is often when things can start to go wrong with a system. If a company can get through this period, you have a better chance of them sticking around. You can check how long a company has been operating for by looking up their ABN here.

We also recommend reading reviews as this will give you an indication of how the company engages with its customers and handles their disputes. Reading up about the company and the products being offered is also extremely important, as this provides you with a good understanding and knowledge of what you're getting into.


Only choose CEC Approved Retailers
The Clean Energy Council (CEC) provides accreditation to solar panel retailers who are committed to industry best practice, and responsible sales and marketing. We recommend choosing an installer who is a CEC Approved Solar Retailer, rather than just a CEC Member or CEC Accredited Installer. A CEC Approved Solar Retailer is a voluntary scheme that aims to lift the bar higher than the minimum requirements set by government and industry regulations. Infinite Energy received our CEC Approved Solar Retailer accreditation in 2015.


Shop around
We always encourage our customers to get multiple quotes. This ensures you're getting a fair price and have a good understanding of what the average cost of your system should be for your recommended system size. If you've received a quote that is excessively cheaper than the other quotes, its more than likely that particular company is cutting costs somewhere along the process. Often companies will supplement good quality components for cheap ones to keep costs down, or will engage in poor-quality or even unlicensed installations to offer lower prices. While the cheap price may seem tempting at first, you'll pay for it later down the track when the system fails. As mentioned above, when companies face regular warranty claims and are unable to meet them, it increases the likelihood of them going bankrupt. Don't put yourself at risk by choosing a cheap, low-quality system.

When assessing quotes, be careful of shady contracts; these often contain dodgy tactics to mislead the customer into thinking they're getting a better deal than they are.


Choose brands that have an Australian presence
This could be one of the most important factors to consider when choosing a solar provider. Ensuring the retailer stocks products from a manufacturer that has an Australian presence will make it much easier trying to claim your warranty should you face any issues with your system, or if your retailer does go out of business in the future. An Australian presence guarantees, by law, any service and support are handled locally, rather than overseas.
Should you come into a situation where your company has gone bankrupt whilst you're waiting for a warranty to be fulfilled, it's advised you contact the manufacturer directly. However, if this manufacturer isn't based in Australia, you could be up for a very difficult and expensive repair/replacement.
By following these tips, you can reduce your risk of choosing a non-reputable solar company that could be at risk of going bankrupt. For more information, download our free eBook for all our tips on choosing a solar provider. If you would like to discuss your solar options with us, contact Infinite Energy today.

back to blog