Solar Panel Selection Guide
  Solar Panels
Whilst Infinite Energy can source most panels on the market we believe these three panels stand out as superior. Here is a comparison:
Manufacturers presence in Australia Warranty and service
Country of manufacture
China
Singapore
(Designed in Norway)
Multiple
Product Warranty
10years
12years
25years
Power ToleranceIndicates the output range for individual panels
0/+3%
0/+5W
+5/-0%
Temperature Co-efficientHow much a panel will de-rate in heat – the lower the better
-0.44%
-0.40%
-0.38%
Frame Thickness
45mm
38mm
46mm
Performance Warranty
25Years
Linear
25Years
Linear
25Years
Linear
Infinite Energy will only supply solar panels that have:
An Austalian Presence:
Quality Assurance:

Manufactured by a large reputable internal company with significant presence in Australia.
Manufacturer has a warranty process and service support that is accessible in Australia.

Infinite Energy is satisfied that there are stringent quality control processes and procedures.
  System Inverters
A crucial component of your Home Solar Energy System is the inverter. Inverters convert the DC electricity produced by the solar panels into AC electricity that your home and the grid utilise. Infinite Energy recommends opting for a high quality inverter that has Australian warranty support. Below are some features to compare:
Sungrow
SMA
Fronius
Country of manufacture
China
Germany
Austria
Product Warranty
5 years Extendable to
10 years with online
client registration
5 years
Expandable
to 20 years
5 years + 5 years free
Location of Warranty support
Australia
Australia
Australia
Communication
WiFi
Blue Tooth & PC
WiFi (3kW)
MPPTS
Dual
Dual (3KW+)
Single
  Performance Warranty Comparison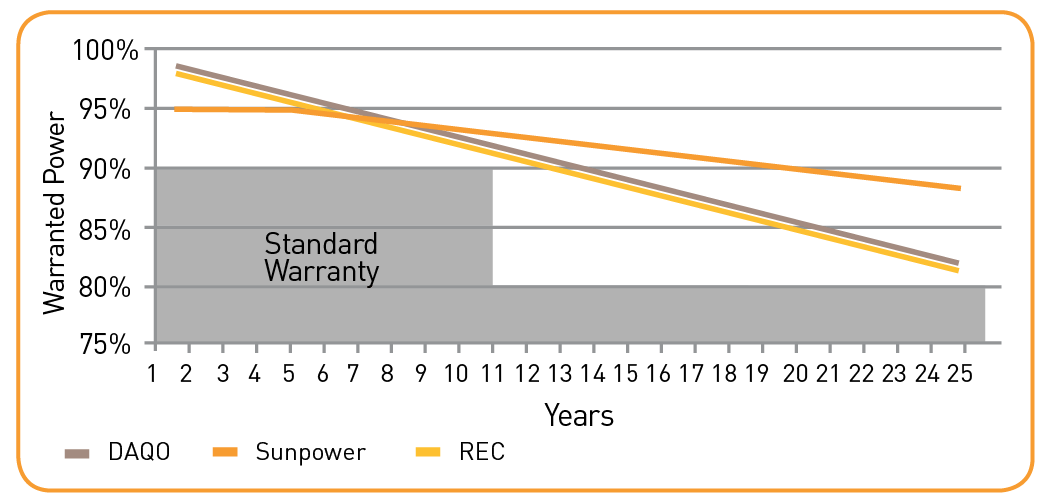 Solar Panel Mounting System
The mounting system physically connects the solar panels to your roof. The mounting system is a crucial component of a solar array as it will be subjected to major environmental stresses.
Infinite Energy only use premium corrosion resistant mounting systems that are guaranteed for 10 years.

Download Solar panel selection guide