22 March 2021
How solar car parks can benefit your business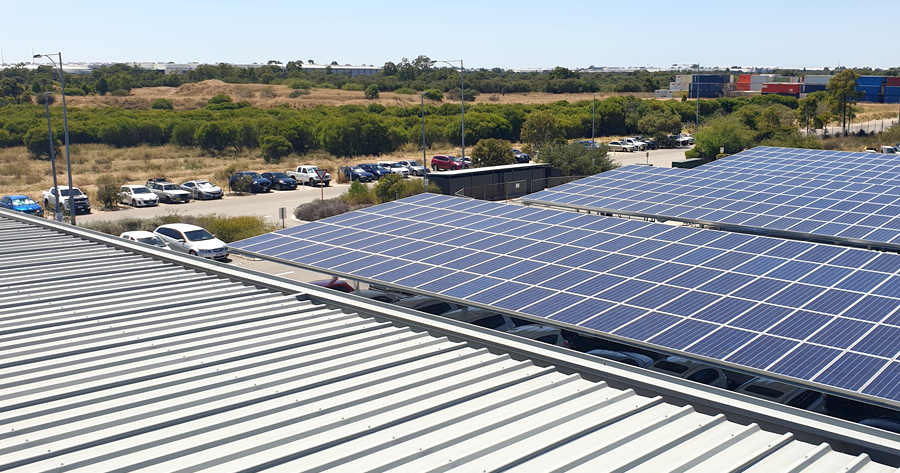 Imagine if your business could provide additional benefits to your customers and staff, while also helping to reduce your electricity bills and your impact on the environment.
By installing a solar car park at your business, you could do just that.
Just like conventional covered car parks, solar car parks provide your customers' and staff members' cars with shelter and protection from the elements, but unlike normal car parks, solar car parks also generate clean, renewable energy in the form of solar power and provide businesses with a guaranteed way to save on their electricity bills.
What are the advantages of solar car parks?
Solar car parks are a great way for businesses to reap the benefits of commercial solar and they can provide the following benefits to your business:
Solar energy is the most affordable and cleanest form of all renewable energy available in Australia.
The average solar panel measures around 1.6 x 1m, while the average car space measures around 2.7 x 5m, meaning that multiple solar panels could cover each car spot. The average spot could be covered by around 3kW worth of solar panels, generating 4.8MWh worth of electricity per year, equating to savings of $720 to over $1,000 from each bay.
As the number of car bays in the solar car park increase, so too does your business' electricity savings, which is why solar car parks can pay for themselves in as little as two to three years!


Benefits for customers and staff
Providing undercover car parking attracts and retains customers, offering both greater security and comfort for their shopping experience. Providing a sheltered place for staff to park can also help to increase staff satisfaction and retention.


Reduce your carbon footprint
Not only do solar car parks deliver a return on an investment that has traditionally been a non-profit capital expense, they also help the environment. By offsetting the power normally purchased from the grid with solar energy, solar car parks can drastically minimise a business' CO2 emissions. The installation of solar panels can also visually represent your business' commitment to sustainable practices, increasing your appeal over your competitors.


Compatibility with electric vehicles
Your business can even future-proof your investment by incorporating electric vehicle chargers into your solar car park. Infinite Energy can install EV chargers at specific car bays, allowing customers and employees of your business to charge their electric vehicles with clean, solar energy.


Solar car parks for landlords
A little known feature of solar car parks, is that landlords and strata owners are able to install solar car parks and sell the solar energy the system generates to tenants at the gazetted rate.
This provides a revenue stream to the landlord/strata owner, as they're receiving payment for solar power that was essentially free to generate.  This revenue can be used to pay off the solar car park, offset levies, further contribute to a sinking fund, or pay for additional upgrades to increase the attractiveness of the site.
The solar car park process
Step 1: Consultation
Infinite Energy will analyse your business' electricity needs and recommend the perfect commercial solar system size for your consumption profile.
Step 2: Design
Infinite Energy will design your solar car park, accounting for shading requirements, how it fits in with your existing structures, and of course, aesthetic appearance.
Step 3: Installation
Construction will begin on your solar car park, with our CEC approved electricians installing your solar PV system.
Step 4: Ongoing Monitoring
Infinite Energy will set up online monitoring, enabling you to check your system is performing as expected and monitor the production of your commercial solar power.


Infinite Energy can custom design and engineer a Solar Car Park for your business, providing your organisation with full financial analysis, including pay-back periods and expected annual savings. We're able to help build your Solar Car Park from scratch, or install solar panels on existing structures.
If you're interested in learning more about what investing in a Solar Car Park could do for your business, click here to request a no obligation callback, or give us a call on 1300 074 669.

back to blog