27 February 2015
Infinite Energy Awarded CEC Approved Retailer Status
Infinite Energy has joined just a handful of solar companies around Australia to be recognised with CEC Approved Retailer status.

In doing so, Infinite Energy has become a signatory to Clean Energy Council Solar PV Retailer Code of Conduct.
The code, which is currently the only solar industry code of conduct authorised by the Australian Competition and Consumer Commission (ACCC), is designed to give consumers peace of mind when making the decision to invest in a solar system by helping them select a quality solar retailer.
"With offices in Perth and Brisbane, Infinite Energy has always set a high standard in relation to the way we conduct our business and this formal recognition from the Clean Energy Council confirms our commitment to upholding this standard" said Infinite Energy Managing Director Aidan Jenkins."We welcome the CEC's initiative in establishing the code and the associated CEC Approved Retailer status".
Clean Energy Council Chief Executive Officer Kane Thornton said people had a lot of things to consider when making a major purchase such as a solar power system, and the process could be confusing.
"By choosing to buy from a company that has signed up to our voluntary Solar PV Retailer Code of Conduct, you are choosing a business which has committed to a higher standard of quality and service," he said. 
Customers can expect that as a CEC Approved Retailer, Infinite Energy will:
Pre-sale
ensure that our sales representatives act ethically at all times
not engage in any dishonest or misleading advertising and sales tactics
provide you with the necessary information in writing to enable full education about your purchase prior to entering into any contract
Post-sale
respect your legal rights in relation to cooling-off periods and refunds and give you the opportunity to cancel a contract and obtain a full refund where changes are made after contract that are not approved in writing
provide a standard minimum warranty period of five years on the operation and performance of the whole Solar PV system including workmanship and products, and address any problems arising during this period
fully inform you of the process between system installation and network connection or will facilitate this process on your behalf
Documentation and general business
ensure that you are provided with the required documentation before and after the Solar PV system is commissioned
adhere to all existing legislation and regulations, and maintain effective internal cancellation procedures
be fully accountable for the actions of any subcontracted parties, including CEC-accredited installers/designers
maintain a fair and transparent complaints process, and get back to you within 21 days of making a complaint
Achieving this recognition is just one of the reasons you should choose Infinite Energy as your preferred solar power provider.
Download more information:
Download 1.1MB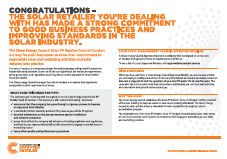 Download 630.6KB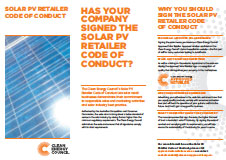 back to blog