19 December 2017
South Australia Switches on the World's Largest Lithium-ion Battery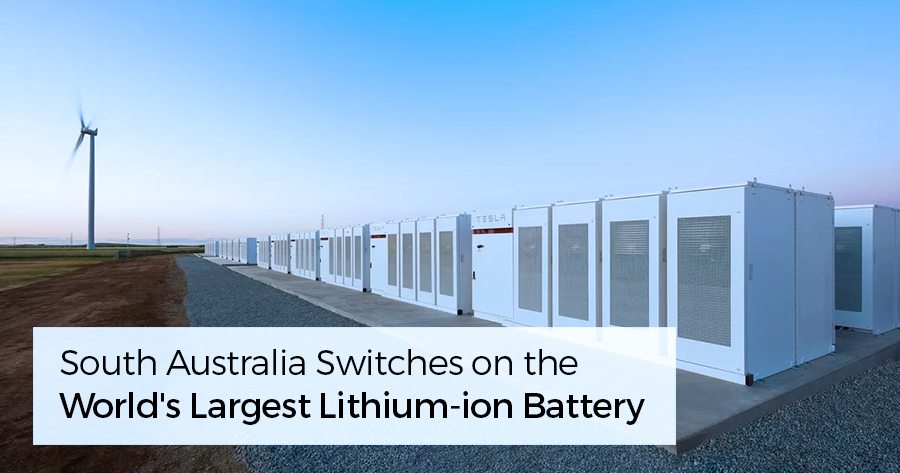 The world's largest lithium-ion battery has officially been switched on in South Australia. Manufactured and assembled by renewable energy company Tesla, the battery is capable of powering 30,000 homes, and its rapid deployment abilities are ideal for the blackout-prone state.
South Australian Premier Jay Weatherill and Neoen Deputy Chief Executive Romain Desrousseaux had the honour of switching on the system, declaring it "history in the making".
"South Australia is now leading the world in dispatchable renewable energy, delivered to homes and businesses 24/7," Mr Weatherill said.
How it all started


In a series of tweets, Tesla CEO and Product Architect Elon Musk offered to build South Australia the most powerful battery ever made in just 100 days.
The offer came after SA experienced one of the worst storms in recent years, which brought down power lines and other integral infrastructure, resulting in a state wide blackout.
When asked if the offer was serious or merely a publicity stunt, Musk tweeted, "Tesla will get the system installed and working 100 days from contract signature or it is free. That serious enough for you?"
Weeks later, Musk touched down in South Australia to announce the joint project to the world.
In its first test run, the battery pumped 59MWh of power into South Australia's grid in order to meet peak demand.
About the System


20 Tesla Powerpacks comprise the 100MW mega battery system, which can provide up to 129MWh of energy.
Powered by French energy firm Neoen's Hornsdale wind farm (which is located about 200 kilometres north of Adelaide), the 100MW battery system stores enough energy to provide power to 30,000 homes for eight hours, or 60,000 homes for four hours.
A huge success for South Australia, Tesla's 100MW battery will effectively reduce intermittency issues and help manage the increased demand during summer peak loading periods.
"The South Australian government should be congratulated for ensuring their energy supply is not only sustainable, but will help solve power shortages, reduce variability, and manage summertime peak load," a Tesla spokesman said.
About Telsa Powerpacks


Manufacturing integrated battery systems in cars for over 10 years, Tesla has put the same degree of expertise, quality control and technological innovation into developing high-performance batteries for the grid.
Each Powerpack stores 500kWh worth of electricity, and can be stacked to provide 10,000kWh (10MWh) of energy storage, just like the South Australian installation.
Powerpack supports a host of applications that offer businesses greater control, efficiency and reliability, including:
Peak shaving
Discharge at times of peak demand to avoid high charges.
Load shifting
Shift energy consumption to avoid paying high energy prices.
Emergency Backup
Provide intermediate backup power to your business in the event of a power outage.
Demand Response
Discharge your battery instantly to alleviate peaks in system load.
The most sophisticated battery in the world, each Powerpack is a DC energy storage device containing 16 individual battery pods, a thermal control system and hundreds of sensors that monitor and report on cell level performance.
As a Tesla Approved Reseller, Infinite Energy installed the first Powerwall in Western Australia in 2016, and can help your business take advantage of the same exciting technology behind the world's largest lithium-ion battery.
If you're interested in learning more about the viability of Powerpack battery storage for your business or receiving a personalised quotation, please click here.

back to blog