13 August 2019
$500 Solar Cashback Offer from Commonwealth Bank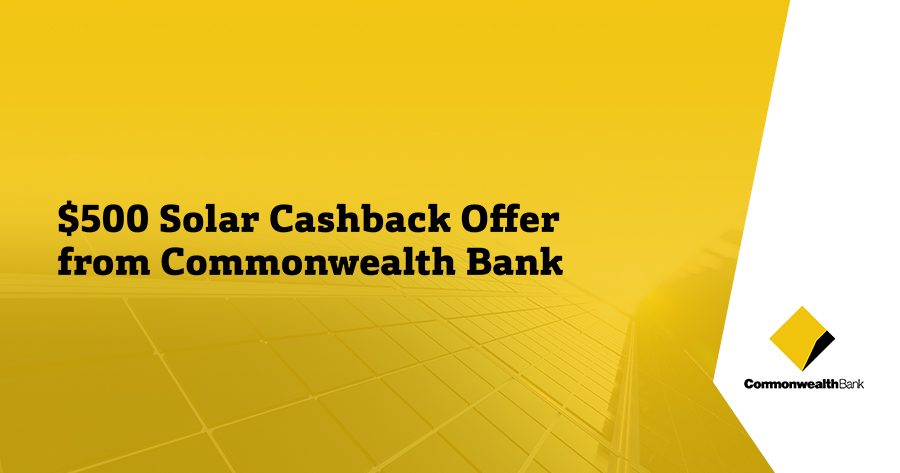 Solar has many benefits, but Commonwealth Bank have just given us one more to celebrate. Commonwealth Bank of Australia home loan customers can apply for a $500 cashback just for installing solar and making their home more energy efficient.
This offer is available to Commonwealth Bank of Australia customers who already have a system, or who will have purchased a system before the offer closes.
To be eligible, you must meet the following criteria:
Installed solar panels have an output size of equal to or greater than 5 kilowatts (kW)
Minimum home loan balance is $50,000 or more
Address where solar panels are installed matches the address they have listed as security for your home loan or investment home loan
Property is not an apartment or commercial property
Account holders have an open Commonwealth Bank transaction account for them to deposit the cashback
Applying for the offer is easy. Simply submit one of the qualifying documents to Commonwealth that clearly shows the output size, installed address and date of installation of your solar panels:
Paid Installation Invoice; or
Certificate of Electrical Compliance; or
Small-Scale Technology Certificate (STC); or
STC Assignment Form; or
STC Assignment Form Confirmation.
For further details on applications and document examples, see the What You Need to Provide section on the following link: https://www.commbank.com.au/latest/green-home-loans.html.
Applications for the offer close 13 September 2019.
If you've had a 5kW system or greater previously installed, or will have one before the application close date, it's worth applying to find out if you're eligible.
For a free, no obligation quote for solar for your home, contact us today.
*Information in this blog is provided as indicative information only and as such, Infinite Energy makes no guarantees to an individual's eligibility to apply for or benefit from the offer. Commonwealth Bank of Australia reserve the right in their sole discretion to cancel, terminate, modify or suspend the offer at any time. For full eligibility criteria and application details, visit https://www.commbank.com.au/latest/green-home-loans.html

back to blog