25 October 2019
Infinite Energy Wins 2019 Best Large Commercial Solar Installation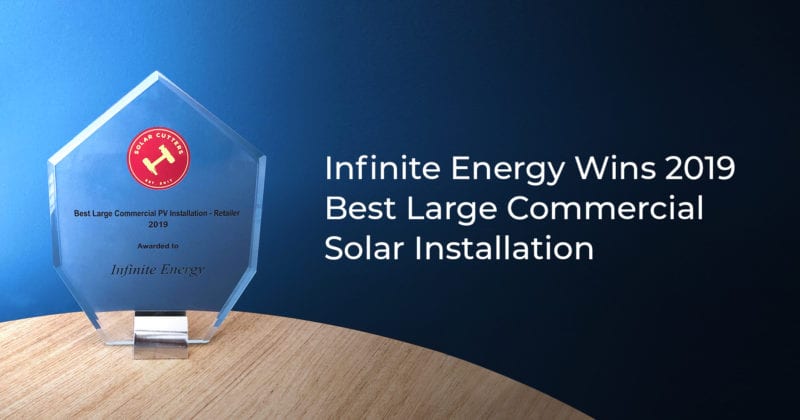 Infinite Energy are extremely proud to have won the 2019 Best Large Commercial Solar Installation at the Solar Cutters Award Ceremony on Tuesday night. Taking place at the All Energy Conference in Melbourne, the award was presented to Infinite Energy for our commercial solar car park installation at Dunsborough Centre Point Shopping Centre.
Solar Cutters is an industry body run by a group of enthusiastic individuals committed to seeing growth and improvement in all areas of the solar industry. More than 500 people attended the awards ceremony, making it the most attended function over the two-day conference, outside the official conference networking session.
Our Quality Assurance Manager, Aaron Browne, and Installer Relations & Products Manager, Rohan McGlew, were honoured to accept the award on behalf of the team.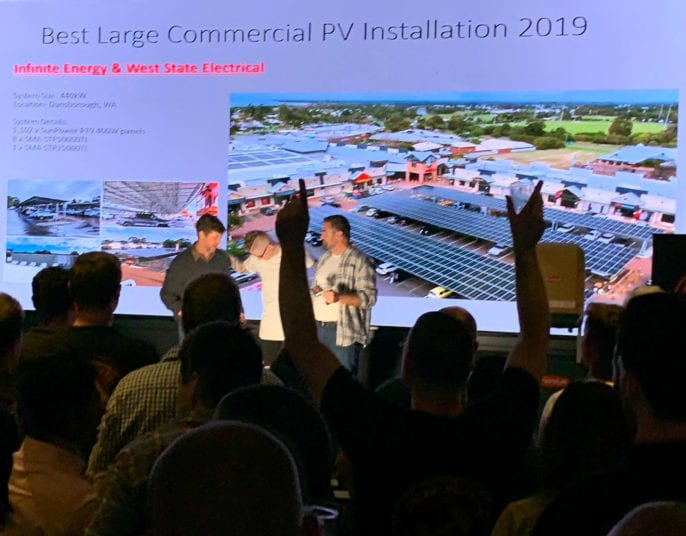 The project, completed in July 2019, is the largest solar installation in Dunsborough to date and an innovative design that is both practical and serves the energy needs of the shopping centre.
An extremely complex undertaking, hundreds of hours were spent on each aspect of this project and we are incredibly proud of everyone involved who have helped to deliver a truly impressive solar masterpiece.
The 440kW system uses premium SunPower panels and will produce an energy output of 705,624 kWh of clean energy every year. The system is expected to offset a significant amount of the sites daytime electricity use, eliminating approximately 550 tonnes of CO2 from being emitted annually (the equivalent of planting 2, 054 trees) and providing substantial savings for the 29 tenants of the shopping centre.
In addition, it provided an excellent opportunity to work with the South West community and assist them in finding a renewable solution to their energy needs.
It's an immense honour to win such a coveted award and Infinite Energy would like to sincerely thank all the teams involved in this project, including Dunsborough Centre Point Shopping Centre, West State Electrics, HFM and the many people involved at Infinite Energy.

back to blog