27 December 2018
Additional Costs to Consider When Installing Solar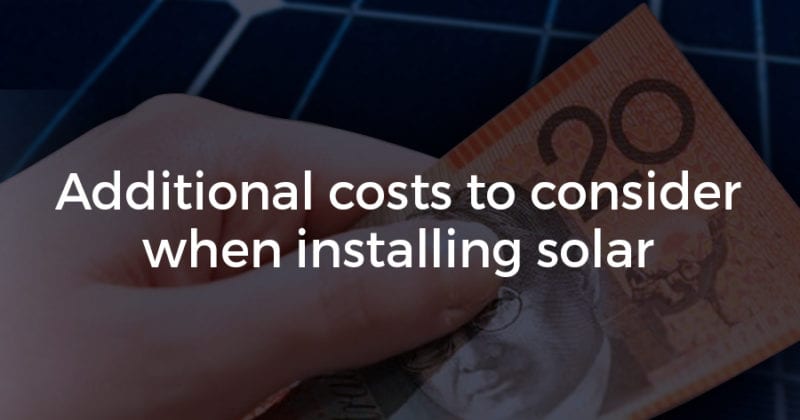 Investing in a solar PV system is a smart investment that will provide significant financial returns well beyond its initial cost.
You may have just begun your enquiry into solar power, or you may have already received a few quotes from some solar providers. Whichever position you are in, this blog will help you understand what costs are included in your quote and what additional extras you should be aware of.


Cost Breakdown
When purchasing a solar PV system for your home, you're paying for more than just your panels. A system compromises of panels, an inverter and a mounting system if needed. You'll also be charged for installation, balance of system (such as mounts, wiring, electrical components) and other operational costs such as permits, connection fees and monitoring systems.
An Infinite Energy solar quote will include all of the above, however it's important to check that all these items are included in any other quote you receive as not all solar companies will factor these into their initial quote. 
The below diagram, taken from the National Renewable Energy Laboratory provides a breakdown of the costs associated with a solar PV system.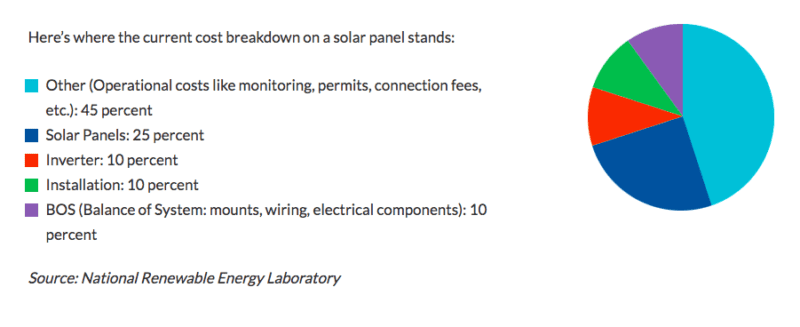 Connection Costs
The quote you receive from your solar installer outlines your system costs and should tell you your final out of pocket price (total system cost less any government incentives you qualify for) to have the system installed. However, this price doesn't include the additional connection costs incurred from third parties that are involved, such as Synergy.
The below is a snapshot of the connection costs you will need to pay through Synergy if you are having solar installed on your home in Western Australia.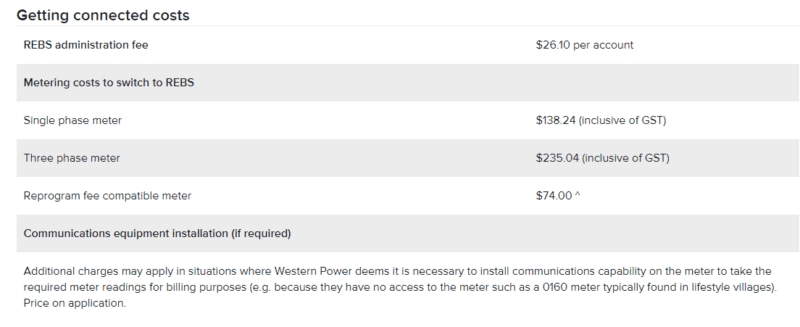 You will need to pay a Renewable Energy Buyback Scheme (REBS) administration fee to be eligible to sell your excess electricity back to the grid for any unused electricity your system generates ($26.10). You will also need to pay for either an upgrade to a digital metre if your current metre is analogue ($138.24 for single phase homes / $235.04 for three phase homes), or a metre reprogram if it is digital ($74). 
There is no cost to connect to the grid via Western Power, however you or your solar provider will need to apply to have your system connected. At Infinite Energy, we take care of this paperwork for you.  


Switchboard Upgrades
Your home may require additional switchboard work if there isn't enough space to fit the Solar isolator switch, or it requires an upgrade. This can be a costly exercise, with anywhere from $150 to replace a few circuit breakers with RCBO's, $400 for a sub-board, or up to $1,000 for a full switchboard upgrade.
If your solar company hasn't checked this at the beginning, you can suddenly be hit with a hefty cost you didn't budget for on the day of your installation.
Taking this into consideration, the best way to avoid unexpected costs is to select a solar provider who has completed the appropriate assessments prior to providing you with a quote.


What's Included in an Infinite Energy Quote?
An Infinite Energy quote covers full installation, products and a 5-year whole of system warranty, which is in additional to the warranty of your components. We help you take care of any required paperwork, and also have a dedicated service and support department to assist in providing superior customer service both pre and post-sale.
By choosing Infinite Energy as your solar provider, you can have confidence you will receive quality service and advice. Our extensive experience installing solar for over 15,000 homes, businesses and Government facilities across Australia puts us in an excellent position to help you navigate through the solar process, and our energy experts will happily discuss any charges on your quote that you are unclear about.
If you're interested in learning how much you can save with rooftop solar, we can provide you with a free, no obligation quote. Contact us today.

back to blog