14 December 2020
Build Your Dreams with BYD Battery Storage and Fronius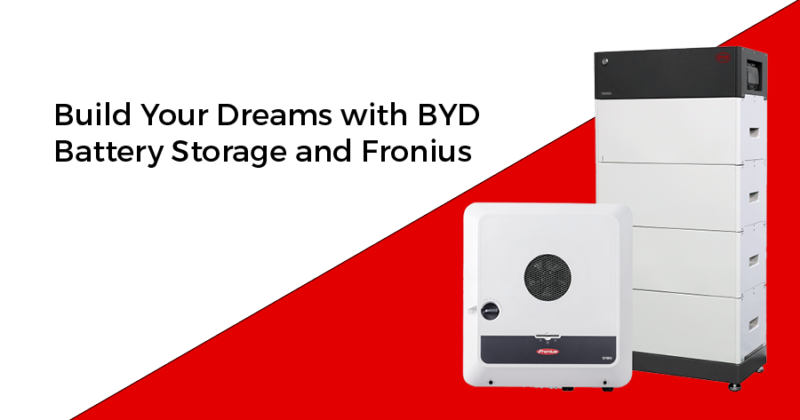 Fronius is at the top of the game with another exceptional product added to their range; the BYD Battery-Box Premium. The BYD Battery-Box Premium storage systems are made up of individual battery modules and are compatible with the Fronius GEN24 Plus in two designs, the HSM and HVM. Infinite Energy offers the BYD HVM battery, which are designed for larger homes covering 11.04 kWh to 22.08 kWh.
When combined with a Fronius GEN24, the BYD battery storage becomes a versatile and intelligent solar solution for single and 3 phase homes.


Superior Technology
Designed using one of the most reliable and safest battery technologies available, the battery is based on Lithium Iron Phosphate (LiFePO). This type of battery cell chemistry allows for more cycles (complete charge and discharge) over the lifetime of the battery compared to other technologies. It also ensures less degradation, so the battery can operate at optimum performance for longer.


Flexibility to Increase
As your energy needs increase, so should your battery storage. The design of the BYD HVM battery provides homeowners with the flexibility to expand their battery storage in the future. Homeowners can increase their battery storage size in increments of 2.8 kWh for the HVM battery, taking the battery to a maximum of 22.1 kWh capacity.
For larger energy-use customers, the battery can have 3 maximum capacity batteries connected at one time, creating an incredible 65.1 kWh of battery storage.


Compact and Ease of Installation
The BYD HVM battery is designed for floor mounting, allowing for a faster installation and commissioning process. The Patented Modular Plug Design requires no internal wiring, instead the battery modules are serially connected to achieve greater usable capacity.


Highest Safety Standards  
The BYD Battery-Box Premium meets some of the highest global safety standards including VDE 2510-50. The German energy storage system standard VDE-AR-E2510-50 is the strictest safety standard in the energy storage industry. The certification highlights BYD's commitment to develop and produce some of the safest possible energy storage technology on the market.


BYD Battery-Box Premium HVM Specifications


Round trip efficiency
≥96%
Battery Cell Technology
Lithium Iron Phosphate (cobalt-free)
Useable battery capacity
8.3kWh – 22.1kWh
Ambient temperature range
5C to 40C
Warranty
10 years
Dimension (W x H x D)
(HVM 11.0)
1,178mm x 585mm x 298mm
Weight
(HVM 11.0)
167kg (38kg per battery module)
Communication
CAN/RS485
Maximum Battery Output during Power Outage
The system can allow for automatic backup power in the event of a grid outage, however the size of your battery will determine the amount of energy you can discharge during a blackout. Please see below guide for maximum battery output.


About BYD
BYD (Build Your Dreams) is the largest producer of battery cells in the world. They also manufacture more electric vehicles than any other manufacturer globally. With 25 years in business and a  global production scale , they can offer a product that is both price competitive and of the highest quality.  


About Fronius
Fronius have been a market leader for many years now and with over 70 years of history behind them, they are one of the most trusted and reliable solar manufacturers on the market. With a full 10 years Parts and Labour Warranty when installed by Infinite Energy under the Fronius Service Partnership, Infinite Energy customers can have peace of mind when selecting Fronius products for their solar system.
If you'd like to learn more about the BYD Battery-Box Premium or the Fronius GEN24, contact us today and one of our energy consultants will be happy to help.

back to blog