29 June 2018
Electric Vehicle Chargers Now Cover Australia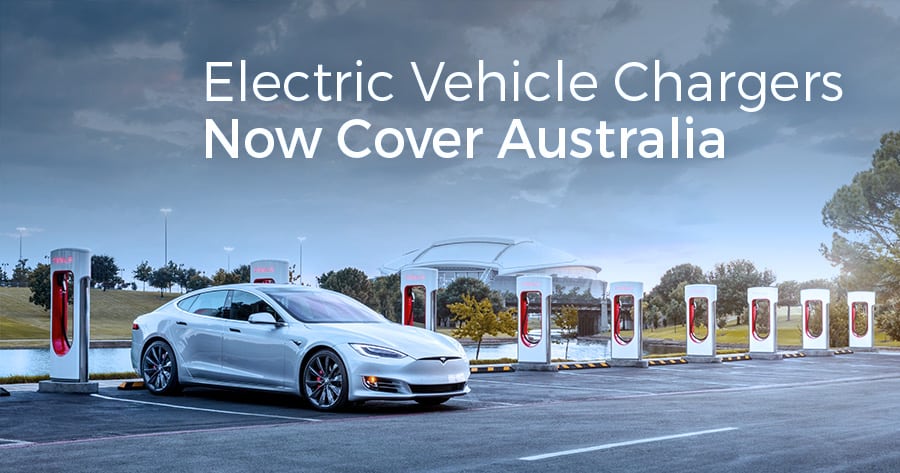 In 2016, the Australian Electric Vehicle Association (WA) began the task of creating electric vehicle charging routes extending from Perth to Adelaide and Perth to Broome.
This was an extension of RAC WA's Electric Highway, which extends from Perth all the way down to Augusta.
A year later in 2017, the Tesla Owners Club of Australia resolved to complete WA's Electric Highway, filling 10,000km of empty space between chargers across the continent.
In May 2018 the group accomplished their mission, reducing the average distance between 17,000km of charge points in Australia to just 200km.
About WA's Electric Highway


WA's Electric Highway was funded and commissioned by the RAC, while all individual charging stations are owned and maintained by local governments.
Pat Walker, RAC Executive General Manager, said the Electric Highway is a tangible contribution towards the growth of EVs in the state, "It will provide the infrastructure required to help eliminate the issues currently facing owners of electric vehicles, including 'range anxiety' and, for the first time, it will also provide the opportunity for electric vehicles to now visit the state's south west."
In 2016, the Australian Electric Vehicle Association in partnership with Synergy furthered RAC's efforts, installing 70 electric vehicle charge points in rural and remote towns around WA, extending the highway up to Broome and across to Adelaide.
A number of small businesses have joined the program, including William's Woolshed, a café and retailer situated on Albany Highway. Owners Ryan Duff and Simon Maylor said their three EV charge points have been amazingly positive for business, "Drivers will usually stop for 45 minutes or more so the car can charge while they have lunch and relax."
The Completion of the National Electric Highway


In 2016, the Tesla Owners Club of Australia resolved to complete WA's Electric Highway, working towards a goal of a maximum spacing of 300km between any two publicly available chargers.
Only four sites in all of Australia currently exceed this, with the nationwide average sitting at 200km.
The Red Centre route, which extends from Alice Springs to Uluru is now "100% driveable, with slow charging still at 2 points, and full completion expected by the end of 2018".
To make the electric highway accessible to all EV owners, Tesla Owners Club of Australia selected 32 amp, 3 phase chargers, which can be used by all EVs, not just Teslas.
The Australia-wide network gives drivers the ability to travel the country in the safest and most sustainable way possible.
How the Charges Work


The majority of charging stations are equipped with fast-charging DC chargers, that can fully charge an EV battery in just 15 to 30 minutes.
Unlike Level 1 and Level 2 AC charging stations which utilize a charger on-board an EV to convert the AC power to DC voltage for charging, DC charging stations bypass the on-board charger, directly feeding the DC voltage straight to an EV's battery. This effectively cuts charging times down from hours to just minutes.
DC Fast Charges also allow a communication link between the EV to be established, allowing the EV to control the charging session, and tell the charger how much current is needed to charge its battery.
Benefits of EV Chargers for Business


EV users select their destinations based on the availability of EV Chargers. Installing an EV Charger Station at your complex could be the reason a customer chooses to visit and spend money at your facility, rather than at a competitors.
EV Chargers can also increase linger times of up to 45 minutes, leading to more business for your tenants. For example, while formerly a customer may have just dropped in to run a quick errand, they will be inclined to stay longer, making additional purchases or enjoying a meal/coffee. If you choose to charge customers to use your chargers, this can create an additional revenue stream for your business.
Infinite Energy offers EV Charging solutions for private, strata, commercial and public use, with fuss-free installation and set-up. If you're interested in learning more about EV charging, click here, or call us on 1300 074 669.

back to blog