14 April 2021
Five Reasons Why We Love the New Fronius Primo GEN24 Plus Hybrid Inverter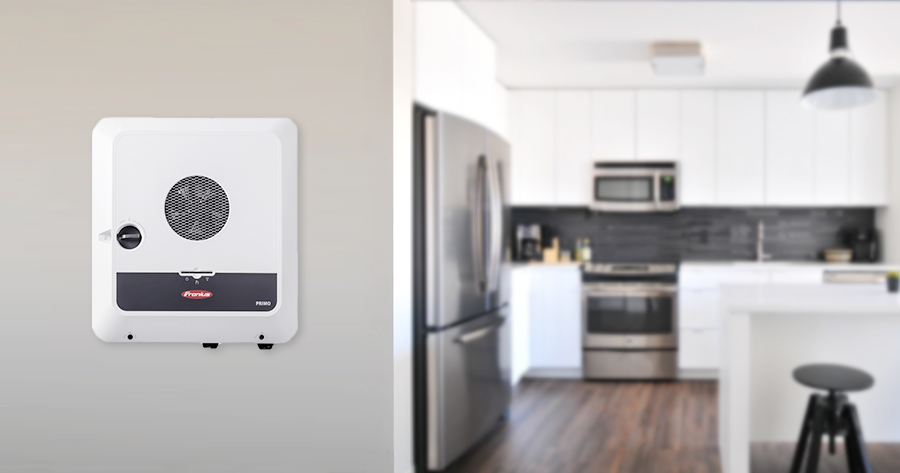 The newest addition to the Fronius inverter line-up, the Primo GEN24 Plus Hybrid Inverter is packed full of future-proof technology to make it possible to get the most out of your solar power system over the coming decades.
"The Primo GEN24 Plus is our first single-phase hybrid inverter and therefore another milestone on the path towards our vision of 24 hours of sun. Our aim was to develop a versatile and compact all-in-one inverter that takes into account all aspects of sustainability throughout the entire service life of the product." explains Martin Hackl, Global Director of the Business Unit Solar Energy at Fronius International GmbH. 
So, what makes this Fronius inverter a great choice for your new solar power system? Here are the top five benefits of the Primo GEN24 Plus Hybrid inverter.
Energy storage and backup power
The Fronius Primo GEN24 Plus Hybrid inverter can increase your independence from the grid, as it is compatible with home storage units and features impressively high charging and discharging power. The smart design of the Primo GEN24 Plus Hybrid inverter means that it can easily be installed with solar battery storage, or the solar battery backup can be added at a later date, as everything required is already included within the solar inverter. This inverter also offers greater storage capacity thanks to the addition of a modular BYD Battery-Box Premium HVS/HVM; when combined with the Primo GEN24 Plus it enables a storage capacity of up to 57.96kWh!
Benefit from Multi Flow Technology
The GEN24 Plus Hybrid inverter offers maximum energy output because of the sophisticated Multi Flow Technology, which enables and intelligently controls simultaneous energy flows. What this means for you, is that the PV generator can supply loads in your household and charge your solar battery at the same time. Additionally, if there is a surplus it can be fed into the grid which could result in you earning feed-in tariffs.

Reliable emergency power supply
The Fronius Primo GEN24 Plus Hybrid Inverter provides you with a full backup solution, enabling you to supply your entire household with stored power during a blackout. In the event of a power outage, the GEN24 Plus allows power that is currently being generated to be used and, when necessary, allows surplus energy to be stored in the solar battery. Its future-ready design also includes a new feature; a backup power socket which is the first of its kind and can provide basic backup power supply for up to 3kW, meaning that during a blackout, you can still have power supplied for important appliances such as laptops, smartphones, or small freezers.


Smart monitoring with Solar.web
The Fronius Solar.web app allows you to monitor, analyse and optimise your PV system quickly and conveniently on your smartphone, tablet or laptop. This enables you to identify your consumption patterns and optimize your consumptions accordingly to help save money on your energy bills. You can even complete your energy system with a Smart Home control system, allowing you even better control over your energy use.


Active Cooling
Most solar inverters use passive cooling, but the Fronius Primo GEN24 Plus Hybrid inverter uses active cooling through its innovative fan housing, which ensures ideal pressure conditions, allowing optimal intake of ambient air and airflow through the system. This superior cooling performance helps to extend the working life of the solar inverter and provides higher yield of solar power due to improved performance.
Since 1945, Fronius has proudly stood for the highest quality and innovation in solar power electronics and today, Fronius is one of Australia's leading solar inverter manufacturers.

You can learn more about Fronius here or if you like to find out how the new Fronius Primo GEN24 Plus Hybrid inverter can complete your new solar power system, get in touch with one of our experienced energy consultants by arranging a call-back or calling us on 1300 074 669.

back to blog