10 August 2020
How a SENEC Battery Helped Clive Save on Bills and the Environment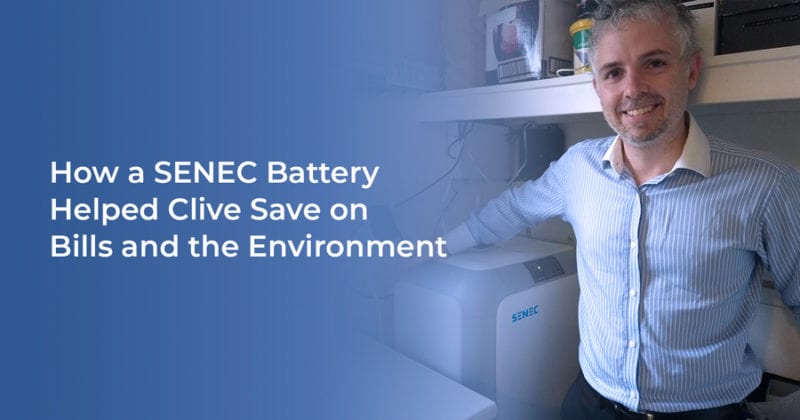 Infinite Energy customer, Clive, was on an environmental mission when he approached us about a battery storage solution for his home; "I wanted to install a battery to see how self-sufficient households can be by powering their homes from solar panels and battery storage".
In April this year, Infinite Energy proudly installed our first SENEC  Home V2 battery at Clive's property. Clive, who lives in East Victoria Park with his family of three, was very excited to be the first of our customers to install a SENEC battery.
His motivation for purchasing a battery were driven by his desire to be more sustainable and promote environmental advocacy. On top of this, he was curious to see how he could better manage his energy with a battery. In addition to its many great features, the SENEC  V2 appealed to him as it was one of the more reasonably priced batteries available on the market.
After having a 4kW system installed with us in 2018, Clive felt a battery was the next step.
Benefits
Since having the battery installed, Clive and his family have experienced a multitude of benefits:
Flexible Energy Use: When the household had just a solar system they had to be conscious of how they used energy, transitioning most of their consumption to daytime as this is when their system produced energy. Since having the battery installed, they can now be more flexible in when they use energy, allowing them to use more of their electricity at night when they tend to need it most. For example, during winter, they have been able to use their air conditioner to heat their home in the evening and have peace of mind that the energy stored in their battery is able to support this.
24-hour energy supply: A battery also means they can extend their power consideration. Rather than limiting a large majority of their energy use to just a 12-hour window during the day, they can now run on a 24-hour window and this fits in much better with their lifestyle.
Reduced electricity bills: While reduced electricity bills were not the primary factor for Clive to invest in battery storage, he is very pleased with the savings achieved. His most recent bill was just $74, compared to $150 at the same time last year with solar alone.
Cleaner energy: By adopting a more environmentally way of using energy, Clive will be able to significantly reduce his carbon footprint over the lifetime of the battery.
"The biggest benefit for us has been the flexibility to use our energy when we like and removing the need to run all the appliances during the day. We can turn the oven on at night and it is powered by a battery.

I would recommend Infinite Energy for the honest advice and recommending a good product fit for purpose. I had been ringing Chris from Infinite Energy for a few years about batteries and he knew what I was looking for. This year SENEC had an affordable 10KWh battery that was a great fit for my house.

On installation day my laundry was a tight fit. The installer managed to place the wall box where I wanted it, and the SENEC engineer came around to provide safety advice to the installer about the tight space.

Overall, I've been very happy with my experience with Infinite Energy and my SENEC battery, and would definitely recommend them."
The SENEC V2 battery:
The SENEC Home V2 is an intelligent battery storage solution, ideal for residential homes looking to improve their solar self-sufficiency and become more energy independent. The SENEC Home was first introduced into the Australian solar market in 2017 and has been making big waves since its release.
The SENEC V2 is built with the companies' multi-award-winning Lithium-ion technology and uses AC coupling. Capable of cycling twice a day with a 100% DoD, the battery stores your excess power to be used when your solar panels are no longer producing sufficient energy, such as at night.
The SENEC V2 is available in 2.5kWh increments, with a maximum capacity of 10kWh's. It is protected by a 10-year warranty. All SENEC batteries are internet-connected, allowing automatic software updates and malfunction diagnosis, as well as online monitoring and full customer support.
About SENEC
SENEC is a wholly owned subsidiary of one of Europe's largest energy supply companies, EnBW Energie Baden-Württemberg. SENEC have been at the forefront of decentralised storage solutions in Europe since 2009, and launched their battery storage solutions into Australia in 2018. SENEC were selected as the exclusive provider of small-scale battery storage systems for the Western Australian Horizon micro-grid project, which aims to run the coastal Pilbara town of Onslow on up to 70 per cent renewables. SENEC also have their Australian headquarters in Perth, ensuring timely and reliable onsite service and support.
If you would like any information on a SENEC battery or would like a free, no obligation quote, please click here.

back to blog