16 March 2020
How Impact Investing and Solar Are Supporting Our Community's Most Crucial Challenges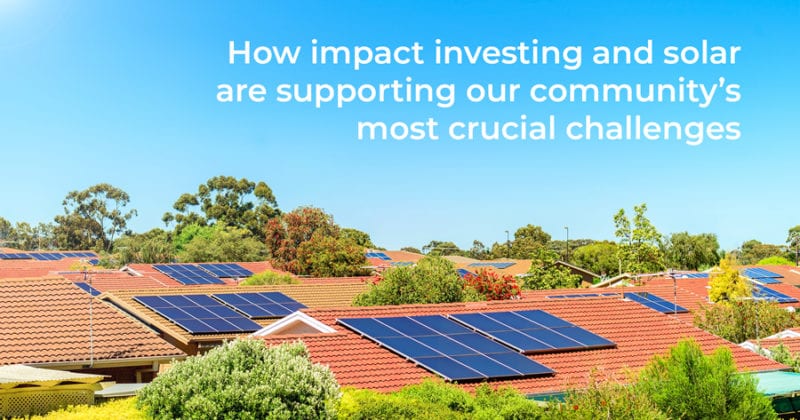 In an exciting announcement, local super fund, WA Super, has partnered with Impact Investment Group (IIG), to launch a $20 million commitment impact fund; the WA Impact Fund.
The WA Impact Fund will invest in projects that have a positive social and environmental impact, that also deliver significant competitive financial returns for its super investors. Impact investing is a growing field of investment that financially supports solutions to many of the community's most crucial challenges.
One of the first of its kind, the selected projects and assets will be Western Australian investments only, and will come under 4 mandate pillars:
Real Assets: Regenerative agriculture and property such as farming that increases biodiversity, enrich soils, supports bio sequestration and/or improves water management.
Energy Solutions: rooftop solar, batteries and energy efficiency for community assets (including community housing, aged care, schools, childcare and community centres).
Social Finance: investments in social enterprises or purpose-driven start-ups.
Further Social Outcomes: social impact bonds
There is excellent opportunity in WA for all 4 pillars to evolve, particularly in the Energy Solutions area. Australia is transitioning to a cleaner energy system, prompting fundamental changes in how we use and access energy in the Australian electricity markets. We are seeing a shift away from ageing fossil fuel generators and heading towards renewable energy production. Western Australia has achieved rapid growth over the years in small to medium-scale solar rooftop generation for both residential and commercial applications. This uptake is only improving, as more homes and businesses understand the benefits and value of solar.
The WA Impact Fund will look to invest in solar projects for community housing, aged care, schools, childcare and community centres in WA, to provide a positive social impact.
Boom Power is the selected partner for the Energy Solutions pillar. Boom Power are experts in planning, selecting and delivering energy solutions for community organisations. They actively manage a panel of clean energy and energy efficiency suppliers, who have all met strict quality standards. This includes an ongoing analysis of the selected company's capability, experience, references from former clients and financial position.  
The WA Impact Fund will provide a substantial positive impact. The fund will ensure WA Super's 60,000 members can be confident their superannuation is being invested to help them achieve their financial goals, whilst helping to improve Western Australia's society and environment; for decades to come.

back to blog