16 September 2019
How Much of a Solar Panel Can Be Recycled?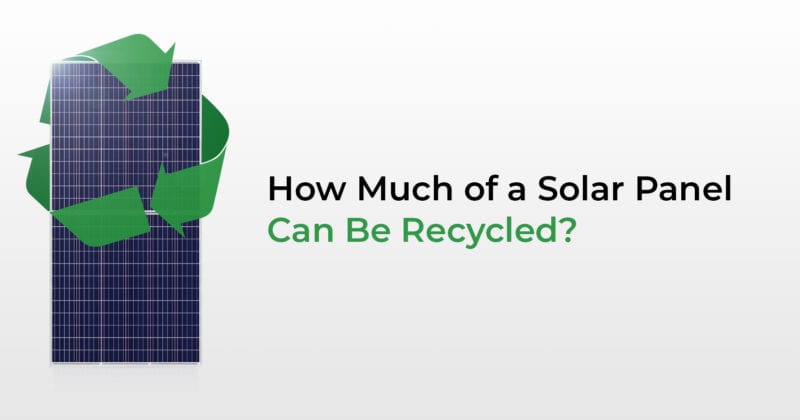 Certain parts of solar panels are, in fact, recyclable.
Silicon-based panels and thin-film panels need to be recycled in separate schemes. Both have glass as their heaviest component, but 95% of the glass components in silicon-based panels are the most reusable. The silicon particles will then be broken down using acid and are now ready to be used to produce new silicon modules. This earns the silicon materials an 85% recycling rate. For thin-film based panels, it's the semiconductor materials that are the most reusable. 95% of the semiconductor materials in thin-film panels are reused, followed by the glass components at 90%.
However, a lot of research is still needed as to how solar panels can be properly recycled. The solar industry is still quite young and further development is still needed to create a sustainable and a suitable scheme for recycling solar panels. But we need to do it fast. According to the International Renewable Energy Agency (IRENA), we'd have accumulated about 60 to 80 million tonnes of solar panel waste globally by 2050 if a robust recycling framework is not implemented.


SunPower first to achieve Cradle to Cradle Certification
For manufacturers, the sustainability of the products they make is an important marker in ensuring that no harm is done to the environment from the moment they are manufactured up to the end of their product life. SunPower has achieved such a feat, with a Cradle to Cradle Certification to match – and the first company to be given such.
The Cradle to Cradle Certified Product Standard aims for manufacturers to make products that impact the environment and the people in a positive way. This means that SunPower's products, specifically their E-Series and X-Series DC solar panels, have met Cradle to Cradle's Standard requirements upon assessing their environmental and social performances on material health, material reuse, renewable energy and carbon management, water stewardship and social fairness.


Solar Waste Management in Australia
Along with Australia's fast-emerging solar market and having the highest uptake of home solar energy in the world, the question on managing future solar panel waste is also being raised. In a study published in the Journal of Cleaner Production in February, battery waste will start to rise significantly in 2025. By 2050, Australia will have accumulated 1,500 kilotonnes (kT) of solar panel waste, an estimated 800,000 tonnes in 2047 alone.
The Product Stewardship Act, implemented in 2011, aims for a proper disposal of products so that their associated waste will not cause damage to the environment and public health and safety. In 2016, solar PV systems have been added to their priority list for proper product stewardship approaches, requiring manufacturers to have a standard recycling framework for retired solar panels.
This year, Victoria has also started to act towards solar waste management by banning solar panel material on landfills. According to Environment Minister Lily D'Ambrosio, this is to make sure that the valuable materials in electrical waste can be reused and not harm the environment and the people.
The Australian government is also proposing to come up with a national plan that will integrate the principles of a circular economy. In this model, manufacturers, retailers and consumers will all have an involvement in using solar panels that are both economically and environmentally friendly. This will consist of designing and sourcing panels and batteries that will not harm the environment and educating consumers on the proper disposing of their retired solar panels and batteries. This approach is expected to reduce collection costs, increase product life and encourage recycling methods for solar panels.
More information on recycling solar panels via local councils can be found on the Planet Ark website. Alternatively, if you'd like to discuss solar options for your home or business, contact us today.

back to blog