16 November 2020
How the New Fronius GEN24 Can Optimise Your Solar System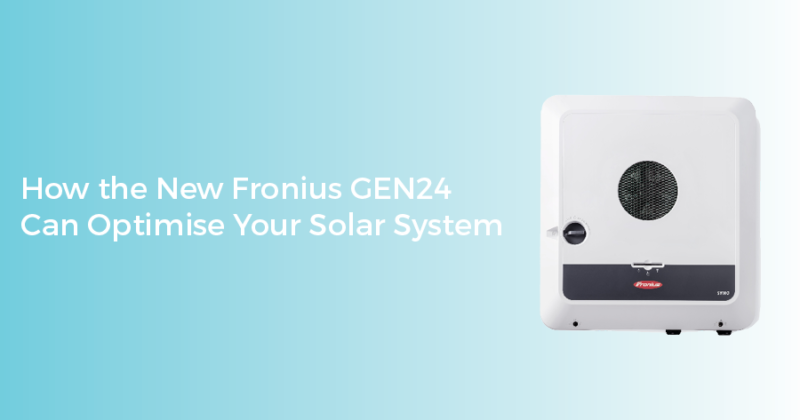 Infinite Energy is proud to announce the addition of a multi award-winning inverter to our product line-up, the Fronius GEN24 Plus.
The Fronius GEN24 is an all-in-one hybrid inverter, offering a unique variety of features. With integrated backup power options, state-of-the art technology, and sophisticated design, the GEN24 offers everything you need in a solar inverter.


Multi Flow Technology
Thanks to the design of the inverter, energy can flow efficiently through the inverter, even when in backup power mode.
Unlike conventional inverters, which only allow one energy flow at a time, Fronius inverters with Multi Flow Technology can control different energy flows at the same time, such as energy from the PV system, an energy storage system, or additional power sources. This ensures that the energy is used efficiently, providing optimum performance.


Active Cooling
Because high ambient temperatures have a negative influence on the performance of an inverter, it's important the inverter's power electronics remain at a low temperature. The active cooling technology used in the Fronius GEN24 ensures better performance, longer service life and an increased yield.


Backup Power
When used in conjunction with an energy storage system, such as the BYD, the GEN24 can automatically switch to backup power in the event of a grid outage, and provide partial backup for your home. Available for Single Phase and 3 Phase power supply, the inverter can supply your household with electricity, depending on the size and maximum discharge of the battery.


Simple and flexible installation
Several installation features allow for a simple and low-cost installation. Quick-release screws, push-in spring terminals and a sophisticated wall mounting system all contribute to a faster installation.


Sophisticated Fronius software
The Fronius monitoring app, Solar.web, provides a convenient and intelligent platform that allows users to monitor their system performance and stay in control of their solar energy. In addition, the open interfaces mean integrating other components such as home automation systems is quick and simple.
Showcasing its unmatched specialties, the Fronius GEN24 has already won several awards, including first place in the Energy Storage Inspection 2020, as well as the Intersolar Award, Red Dot Design Award and the Plus X Award.

About Fronius
Fronius have been a market leader for many years now and with over 70 years of history behind them, they are one of the most trusted and reliable solar manufacturers on the market. With a full 10 years Parts and Labour Warranty when installed by Infinite Energy under the Fronius Service Partnership, Infinite Energy customers can have peace of mind when selecting Fronius products for their solar system.
If you'd like to learn more about the Fronius GEN24, simply contact us today and one of our energy consultants can provide you with personalised information and a free, no obligation quote.

back to blog