15 February 2019
How to Minimise Waste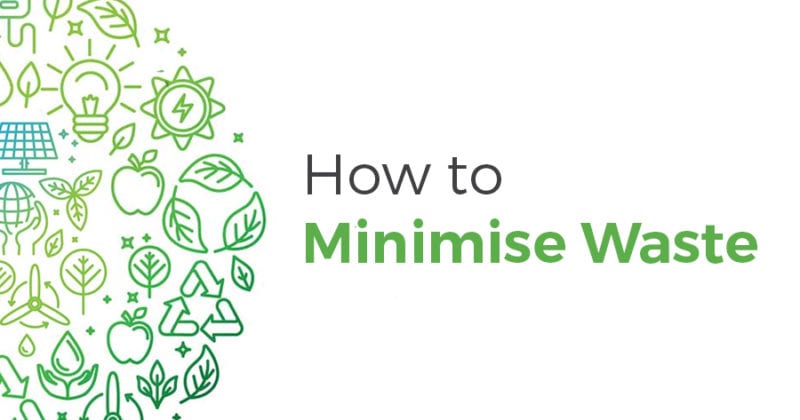 We all want to do our part for the environment. Recycling is a simple and efficient way that we can contribute to a more sustainable future. However, it's come to light that our recycling processes are not as simple as we thought, with a large amount of it being dumped into landfill or transported overseas.   
Our recycling is collected, sorted and stored by recycling companies. A large amount of it was then packaged up and sold overseas to China for further processing to convert it into reusable raw materials.
However, last year China made the decision that they would no longer accept our waste, and suddenly Australia was hit with the startling confrontation that we need a new solution in place when it comes to managing our recycling.
While there still hasn't been any confirmed solution as to what Australia is now going to do with our recycling, there are a few things we can do to minimise our waste altogether.


Buy products without packaging
To minimise your waste, try to avoid buying fruits and vegetables that are wrapped in plastic. Don't put fruits and vegetables in plastic produce bags either, instead, take them loose or use your own cloth bags.


Use a Keep-Cup
Using a reusable cup when ordering your takeaway coffee is one of the most simple ways you can make a positive impact on the environment.
Although made from paper, most takeaway coffee cups are lined with polyethylene to prevent leakage. This makes them unrecyclable and puts them in the Styrofoam category when it comes to landfill and methane emissions. The lids are usually unable to be recycled as well.
The same also goes for plastic water bottles. Although these can be recycled, you can minimise large amounts of waste each year just by having a reusable water bottle.


Reduce your plastic bags
Australia has undertaken big changes to reduce their plastic bags, providing incredible results for the reduction of plastic bags. Major supermarket chains, Woolworths and Coles, have managed to prevent 1.5 million plastic bags from entering the environment in the last 3 months alone, and an 80% drop in consumption.
However, some small businesses and retail stores were still offering plastic bags as fines on retailers were not being enforced until this year. To avoid using these, make sure you bring reusable bags with you wherever you go. You can purchase small reusable bags that scrunch up into a small pouch, making them easy to keep in handbags or pockets.


Avoid cling wrap
Cling wrap is one of the few plastics that never gets recycled as the material melts at different temperatures than other plastics, causing problems with recycling machines. However, there are many alternatives that keep your food fresh, and are good for the environment. Reusable bee's wax wraps are a cheap solution and are known to actually keep your food fresher for longer. You can even try making your own at home.  


Stop using paper towels
Although they are a simple and quick solution to cleaning up messes, paper towels are a single-use product and usually just end up in waste. A simple alternative is using washable rags, tea towels or even old t-shirts.


Disposable items
Although convenience has been a huge factor in the items we purchase, it's also started to pay a price on our landfills. Disposable straws, plates, cutlery and many other single-use items end up causing more harm than we intend.


Only buy food that you know you're going to eat
You'd be surprised at how much food we throw away. In addition to material waste, food waste is also a big problem. The best way to avoid wasting food, and save money, is to make a meal plan and only buy groceries you know you'll eat. You could also consider using leftover food scraps for worm farms or composting. Both solutions are a rich, nutrient source for your garden and a much cheaper alternative to store bought fertilisers.


Know what to recycle
Your recycling bin can take all paper and cardboard. Make sure you flatten your cardboard so you can fit as much into your recycling bin as possible.
Plastic bottles, containers, glass bottles and jars can all be recycled too. Just ensure to remove the lids and rinse before putting them in.
Aluminium cans, foil and steel tins such as spray cans and empty vegetables cans can all be recycled once the label has removed and they've been cleaned.
Minimising your waste is one of the most effective ways to help the environment. The key is to avoid using single-use products, and instead opt for alternatives that can be reused or have short break-down periods. Minimising waste involves changing our behaviours and habits and switching to a new way of thinking. Over time, choosing minimal waste options will become easier, and your efforts will make a big difference in waste management.

back to blog