18 December 2019
Infinite Energy Solar Car Challenge 2019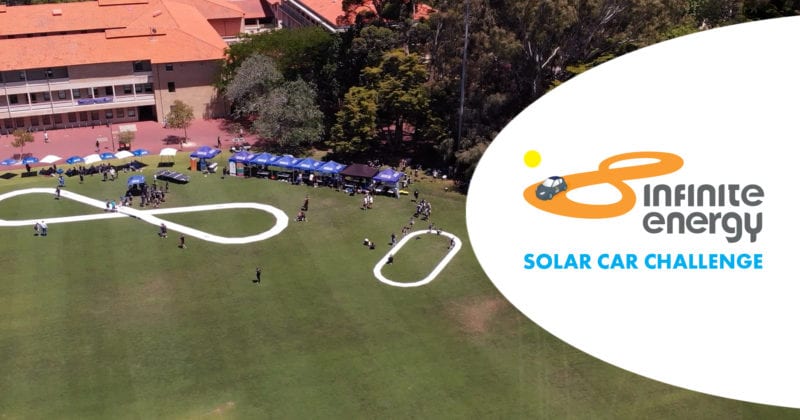 The inaugural Infinite Energy Solar Car Challenge took place at the University of Western Australia on Tuesday the 12th of November. Hosted on James Oval, over 180 students from 14 schools took on the challenge of designing, building, and racing their very own solar powered model car.
Sponsored by the Australian Institute of Energy, University of Western Australia and Infinite Energy, the competition aims to get high school students across Western Australia excited about Science, Technology, Engineering and Mathematics through problem-based learning.
In order to determine the fastest engineered car, students race their solar powered cars around the 100 metre Infinite Figure 8 Track, going through several elimination rounds to get to the finals. It was an extremely close competition this year with John Forrest Secondary College taking away first place, followed by Carey Baptist College in 2nd, John Forrest Secondary College received another win in 3rd, and Morley Senior High School in 4th position. The Top 4 Teams were invited to represent Western Australia at the Australia International Solar Model Car Challenge in Hobart at the end of November.
Guided by teachers and university mentors, the design and building of the solar car incorporates several science and engineering principles, creating a unique and exciting learning experience. Students were also required to submit a video detailing the process they went through and how they worked as a team to complete the model.
Infinite Energy CEO, Aidan Jenkins, said the company was proud to sponsor the Solar Car Challenge, "The Solar Car Challenge is an exciting event and is a great opportunity for us to engage with high school students and educate them about solar.
"It's a privilege to partner with other organisations within the industry and work together to inspire students to be more interested in science and renewable technology."
Thanks to support from the sponsors, the Solar Car Challenge Committee distributed free solar model car kits to schools throughout the state. On top of this, prize money and support for interstate travel for the top 4 teams was provided.
"Encouraging high school students to become interested in the sciences is one of the best ways to secure a bright future for Australia, said WA State Solar Car Challenge Coordinator, Jun Hua Guo. "By fostering an innovative culture and educating Australia's youth in science, technology, engineering and mathematics (STEM) subjects, students will be more likely to pursue careers in these fields in the future."
In addition to an exciting and educational day, students were also treated to a Gelato Cart, which proved to be extremely popular. A full-size solar car was also on display at the event, thanks to Darren Hamley from Willetton Senior High School.
Infinite Energy would like to extend a big thank you to all participants, organisers, and sponsors, including The University of Western Australia and the Australian Institute of Energy for making the 2019 Solar Car Challenge such an overwhelming success!

back to blog