23 November 2020
Our Top Tips for a Sustainable Christmas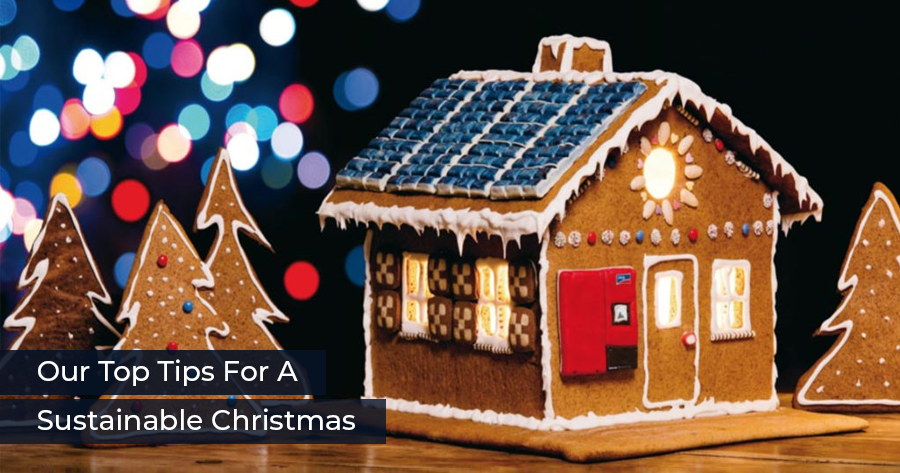 I'm dreaming of a "green" Christmas….
In case you've missed it, it's not long until Christmas! While for most, Christmas is a time for family, giving, and fun, it can also be a time of wastefulness and excess.

Past stats have shown that waste volume can rise by up to 30% around Christmas-time, which makes sense when you factor in things like wrapping paper, excess food and drink, and all those cheap Christmas presents that seem to break as soon as you open them.
So this Christmas season, the team at Infinite Energy are aiming to celebrate a sustainable Christmas and have put together some of our top tips so that you can do the same!
Give sustainable gifts
We have already mentioned those cheap toys that seem to break as soon as the wrapping paper comes off, but a lot of people tend to over-do the gift-giving at Christmas, forgetting that quality is always better than quantity. Giving gifts that come from the heart is always much better received than lots of gifts that don't mean much to the receiver.
Some ideas for meaningful and sustainable gifts are:
Donations
Make a donation on behalf of your giftee for their favourite charity, or you can donate to a well-known charity that such as Oxfam and buy a goat for an impoverished family in Vanuatu!


Experiences
Giving someone an experience gift is a great idea, perhaps gift them something to do with one of their favourite hobbies, like art, cooking or yoga classes, or perhaps choose an experience you can do together, like an Escape Room or a wine tour. Websites like Redballoon or Adrenaline offer lots of options for experience gifts like this.


Sustainable and quality gifts
If physical gift-giving is unavoidable, try to put additional thought into how and where your gift was made, try to choose locally made gifts and gifts made with sustainability in mind. Local markets are a great way to find locally and sustainably-made homewares, clothing and jewellery which make great gifts. Shopping locally also helps to reduce the carbon footprint of your presents! Otherwise, indoor and outdoor plants also make great gifts that can be enjoyed for years to come.
Reduce plastic and packaging
Does anyone else seem to find stray bits of tinsel and wrapping paper turning up around the home, months after Christmas has ended? While many of us enjoy the festivity of decorating our homes for the season and beautifully wrapped gifts, there are more sustainable options to choose which will help keep Christmas cleaner.
It's what inside that counts
Beautifully wrapped presents can look stunning under your Christmas tree, but unfortunately most wrapping paper, as well as ribbons, sticky tape and bows cannot be recycled and will just end up contributing to landfill. Consider these alternatives to all that unnecessary waste; wrapping presents with the comic strip pages from the newspaper, using reusable fabric giftbags, or practice Furoshiki, which is the art of Japanese folding and wrapping.


Toss the tinsel
There are many ways you can decorate for Christmas while also being conscious about our environment, you just need to be a bit creative! Tinsel is the main culprit for Christmas decoration waste as it cannot be recycled are rarely lasts more than once Christmas. Instead of stringing your tree with tinsel, why not try making paper chains out of last year's Christmas cards? This is a great idea to try with kids as well, to get them into the spirit of the season. If you can get your hands on some pine cones, these add a rustic touch to any Christmas theme, and better yet, can be composted once the holiday is over!


The "real" VS plastic debate
While it may seem harmful to the environment to cut down a tree just for Christmas, a living Christmas tree will most likely have taken 8-10 years to grow to size, all the while creating oxygen and locking in carbon while it was alive. Plus, once Christmas is over real trees can be easily composted and returned to the earth. Plastic trees on the other hand often end up as landfill as they mostly cannot be recycled.
If someone in your household has allergies and you cannot have a real tree, then don't despair, just look for a quality tree that will last at least 10 years to minimise your environmental impact. Alternatively, you could buy a potted plant or tree that you look after year-round and bring inside and decorate for the festive season.
Make sustainable choices
Choosing to have a sustainable Christmas seems like an easy choice to make, when in reality there are lots of little decisions that will help make your holidays more environmentally friendly. Some of these are:
Choosing LED lighting for your home and Christmas light displays to use less energy.
Making or buying Christmas cards made from recyclable paper.
Turning off Christmas tree lights and outdoor house decorative lighting at bedtime.
Choosing to buy sustainably grown, raised, or caught food for Christmas lunch.
Replacing single-use Christmas crackers with reusable ones.
Reduce your food waste by trying to only prepare what you need or being creative with your leftovers.
Consider investing in a smart meter to help monitor your energy consumption over the holidays.
So, as you can see, with a bit of planning and creative thinking, it's easy to ensure that you and your family can enjoy a sustainable Christmas this year!
If you want to learn about how you can be even more sustainable, get in touch with us today to find out how investing in solar can help save money, as well as the planet.

back to blog