02 March 2017
Why You Shouldn't Wait for Batteries to Install Solar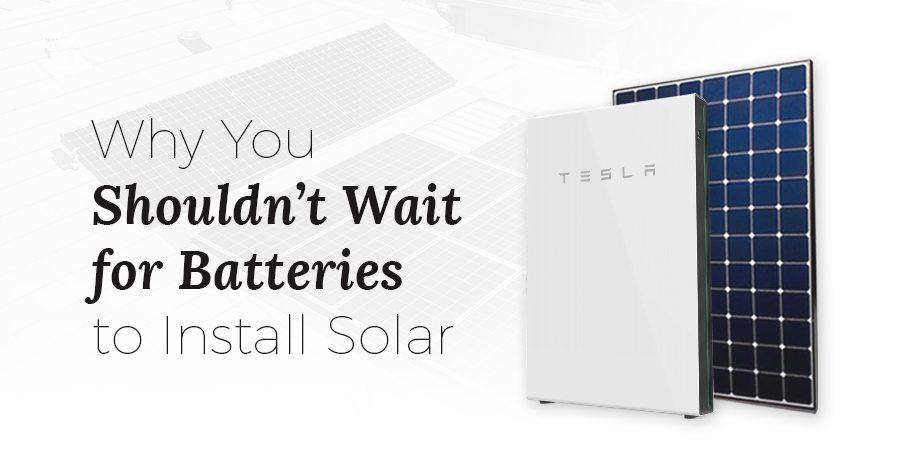 Many home and businesses owners are reluctant to purchase a solar PV system before the battery prices drop. While we agree that waiting to purchase batteries may be the best course of action for some consumers, we don't think it should have any bearing on when you decide to purchase a solar PV system.
This is due to the following five reasons:
1 – Prices for Panels are at an All-Time Low


In the last few years, prices for solar panels have fallen much faster and further than expected. The Chinese economy has played a major role in this price reduction, as huge subsidies by the government to hundreds of companies has caused hyper competition, with companies drastically reducing prices to remain viable.
In October 2016, prices bottomed out at around 40 cents per watt and are not expected to drop any further. In fact, if you wait for the price of batteries to drop before purchasing your solar PV system, you may end up paying more for your system if panel prices return to former levels, or if the Australian dollar drops. 
2 – Government Incentives Are Being Phased Out


Small-Scale Technology Certificates or STCs are government incentives that offer considerable discounts off the upfront cost of a renewable technologies, including solar PV systems.
Due to changes made by the Federal Government, STC incentives started being phased out in January 2017, and will reduce every year thereafter, until 2031 when they are stopped completely.
This means the longer you wait to purchase a solar PV system, the less you'll receive in government incentives.
For example, if you purchase a 5kW solar system in 2017, you'll receive approximately $3,724 in incentives. If you wait and purchase the same sized system in 5 years (2022), you'll receive just $2,394 in incentives. That's a difference of $1,330.
For commercial sized solar systems, the differences are even larger. If you purchase a 100kW solar PV system for your business in 2017, you'll receive around $73,500 in government incentives. If you purchase a 100kW solar PV system in 2022, four years from now, you'll receive around $47,300 in government incentives. That's a difference of over $26,000.
3 – Waiting Means Missing Out on Thousands of Dollars in Potential Savings


Taking into account the same time frame of five years, and the fact that electricity prices are expected to continue to rise, your 5kW solar PV system could have saved you over $7,500 in reduced electricity bills.
For a 100kW system, this translates to around $150,000-$200,000 in missed savings.
Waiting for battery prices to go down before purchasing a solar PV system for your home or business will result in missing out on thousands of dollars in potential savings.
4 – Hybrid Inverter Technology is Available


It's true that batteries cannot be added to any solar PV system. In order for your battery to work alongside solar, you'll need to invest in a hybrid inverter.
Like a standard string inverter, a hybrid inverter converts the DC power your solar panels generate into AC power, which can be fed directly into the grid, or used to power your home appliances.
Additionally, a hybrid inverter can store DC power in your battery, and then draw on and convert this into AC power when required.
A hybrid inverter can work perfectly without an associated battery, allowing you to install a solar PV system now, and seamlessly retrofit a battery at a later date.
5 – Installing a Solar PV System is Proven to Increase the Value of Your Home


Studies in Australia and the US have confirmed that investing in a solar PV system will increase the value of your home.
In Brisbane, sustainable homes had a median price of $616,000, 11.5% above the Brisbane median of $545,000, while homes with three or more sustainable features sell for an even higher median of $675,000 – an extra $130,000 or 19%.
If circumstances force you to move in the near future, you won't be financial harmed having already installed a solar PV system.
While for some owners it may make financial sense to hold off purchasing a solar battery until they become more affordable, this logic doesn't extend to purchasing a solar PV system.
To find more about solar for your home or business, request a no obligation consult by clicking here.

back to blog