30 December 2019
SolarEdge Ranked #1 Most Financially Stable Inverter Manufacturer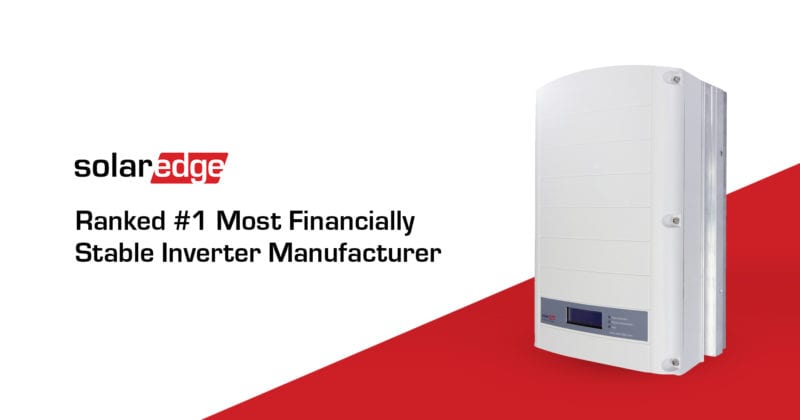 The 2019 version of the SINOVOLTAICS Inverter Manufacturer Ranking Report has recently been released, placing SolarEdge as the #1 most financially stable inverter manufacturer.
The Altman-Z Scores in the report have been calculated from December 2016 until September 2019 and provides detailed insights into how the financial strength of inverter manufacturers has evolved over the past 3 years.

What is the SINOVOLTAICS Inverter Manufacturer Report?
The SINOVOLTAICS Inverter Manufacturer Report is designed to see how one inverter manufacturer compares against another. The report is used to determine the financial health status and stability of a company; an important indicator when selecting your inverter manufacturer.
The Altman Z-scores reflect which manufacturers are financially strong, and which are in the risk zone of going bankrupt within the next 2 years. This is determined by a number of factors, such as the companies Working Capital, Retained Assets, Earnings Before Interest & Tax, Market Value of Equity, Sales and Total Assets.
The scores are then categorised into 3 zones to determine the level of risk; Safe Zone, Grey Zone and Distress Zone.
All data scores have been calculated by Sinovoltaics and verified with financial data from Gurufocus.com.

Why is financial stability important?
It's vitally important to understand the financial position of a company you're going to choose to purchase from, as you want to ensure they will remain in business for some time. This is particularly important when considering your warranty.
Your warranty is only valid if the business is still in operation. Thus, if the manufacturing company you've purchased your inverter from has gone out of business and you have a warranty you're trying to claim, it makes it extremely difficult trying to get any compensation. In some cases, customers may have to fork out the costs to repair or replace the faulty inverter themselves.
Often companies with cheap products, which have a higher risk of failing, also have a higher risk of going bankrupt. This is often due to being unable to support the excessive warranty claims they receive, or from engaging in dodgy business tactics that fail. Ensuring you choose a financially stable company will significantly reduce the risk of this occurring.

Why SolarEdge?
Not only did SolarEdge rank number 1 in the Sinovoltaics report for financial health and stability, but they're also the leading manufacturers of inverter power optimisers.
Benefits of a SolarEdge inverter when compared to a traditional string inverter include;
Full roof utilisation
Allowing you the flexibility to put more panels on your roof by mixing different orientations and panel types to maximise PV power production from your roof space.


More energy
With traditional inverters, output of all panels is affected by the weakest panel and there are substantial energy losses due to unevenly dirty or shaded panels. However, with a SolarEdge inverter you get maximum power out of each panel.


Panel level monitoring
Individual panel level monitoring allows you to monitor the performance of each panel in your system and quickly identify any that may be showing a reduction in output. This results in less downtime and faster resolutions to issues so you can maximise your investment.


Superior safety
Protect your home, the system and your family with SolarEdge's unique safety features for automatic shutdown of high DC voltage during installations, maintenance and emergencies. Find out more about SolarEdge SafeDC™ Technology here.


Founded in 2006 and headquartered in Israel, the company has a proven track-record in supplying high-quality, reliable inverters. On top of this, SolarEdge offers one of the best inverter warranties of 12 years (extendable to 20-25 years), with a 25-year power optimiser warranty.
Contact us today for more information about which inverters may be best suited to your situation.

back to blog