15 July 2019
Infinite Energy Launches sonnenBatterie Hybrid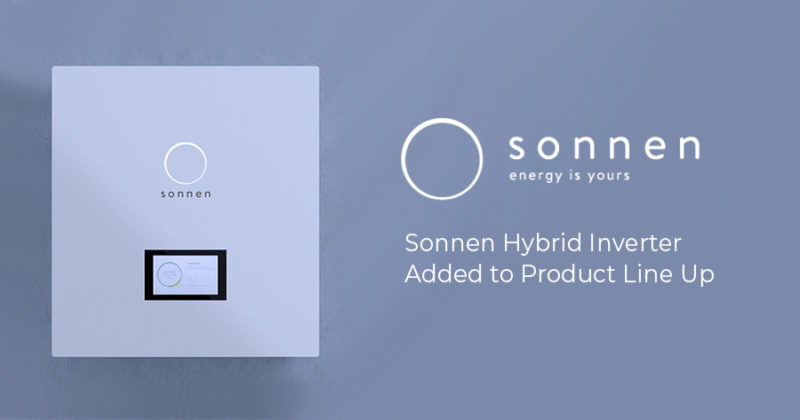 Infinite Energy is excited to announce an impressive addition to our product line-up – sonnenBatterie Hybrid. The sonnenBatterie Hybrid is a highly efficient, fully integrated system that encompasses both a battery and hybrid inverter into the one unit. The design allows for minimal loss in power and offers up to 10,000 cycles.
The key benefit of the sonnenBatterie Hybrid is its ability to utilise both DC and AC output to provide a complete system.


How it works
The smart battery storage system connects your solar PV panels directly to the hybrid inverter. Unlike a solar standard inverter, which can only convert DC power into AC power to be used in the home or exported to the grid, the hybrid inverter allows excess DC power to be automatically redirected to a battery. The sonnenBatterie can store this power until its needed later in the evening.


Which phase power?
The sonnenBatterie Hybrid is offered in single-phase option, however can be installed on a split or three-phase homes.


Increase your system size
The sonnenBatterie Hybrid is suitable for all residential systems, but its DC battery output factor makes it exceptionally useful for single-phase power homes with high daytime usage.
For many Australians living in a single-phase power home, their distributor network operator has imposed a 5kW inverter capacity limit. This is to avoid too much solar power being exported to the grid, causing unstable grid voltage. Therefore, the largest PV array system size a single-phase home can have is 6.6kW's. For many single-phase homes with high daytime usage (e.g. air conditioning, pool, high number of household members), a 6.6kW PV system won't cover all their energy needs, and if it does, only a small amount is left to be stored in a battery.
However, the sonnenBatterie Hybrid is different, as it can use both AC and DC-coupling. As shown in the diagram below, when using a sonnenBatterie Hybrid, the household can increase their system size to 8kW. This is because the sonnen Hybrid inverter can deliver 4.7kW AC to power the house, while simultaneously delivering 3.3kW DC power to charge the battery from the inverter.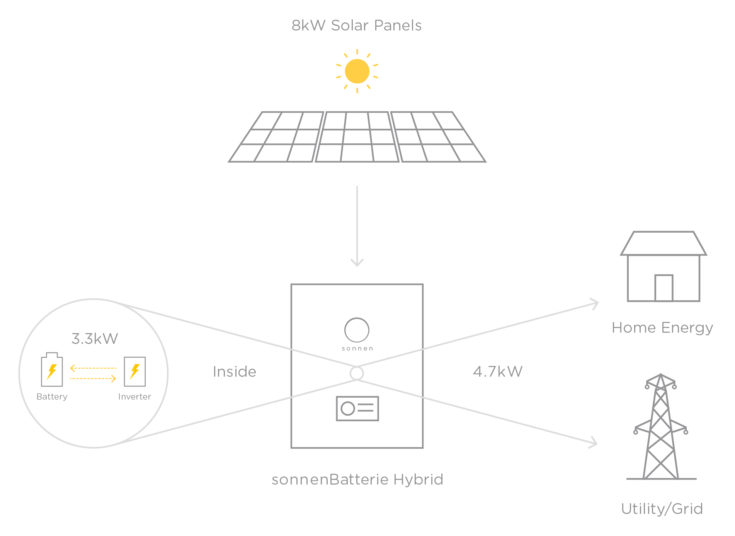 This would not be possible with a standard 'AC-Coupled' battery which can only use 5kW of solar power to share between battery charging and powering the house.


Further benefits
The sleek, compact unit has emergency power capability with Black Start; a new feature that allows owners to recharge their batteries with energy produced by their solar panels without a grid connection. Users can be ensured their energy supply is uninterrupted, so when a blackout occurs, your house can continue to receive power.
The benefit of having both the inverter and battery into one unit avoids there being an external unit for issues to occur, separate warranties to cover and different manufacturers to deal with. If the inverter needs replacing, you won't need to decommission the whole unit. It also means less space is required.
As like all sonnen products, the sonnenBatterie Hybrid comes with a 10-year warranty or 10,000 cycles, whichever comes first, as well as a 10-year warranty for the inverter. The battery exclusively uses lithium iron phosphate batteries (LiFePO4), designed to offer a greater longevity and higher safety than most other lithium-ion batteries that are commonly used.
The battery can deliver up to 2.7 cycles per day, making it one of the top performing in the industry. The nominal capacity of the battery ranges from 5kWh to 15kWh and is expandable in 2.5kWh increments.
SonnenBatteries are now produced here in Australia, at their head office in Elizabeth (South Australia) at the old Holden factory, supported by a local technical, service and customer service team.
If you're interested in learning more about the sonnenBatterie Hybrid, or would like a free, no obligation quote, please contact us today.

back to blog