06 March 2020
South Australian Home Battery Scheme Subsidy to Decrease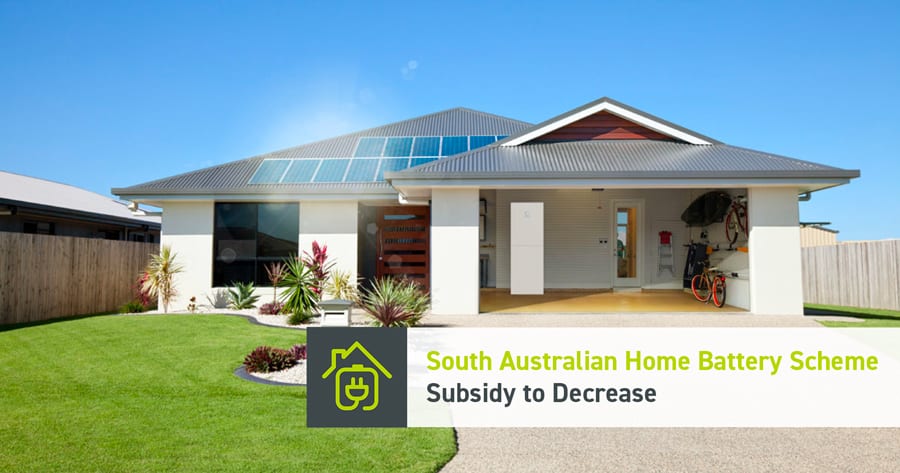 South Australians have just six weeks to purchase an eligible battery at current subsidy levels under the Home Battery Scheme.
The South Australian Government has announced that from 15 April 2020, subsidy levels will be reduced.
The new subsidies are; 
$600 per kWh to $400 per kWh for those with an energy concession 
$500 per kWh to $300 per kWh for non-energy concession holders 
They have also announced a reduction in the battery installation subsidy cap from $6,000 to $4,000 from this date.
The Home Battery Scheme commenced in October 2018 and aims to support 40,000 households across South Australia to install solar battery systems in their homes. Subsidy uptake has significantly increased recently, with 7,000 subsidies approved to date.


How to take advantage of the current subsidy levels and cap
Subsidies that are conditionally approved before Wednesday 15 April 2020 will still be eligible for the current subsidy levels and cap. Customers must also have their approved home battery installed within the timeframes outlined in the Scheme's Subsidy terms; 12 months for new builds and 6 months for any other property.


Who is eligible?
All households in South Australia are eligible for the subsidies, including renters who have permission to install solar power from the homeowner.


Finance/loan options
To further assist households, the Clean Energy Finance Corporation (CEFC) is offering $100 million in loans to help residents with the remaining out of pocket costs of battery storage, as well as provide finance for upgraded or new solar power systems to those who don't currently have one.


Act now to secure the current subsidy
The South Australian Government will be monitoring uptake throughout 2020 and further reductions to the subsidy may occur before the end of the year, so the sooner you act, the more money you will be able to save.
As a Qualified System Provider, Infinite Energy's South Australian-based team are available to answer any of your questions, discuss your options or provide you with a quote on a home battery system.
We can help you determine if you're eligible to participate in the Scheme, if solar or a battery is right for your home and how much you'll save, plus we take care of everything from start to finish so the process is simple and straight forward for you.
Contact us today to find out more.

back to blog