17 July 2017
SunPower's New 360W Panel Exclusive to Infinite Energy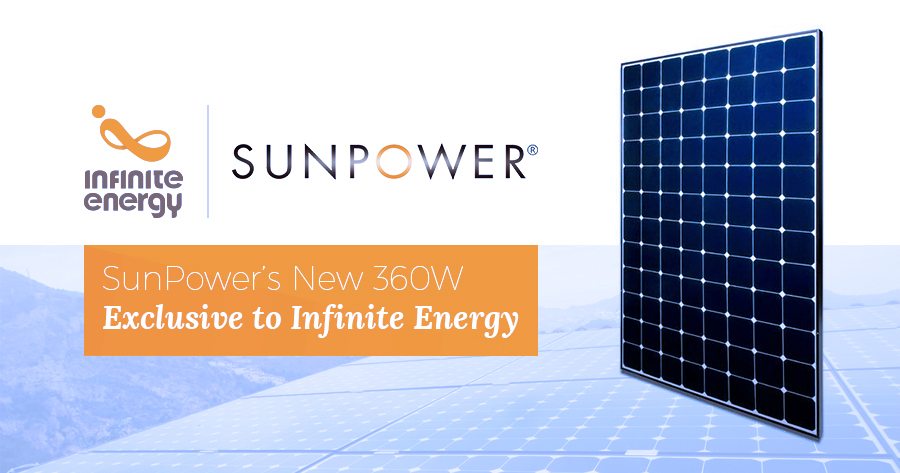 SunPower's most powerful panel ever, the X22-360W module, has arrived in Australia. As SunPower's exclusive Premier Partner in WA, we will be the only solar provider stocking the panel in the entire state.

Efficiency Above 22%


With efficiencies of above 22%, the SunPower 360W module boasts one of the highest efficiency module ratings in the world. This makes the panel ideal for installation where roof space is limited, of where expansion may be needed in the future.
A high efficiency rating is also a key indicator of the quality of your panel. When a solar panel manufacturer can produce a panel with a high efficiency, it shows consumers they've invested heavily in R&D, and that the panel will perform decades into the future.
Maximum Performance


SunPower 360W modules have been designed to deliver maximum energy in real-world conditions faced by Australian home and business owners. This includes both shading and extremely hot rooftop temperatures.
X-Series modules are proven to produce up to 38% more power per panel than competing panels, which equates to 70% more energy generated per square foot over 25 years. This translates into greater electricity savings for your home or business, and a quicker payback period.
Maxeon Technology


All SunPower panels, including the 360W module, are built using patented Maxeon Technology in order to deliver unmatched reliability.
Maxeon Cell
Conventional Cell
No Grid Lines
Thanks to no grid lines on the front of the cells, SunPower cells absorb more sunlight.
Grid Lines
Due to grid lines, conventional cells reflect light and corrode, causing power output to drop.
Solid Copper Backing
A thick copper foundation adds massive strength, and makes SunPower almost invulnerable to corrosion. 
Metal Paste
Metal paste does not add any strength, allowing the module to crack and lose power when exposed to extreme temperature fluctuations.
Thick Connectors
Thick connectors ensure daily temperature swings, which can cause expansions and contractions, do not strain the solar panel cells.
Thin and Weak Connections
If a connector is lost, an entire cell can die, putting your whole panel at risk.
Engineered for Peace of Mind


SunPower 360W modules have been designed and manufactured to generate consistently high energy outputs for over 40 years. Thanks to high-performance anti-reflective glass and no light-induced degradation, SunPower 360W panels were ranked number 1 in the Fraunhofer durability test, and maintained 100% of their power in the Atlas 25+ comprehensive durability test.
Performance and Product Warranties


SunPower 360W panels are covered by a comprehensive 25-year performance warranty that guarantees 95% of its nominal nameplate power for first 5 years, and a degradation of just 0.4% per year until year 25.
Their industry leading 25-year product warranty covers both labour and warranty costs, giving consumers the ultimate protection.
SunPower has a reputation for producing the world's best solar panels, and their new 360W modules is no exception. To check out SunPower's new 360W panel in the flesh, visit our showroom and head office located at Suite 3, Level 3, 85 South Perth Esplanade, South Perth.

back to blog