23 September 2016
Tier 1 Solar Panels - What Does it Really Mean?

Tier 1 Explained
There's a widely believed myth that when it comes to choosing the right solar panels, Tier 1 means good quality.
And while Tier 1 is a great place to start when choosing your solar panel brands, the truth is not all Tier 1 panels are created equal.
To begin, let's take a look at what qualifies a panel to become Tier 1.
The Tier System
To be classified as Tier 1, module manufacturers must have provided own-brand, own-manufacture products to six different projects, which have been financed non-recourse by six different (nondevelopment) banks, in the past two years.
With absolutely no criteria in terms of solar panel components, production and quality, Tier 1 classification is purely a measure of industry acceptance.
In fact, there are many documented examples of quality issues or bankruptcy of Tier 1 manufacturers, which is why even Bloomberg New Energy Finance, the creators of the Tier system, say their list should not be used as an indicator of quality.
"We strongly recommend that module purchasers and banks do not use this list as a measure of quality, but instead consult a technical due diligence firm." 


Tier System Myth – The Tier Triangle
This widely circulate Tier Triangle was not created by Bloomberg New Energy Finance, and has no bearing on the criteria needed to become a Tier 1 panel. Because it is so well known however, we still want to address the criteria listed, and why you shouldn't be using it as an indicator for panel quality.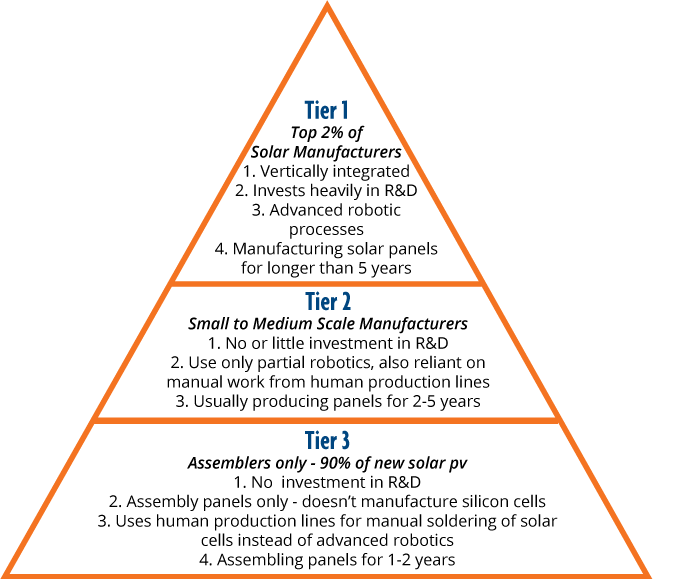 Vertically Integrated
Vertical integration refers to solar manufacturers who manufacture their panels from the ground up. This mean they control everything from the production of silicon cells, right through to panel assembly.
Vertical integration is designed to give the manufacturer more control over their value chain, resulting in higher quality products.
Although great in theory, it's not uncommon for vertically integrated Tier 1 manufacturers to outsource some of their panel production to lower tier panel manufacturers. So, while you might think the panels you're purchasing are from a Tier 1 factory, they could actually be coming from a factory with an inferior manual assembly line and much less stringent quality control.
Invests Heavily in R&D
In order to become Tier 1, the solar panel manufacturer has to invest a substantial amount of time and money into the research and development of their products and processes. The idea is that this investment will lead to better quality and increased innovation.
While we agree that investment into research and development is highly valuable, the definition of what exactly constitutes "heavy investment" is not clear. A manufacturer could spend 10 times as much as another on R&D, and still be classed in the same tier.
Advanced Robotic Processes
All Tier 1 solar panels must be produced through highly automated manufacturing techniques. This is designed to guarantee panels are of an extremely high standard of quality, consistency, and reliability.  
However, just because a manufacturer has robotic production lines, doesn't mean they haven't cut costs on cheaper components that make up the panel. This includes back-film, EVA, connectors, junction boxes, and framing.
This is why even Tier 1 panels can suffer from the panel yellowing, delamination, micro-cracks, moisture ingress, connector and junction box failures typically associated with cheap, lower tier panels.
Manufacturing Solar Panels for Longer Than Five Years
While a track record of over five years speaks to the longevity of the company and its ability to rectify future potential warranty claims, it has very little to do with the actual quality of each individual panel.
Bottom Line
At Infinite Energy, while we think Tier 1 is a great place to start when deciding on what panel to choose, it's definitely not the only or the most important factor you should be considering.
Instead of taking a panel of Tier 1 classification at face value, we recommend you research the following criteria.
What You Should Really be Looking for in Your Panels

Warranties
In the event that something goes wrong with your panels, you want to make sure you're fully covered. The easiest way to ensure this is to read your manufacturer warranty, which can be found on all reputable manufacturer's websites.
Performance Warranty
Performance warranties, or power output warranties, typically last between 20 and 25 years, and will cover repairs/maintenance if your system's electricity production falls below a predetermined percentage of the panels' rated capacity.
SunPower, one of the best panels in the world and our premium model, offers a 25-year performance warranty with the lowest guaranteed degradation rate of 0.4%.
Product Warranty
Actually read the fine print of you warranty. If your parts warranty does not cover labour, you'll have to pay the cost of getting someone out to your house to take off the panels, ship them to the manufacturer, and install them again, which could cost you more than the panels themselves.
Infinite Energy is proud to stock SunPower panels that offer an industry leading 25-year unrestricted product warranty covering both parts and labour costs, and Canadian Solar panels which offer a 12-year product warranty.
 
Significant Australian Presence
Ensure the panel manufacturer you choose has a strong Australian presence, as it will be very difficult to make a warranty claim against a manufacturer if they have no presence in Australia. 
How much success do you think you'll receive calling up a Chinese company and demanding they fix your panels? Even if they do agree to do so, you're going to have to pay thousands of dollars to take them off your roof, ship them to and from China, and install them back on again.
At Infinite Energy, we don't import solar panels directly from overseas, only sourcing panels from manufacturers who have a significant presence in Australia. This provides you with multiple levels of warranty support.
Choose a Quality Inverter
You can install the best solar panels in the world, but if your solar inverter is subpar, you won't be converting anywhere near close to the amount of DC power your solar panels are producing into usable electricity.
To ensure your solar system produces great results, Infinite Energy recommends choosing a European inverter that complies with Australian Standards, has an efficiency of 95% or above, and has a warranty of at least 5 years.
 
Choose a Quality Installer
Installing a solar PV system isn't the same as purchasing a new fridge or TV. Essentially a power station on the top of your home, you want to make sure your solar PV system is installed by a quality company. This will ensure the safety of your home and family.
At Infinite Energy, all of our solar panel installers and system designers are fully licensed qualified electricians, accredited with the Clean Energy Council of Australia (CEC).
Infinite Energy is also one of only a handful of solar energy providers based in WA with a Clean Energy Council's Approved Solar Retailer status. Among other quality assurances, it means that in addition to the Product Warranties provided by component manufacturers, Infinite Energy backs all its systems with a full 5-year whole of system warranty, which includes on-site rectification.


When it Comes to Your Panels, Choose Wisely


When choosing your panels, don't fall in the trap of thinking all Tier 1 panels are of the same, comparative quality.
Do your research on the panel manufacturer's warranty, Australian presence and components. Don't rely on marketing catch-phrases like "Tier 1", "high efficiency" or "A-grade".
Ask your sales consultant about the point of difference for each panel, and don't be afraid to ask for a spec-sheet. Sales consultants from reputable solar providers who are selling quality panels will be happy to answer any questions you may have.
At Infinite Energy we take great pride in our no pressure, honest and informative sales approach. To discuss the potential of solar power for your home or business, please get in touch with one of our experienced energy consultants on 1300 074 669, or click here.

back to blog