03 January 2019
The Value of Investing in Battery Storage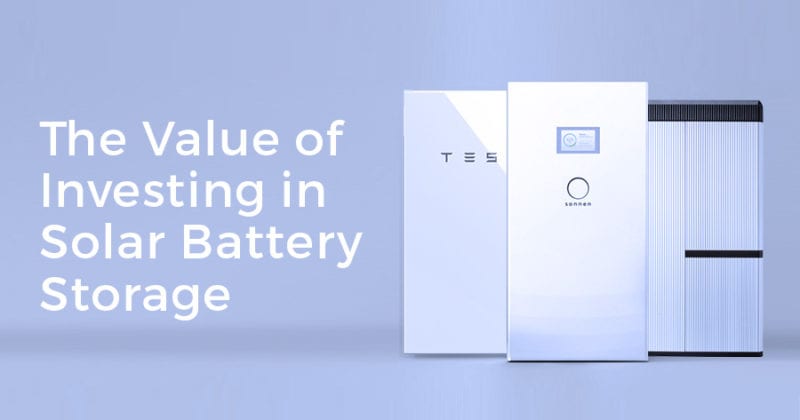 Battery storage represents a huge opportunity for Australian households. Firstly, it allows households to use a much greater proportion of the electricity generated from solar PV systems, improving the pay-back period associated with your PV system. Secondly, it minimises the need to purchase expensive electricity from the grid, which is only expected to continue increasing.  And thirdly, it provides Australians with the independence and autonomy to leverage their own electricity.
Together with rooftop PV systems, battery storage systems are shaping up to be the most economical solution for electricity.
Why invest in battery storage?
Pay Less for Electricity
Australia has some of the most abundant solar exposure, as well as some of the most affordable solar PV systems in the world. Over 1.8 million Australian households are already using solar to control their electricity bills.
Together with rooftop PV, battery storage allows households to utilise more of the solar PV electricity they generate and minimise the need to purchase increasingly expensive electricity from the grid.
A battery storage system can almost double a household's self-consumption of solar. Adding a 4-kWh battery to a 5kWh solar system can increase the amount of self-generated solar electricity a household consumes from 30 to 60%.
One of the biggest advantages of having a battery system is the fact that it allows a household to store electricity from the grid when prices are lowest (e.g during off-peak periods) and rely on their battery for power during the most expensive peak times (rather than the grid), thereby minimising their overall electricity costs.
Installing a battery could also potentially reduce the overall cost of electricity long term for Australian residents and businesses through reducing capacity charges. A capacity charge is typically based on your peak energy use during a specific time period and may be set annually or monthly. Essentially, a capacity charge is paying the grid operator to have the capacity to meet your peak demand, even if you rarely use your largest expected amount. Batteries can reduce this capacity charge by reducing peak demands; when overall peak demand is reduced, there will be less need for the grid to supply such a capacity.
Grid Stability and Support
Batteries can provide several benefits to the grid; they can manage peak demand, help balance short-term power fluctuations, and act as a backup to prevent or recover from power outages.
Network operators are also keen to have batteries become a prominent asset in Australian households and businesses, to work as part of a Virtual Power Plant (VPP). A VPP is essentially a network of individual solar PV and battery systems, that deliver excess solar energy back to the grid to disperse to the wider community. VPP's can make managing the grid less complex by better peak demand management and frequency control services. A VPP would also reduce the need for network operators to spend capital investment on upgrades to grid infrastructure.  
Growing Affordability of Batteries
Investing in a solar battery may actually cost a lot less than you think.
According to the Clean Energy Council, lithium-ion battery costs have fallen 80% since 2010 and are set to halve again by 2025. This considerable reduction in cost means a shorter pay-back period (the amount of time it takes for the savings created by battery storage to equal or exceed the installation cost of the system) and better ROI.
Prices become even more affordable if you choose to finance your system with RateSetter, a peer-to-peer lender that offers loans for clean technology products. With rates from as low as 8.81% per annum and no exit or early repayment penalties, RateSetter is one of the most competitive green loans available. 
Because price can fluctuate greatly depending on which brand and capacity you choose, we've compared our three most popular batteries in the table below.
| | | | |
| --- | --- | --- | --- |
| | Powerwall 2 | LG Chem RESU | sonnenBatterie |
| Capacity | 13.5kW | 6.6kWh and 9.3kWh | 2kWh to 18kWh |
| Efficiency | 90% | 95% | 98% |
| Warranty | 10 years | 10 years | 10 years |
| Retrofit | ✔ | ✔ | ✔ |
| Cycle Life | 3,650 charges at 100% DoD | 6,500 charges at 80% DoD | 10,000 at 100% DoD |
| Cost | From $14,000 | From $9,900 | From $10,990 |
Maintain Value in Energy
Initially, solar PV was greatly incentivised with feed-in tariffs. Today, many of these have been greatly scaled back or are no longer available meaning many Australians are only receiving minimal return for the clean energy they export back into the grid.
With a battery storage system, residents can be confident that their clean energy production will not lose its value, and instead be used for their own household needs.
Government Rebates
Currently there are several Government rebates available across Australia for solar PV systems, including STC's (Small-scale Technology Certificates). However, like feed-in tariffs, these are continuing to reduce each year and may soon be phased out completely.
While it is unfortunate that these incentives have reduced for solar PV, it could mean that the government may soon replace these with battery-focused rebates instead.
Recently, the South Australian Government has since announced their Home Battery Scheme, whereby households can access up to $6,000 in subsidies for home battery systems, as well as access to loans to finance battery and PV systems. Infinite Energy is a Qualified System Provider, offering customers premium battery storage solutions, including the Tesla Powerwall 2, sonnenBatteries and LG Chem Resu. 
Similarly, Queensland state government is providing rebates of up to $3,000 for households to invest in battery storage. There are a total of 1500 grant and loan packages, with 1000 solar panel and battery packages, and 500 battery-only packages for homes and business who already have solar panels.
In Victoria, the Labour government has been re-elected and have promised Victorians they will only have to pay half the price for solar panels and can do so with interest free loans to pay over four years. The other half to be funded by the Victorian government.
Western Australian Labour government has also indicated they may introduce a feed in-tariff to be offered to battery storage owners during peak times, to encourage batteries to discharge during these periods to take pressure off the grid.
The Federal Labour government has announced they will offer 100,000 households with incomes of less than $180,000, rebates of $2,000 to install residential battery systems if elected.
If you're interested in learning more about how solar battery storage could work for your home, contact us for a free, no obligation quote or call 1300 074 669.

back to blog