14 September 2017
Infinite Energy Partners with Finance Lender RateSetter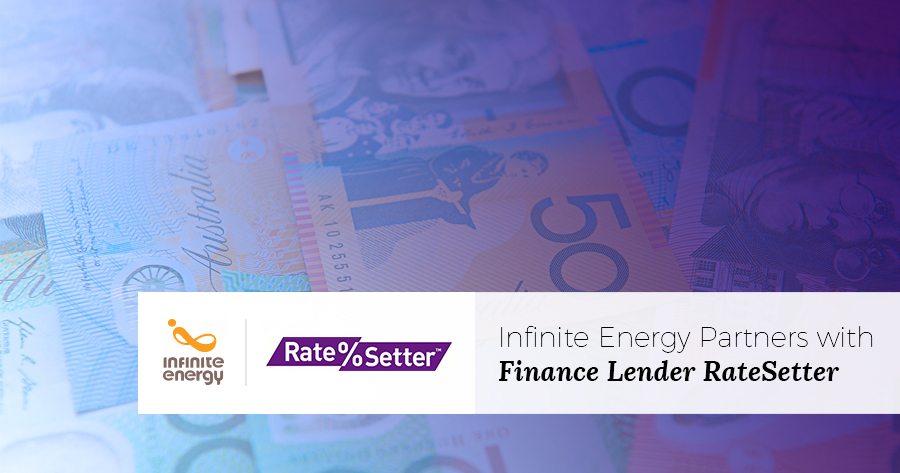 At Infinite Energy, we believe all Australians should have access to the financial and green benefits solar can provide.
To help make solar accessible for all homeowners, Infinite Energy has partnered with RateSetter in order to offer low rate finance for our solar PV systems, solar hot water systems, and battery storage products.
About RateSetter


RateSetter is a peer-to-peer lender that offers loans for clean technology products. Like Infinite Energy, they have an outstanding reputation for value and service.
The federal government's Clean Energy Finance Corporation has invested $20 million into RateSetter, marking the first investment by an Australian Government body through an Australian peer-to-peer lending platform.
Loans facilitated through the new lending market are for an indicative term of 7 years and will fund home and business loans for the purchase of clean technology, such as solar and battery storage.
Why Borrow with RateSetter?


Better Rates
With rates from as low as 6.50% per annum, RateSetter offers award-winning low-interest finance.
 Fast Online Applications
RateSetter allows you to apply quickly and easily online, and will provide approvals in as little as 10 minutes.
Flexible Loan Options
RateSetter offers finance for clean technology purchases $2,001 up to $45,000, for terms from six months to seven years.
Simply Smarter
With no exit or early repayment penalties, RateSetter is one of the most competitive green loans available. For more details, click here to view RateSetter's Terms and Conditions.
How Do I Apply for a RateSetter Loan?


You can apply for RateSetter Finance in four easy steps by visiting ratesetter.com.au/refer/infiniteenergy_green
 1) Estimate
A loan rate estimate will take just one minute on RateSetter's website and won't impact your credit score in any way.
 2) Application
If you're happy with your estimate, you can apply easily and quickly online in just five minutes.
 3) Approval
Depending on your circumstances, you may be instantly conditionally approved for a loan.
 4) Installation
Funds will be transferred directly to Infinite Energy, your solar PV provider.
RateSetter – The Bottom Line


Canstar, Australia's biggest financial comparison site analysed 290 personal loan products from 78 lenders in 2017. RateSetter became the first peer-to-peer lender to win a five-star rating for outstanding value by the site.
RateSetter is also the highest rated personal finance provider on independent review website ProductReview.com.au, earning a rating of 4.8/5 from actual borrows.
If solar or battery storage is currently outside of your budget, RateSetter can be a great way to finance your system. For an obligation-free rate estimate, simply visit ratesetter.com.au/refer/infiniteenergy_green
For more information about solar and RateSetter, you can request a no obligation callback with Infinite Energy by clicking here.

back to blog