28 February 2018
Top 10 Australian Green and Sustainable Living Blogs for 2018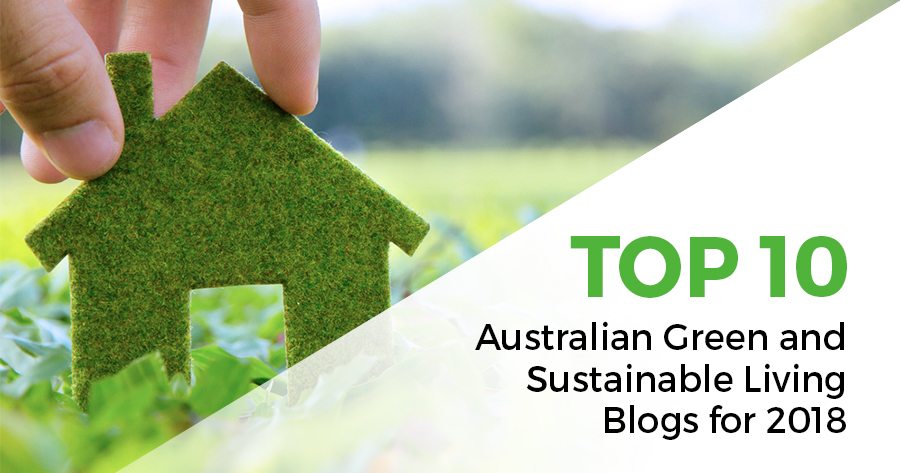 With energy prices sky rocketing and issues of sustainability and global warming becoming increasingly prevalent, more and more people are looking at ways to increase their sustainability.   
To help on your green journey, we've made a list of the Top 10 Australian Green and Sustainable Living Blogs for 2018.
1. Green Lifestyle Mag
Australia's leading green media title, Green Lifestyle is a great resource for reliable, well-researched and ethical information on living more sustainably.
Established in 2007, the Green Lifestyle's website is chock-full of features, videos, recipes, blogs and reviews on everything from veggie growing, cooking, DIY, beauty, fashion, travel, science and politics.
http://www.greenlifestylemag.com.au/
2. My Zero Waste
My Zero Waste aims to help readers significantly reduce and remove their personal contribution to waste and environmental contamination.
Through daily blogs, My Zero Waste will show you how to reduce your own landfill waste, sharing their own mistakes and successes in going waste-free.
3. Happy Earth
If you're interested in starting your own urban sustainable food garden, Happy Earth is the place to start.
With plenty of tips and articles about their own sustainable food and garden journey based in a typical house, ten minutes from the heart of Wollongong, NSW, Happy Earth will help you explore the possibilities of growing food, growing community and all things green.
4. My Green Australia
My Green Australia has all the tips you need to start living a more sustainable life in Australia.
Topics covered include home, garden, latest industry news, lifestyle, food, travel and green design.  Hot topics include the rise of solar power in Australia, as well as green weddings, carbon price scheme and DIY projects to try at home.
My Green Australia also directs you to recommended reading books for further information and green ideas, and resources to help you with the transition of making sustainable changes.
 http://www.mygreenaustralia.com/ 
5. ReNew
An online DIY sustainability magazine that focuses on technology and resources for a sustainable future, ReNew has been published by the Alternative Technology Association (ATA) since 1980.
One of the longest running sustainability publications in Australia, ReNew features articles on green living, energy efficiency, rainwater collection, renewable energy, sustainable homes and products, transport and more.
6. A Green Tasmanian Renovation
This blog provides a comprehensive guide on the sustainable, green renovation of a 1950's house in Northern Tasmania, Australia.
Offering a wealth of information, the blog offers a room by room renovation breakdown, focusing on sustainable or recycled products, solar power and alternative hot water systems.
https://greentasreno.wordpress.com/
7. The Rogue Ginger
With a mission to engage with individuals to redefine what waste is and how we can create less of it, The Rouge Ginger shows readers how to create a plastic-free and zero-waste lifestyle.
Founded by Melbourne local Erin Rhoads, The Rogue Ginger's semi-chronological list of resources is perfect for those starting on their own waste-free journey.
http://www.therogueginger.com/
8. Green Living Ideas
Green Living Ideas, provides ideas, tips, and information to help you 'greenify' every aspect of your life and home.
One of the most comprehensive green living websites on the web, Green Living Ideas has tips on how to live more sustainably in over 200 areas including home energy, green building and remodelling, cars, food, technology and waste recycling.
9. Ecowarrior Princess
Founded in 2010, Eco Warrior Princess covers topics including sustainable fashion, conscious business, green politics, feminism, eco beauty, wellness, and green technology.
Created by Jennifer Nini a writer, activist and certified organic farm owner, Eco Warrior Princess is made up of a team of passionate writers and industry experts from around the world.
Moving beyond the granola-hippie cliché, Eco Warrior Princess wants to change the way its readers perceive sustainability.
https://ecowarriorprincess.net/
10. Get Green Be Well
Get Green Be Well was founded by Kimberly Button, a green living expert, professional journalist, author, TV correspondent, speaker, editor and award-winning photographer.
Inspired by Kimberly's personal health battles, Get Green Be Well focuses on how readers can achieve a toxin-free life through healthy living, eco-travel and sustainability practice
Kimberly's articles have appeared in publications such as Martha Stewart's Whole Living, National Geographic Traveler, American Way, and Sierra, and has been quoted as a green living expert in major outlets including The Washington Post.
https://www.getgreenbewell.com/
You can check out our former list of Top 10 Australian Green and Sustainable Living Blogs here.

back to blog