11 June 2019
Top 10 Environment & Climate Change Documentaries on Netflix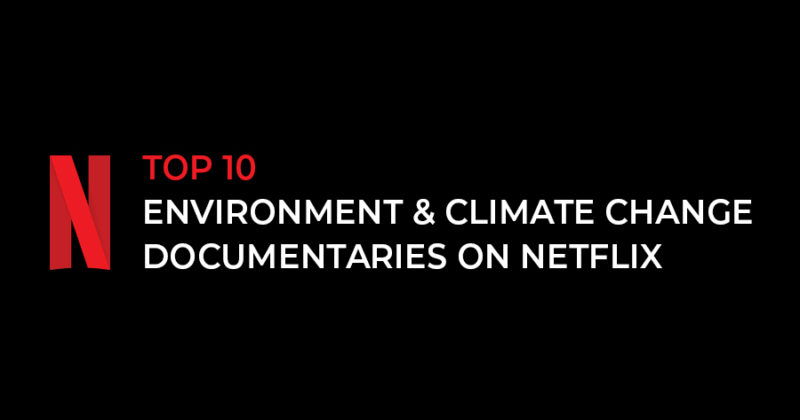 These inspiring, educational and visually captivating documentaries will certainly motivate you to act on climate change. We've compiled a list of the top 10 environmental documentaries to check out on Netflix (in no particular order):
A Plastic Ocean: 8/10 IMDb
A Plastic Ocean is an adventure documentary shot on more than 20 locations over the past 4 years. Explorers Craig Leeson and Tanya Streeter and a team of international scientists reveal the causes and consequences of plastic pollution and share some solutions.

Before the Flood: 8.3/10 IMDb
Actor Leonardo DiCaprio meets with scientists, activists and world leaders to discuss the dangers of climate change and possible solutions.

Chasing Ice: 7.8/10 IMDb
Using time-lapse cameras, James Balog and his team on the Extreme Ice Survey assemble a multiyear chronicle of the planet's rapidly melting glaciers.

Our Planet: 9.4/10 IMDb
Experience our planets natural beauty and examine how climate change impacts all living creatures in this ambitious documentary narrated by Sir David Attenborough.

Mission Blue: 8/10 IMDb
Mission Blue tells the story of world-renowned oceanographer Sylvia Earle as she travels the globe on an urgent mission to shed light on the dire condition of Earth's oceans.

Sustainable: 7.3/10 IMDb
Farmer Marty Travis watches his land and community fall victim to the pressures of agribusiness. Determined to create a proud legacy for his son, Marty transforms his profitless wasteland and pioneers the sustainable food movement in Chicago.

A Plastic Paradise: 7.5/10 IMDb
The invention of synthetic plastic created an era of disposable products. Watertight and endlessly malleable, plastic is the perfect invention yet, its miraculous durability is also its curse because it never goes away. Follow Angela Sun's journey of discovery to one of the most remote places on Earth, Midway Atoll, to uncover the truth behind the mystery of the Great Pacific Garbage Patch. 

Rotten: 7/10 IMDb
Local farming is fading as profit margins decide what food makes it to our plates. The six-part Netflix documentary series Rotten exposes the fraud, corruption, and the consequences on our health of today's global food industry.

Chasing Coral: 8.10/10 IMDb
Coral reefs around the world are vanishing at an unprecedented rate due to rising sea temperatures. Divers, photographers and scientists set out on an ocean adventure to discover the effects of coral bleaching and what it's doing to our ocean eco systems.

Catching the Sun: 6.8/10 IMDb
This documentary explores the growing solar-energy industry by profiling U.S. and Chinese workers and business leaders who are racing to make crucial breakthroughs in the field.

Documentaries are a great way to inspire us to make change, highlighting important issues we are often not aware of. We hope you enjoy these as much as we did!

back to blog