23 September 2019
Updates on The South Australian Home Battery Scheme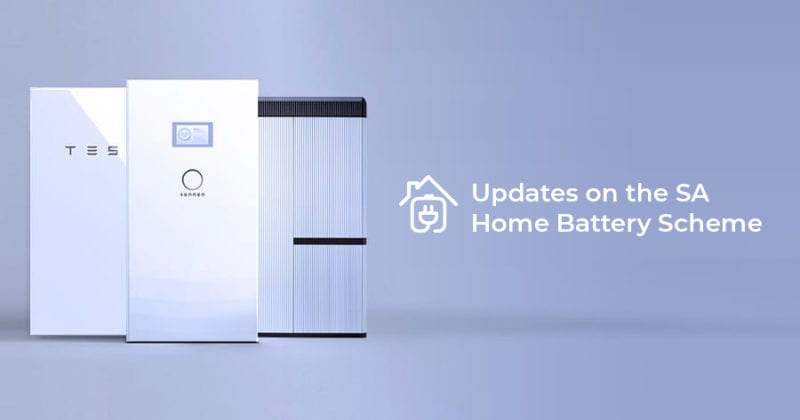 On October last year, the South Australian Liberal Government launched a Home Battery Scheme to give 40,000 households access to a state-subsidised solar battery system. The scheme will provide a $100 million worth of subsidised solar battery systems, with individual subsidies capping at $6,000, and is the biggest government incentive for batteries to date.
The program was launched to help South Australians reduce their energy costs and minimise blackouts.


Updates
It's been almost a year since the SA Home Battery Scheme was launched. Originally, only three brands were eligible for the scheme, but a further 10 more brands have since become part of their list of approved manufacturers. Consumers can confirm eligibility of a battery brand by checking if the Home Battery Scheme logo is included on their website and marketing material.
As of July, 2,300 subsidies have been approved. South Australian Energy Minister Dan van Holst Pellekaan says 70% of those who bought batteries via the subsidy program have already installed solar panels prior to their purchase. He adds that 1,500 batteries have been installed, with an additional 800 pending for installation. Subsidies will still be available in the coming months for South Australians and is far from running out soon.
Furthermore, Minister van Holst Pellekaan also talked about the possibility of expanding the Home Battery Scheme to other types of properties. The Marshall Government is considering the addition of rented apartments, property developers and aged care facilities to those that can fund their solar battery systems through the subsidy scheme.


Should you consider getting a battery?
Aside from reducing electricity costs, one of the key reasons the South Australia Home Battery Scheme was launched was to introduce battery storage as a solution for blackouts. Having battery storage stores a surplus of electricity that can be used during the evenings – when the demand for electricity is at its highest and most costly. Homes installed with battery storage will still have an electricity supply running through their homes even during grid outages.
Furthermore, the subsidy program only allows Clean Energy Council (CEC) approved retailers and installers to provide the battery systems. Infinite Energy has been a proud CEC-approved provider since 2015 and was part of the first group of installers approved for the Home Battery Scheme. As a Qualified System Provider, Infinite Energy ensures that those who wish to participate in the battery scheme are given only the best battery storage solutions, such as the Tesla Powerwall 2, sonnenBatterie, and LG Chem Resu.
To register for the SA Home Battery Scheme:
Complete the enquiry form or call us at 1300 074 669
You will then be in touch with an expert Energy Consultant in South Australia who will discuss how Infinite Energy can provide you with cost-effective electricity solutions with a solar and/or a battery storage system
Decide the financing option that works for you, accept the quote and we'll take care of everything else
Interested? Contact Infinite Energy today and we'll help you get started on getting your battery storage solution through the SA Home Battery Scheme.

back to blog