23 December 2019
VPP Scams: Don't Let it Happen to You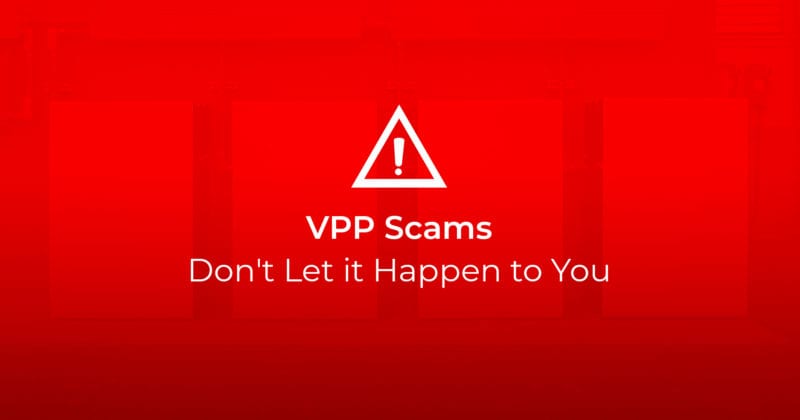 Just like any industry, the solar industry is susceptible to scams. It can be hard to differentiate what a legitimate deal is against a not-so-genuine offer as solar scams are often very convincing. They can involve businesses claiming to be offering excessive government rebates, cheap or free solar systems and components. In a time where there are a number of government rebate programs around Australia, how can you know if the company you have been contacted by, and the deal they are offering, is sincere?
Virtual Power Plant Scams
Lately, we've received queries from customers in Western Australia that have received invitations to register for a 'trial VPP'. A Virtual Power Plant, or VPP, is a network of solar PV panels and battery systems working together to generate, store and distribute energy between a community.
After some research into the offers and the companies themselves, we've concluded that these particular offers have a number of red flags consumers should be aware of.
In short, there are currently no true VPP's in WA because the residential electricity market is not deregulated (unlike the east coast). Any company trying to sign consumers up to a VPP are offering you the opportunity to take part in a VPP should the residential electricity market be deregulated in the future, or if they are granted special approval to run a trial program.
While this kind of offer isn't necessarily a scam, you should be aware of what you are signing up to if the ability to share energy between the community doesn't go ahead.
For example, we have seen one offer currently being advertised in the market as a Virtual Power Plant movement. As regulation stands right now, you would purely be signing up for a solar and battery system to be installed at your home for a fixed cost per week because you're currently unable to share your energy with others in the community. There are no guarantees as to how long it will be until this will be possible in Western Australia, so in the meantime, you are committing to some pretty hefty on-going costs for a simple solar and battery solution.
The cost works out as follows:
$292 upfront for the system to be installed (based on a standard 24 panel system)
+
$36.50 ongoing repayments per week for 10 years
=
$19,272.00 + your Synergy bills for additional electricity usage that isn't supplied by your system.
   
Other downfalls should also be noted, such as a hefty exit fee after the first year of $12,000 should you want to cancel before the 10 year contract period and the requirement to remain liable for the system in the event that you move home and the new homeowners don't want to take on the remaining contract period.
While you're not necessarily being "scammed" in this example, consumers should be aware that the VPP part of the offer the company is pitching them may not actually go ahead and if that's the case, the rest of the offer isn't particularly appealing.
What to watch out for
Any company signing you up for a Virtual Power Plant offer that doesn't actually allow you to share energy between others in the community is being somewhat deceptive. While they may be hoping or assuming legislation will change in the future, they can't offer consumers a guarantee when (or if) this will happen.

That's not to say that some entities won't be granted special exemptions to run VPP trials in Western Australia, but be sure to check that this is the case before signing up.

In addition, offering a "subsidised battery" or ''discounted battery" in exchange for participating in a "VPP" or "micro-grid" is most likely just a marketing tactic to create a sense of urgency or fear of missing out on a "limited time only" offer. High-pressure sales are often done by companies who want to make a quick sale, to avoid the customer looking further into their offer or doing any research.
There are also currently no battery subsidies being offered by the WA government, so any material stating you will receive a subsidy is cause for concern. You can check your state government rebates on our website here.
That's not to say the company isn't still offering you a battery; however, these batteries are often over-priced, undersized or not discounted at all so ensure you do adequate research on what a quality battery is and what size is needed for your solar PV system.
Before signing up, be sure to:
Sit down and work out the actual cost of what you're signing up to over the term of the agreement
Research the brands and products you're being offered
Do a background check on the company you would be signing up with
Be confident you are aware of all the inclusions, exclusions and fine print of the offer
What to do if you have been targeted by a solar scam
If you are the target of a scam, please report it to the Australian Competition and Consumer Commission (ACCC) via the SCAMwatch website or by calling 1300 795 995. They will be able to supply you with the best steps of action to deal with the situation.
If you are unsure if you've been targeted, we also recommend you type the name of the company who have contacted you into Whirlpool. This is a great forum website where users can openly discuss and dissect a number of topics, including a number of solar scams that occur.
If you would like any further information, or would like to discuss your solar options, please contact us today. 

back to blog