06 May 2020
What the Distributed Energy Resources Roadmap Means For You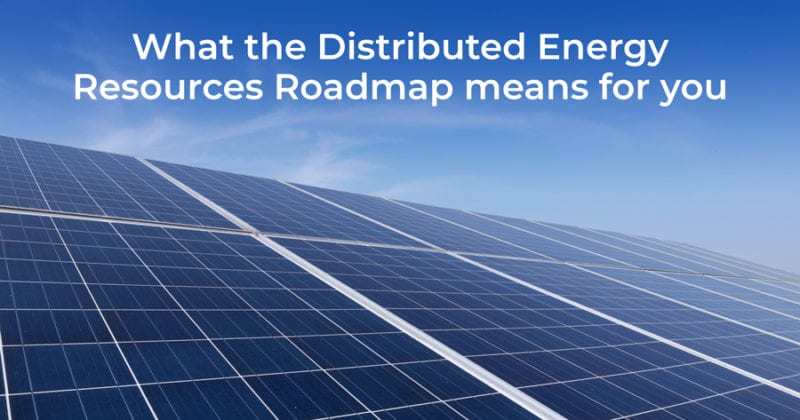 The Distributed Energy Resources Roadmap (DER Roadmap) has recently been released by the Energy Transformation Taskforce, an initiative of the WA state government. The Roadmap facilitates a major transformation of WA's electricity industry and deals with the switch from a coal and fossil fuels to a grid dominated by renewable energy and battery storage.
Distributed Energy Resources, or DER, are smaller-scale devices that either use, generate or store electricity such as renewable energy generation like rooftop solar PV systems and energy storage like batteries, as well as electric vehicles and technology that consumers can use at their premises to manage their electricity demand.
What is the DER Roadmap?
The DER Roadmap is a five-year plan that is designed to guide the integration of all DER and ensure that the benefits of these resources are shared across all members of the community. It also identifies challenges and opportunities for the way we produce, manage and consume electricity in our state.
Though WA does not have a significant amount of large-scale wind and solar, the state has been among the leaders in the uptake of rooftop solar, which, according to the DER Roadmap, has been installed by one in three households, so any changes implemented will affect a large number of West Australians.
What changes are being suggested by the DER Roadmap?
There are many proposed changes from the DER Roadmap in relation to electricity distribution in WA, the most significant of which being changes to energy tariff structures to better reflect the real-time cost of power, help shift consumption habits to improve network reliability, and to aid in the investments of further DER such as batteries.
Additionally, there is provision for the de-regulation of electricity retailers for residential customers to align WA with the Eastern states; currently, only commercial customers in WA have a choice of retailer.
How will these changes affect me?

If you currently have solar, the DER roadmap will encourage you to change your energy usage habits to self-consume as much of the electricity generated by your panels as possible, which we always recommend to maximise your solar savings. One of the best ways to ensure that you make the most of the power that your solar panels are producing is to install a solar battery. Infinite Energy strongly recommends purchasing a battery with any solar installation as by incorporating a battery into your solar PV system, tariff structure changes will have less of an impact because you'll be at a higher level of self-sufficiency vs having just solar panels.
The changes suggested by the DER Roadmap also mean that residential customers may get a choice of electricity retailer. Already a successful retailer of choice for commercial customers, Infinite Energy celebrates the plan to de-regulate the electricity retail market for residential customers in Western Australia. In participating as a retailer, customers could have the choice of a range of cost-saving plans, including the option to receive a feed-in tariff. While this option is still yet to be officially announced, you can register your interest in a better electricity plan from Infinite Energy and we will keep you up to date as any changes progress.
No matter what the future of energy in Western Australia may be, Infinite Energy is on hand to help you navigate through changes proposed by the DER Roadmap and to ensure that you are getting the most out of your solar PV system. Get in touch with one of our energy consultants today to learn more about the impacts of the DER Roadmap or to get a quote.

back to blog