18 May 2018
Why an Interest Free Loan May Not Be as Cheap as You Think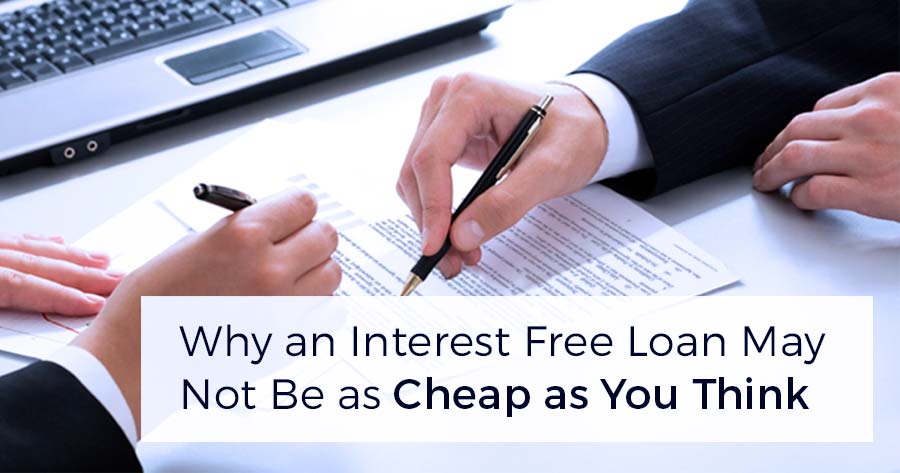 If you're considering investing in solar but are unable or reluctant to pay for the system upfront, you may be looking at an interest free loan.
Compared to the incredibly high rates of credit cards and personal loans, interest free options can seem too good to be true.
Unfortunately, that's often because these kinds of loans don't come without a catch. This blog will explore why interest free loans may not be your best option, and what other loans you should be considering instead.
How do Interest Free Loan Providers Make Money?


It should go without saying that loan providers are businesses that function to make a profit. So, if they're not making a profit from interest, how are they making their money?
While they may not be charging you interest, these loan providers are making money from numerous fees and charges you are required to pay throughout the life of your loan.
Plus, many solar providers are charged a percentage of the sale, which, in order to also make a profit they pass onto you, the consumer.  
Interest-Free Charges on the Purchase Price


While the exact amount you pay for your solar PV system will depend on the loan amount, term, and initial deposit amount, it is usually around the 20% mark.
For example, if the system outright could be purchased for $5,000, you can expect to instead pay $6,000 if purchased through an interest free loan.
This is why many solar companies will have two different prices – a cash price and a financed price.
Interest-Free Charges on the Loan


Choosing an interest free loan also means you'll probably get hit with the following:
Monthly account fees
Payment processing fees
Customer establishment fee
Late payment fees
Change of details fees
Collection fees
Repeat purchase fees
Depending on the length of your loan, this can quickly add up to hundreds of dollars per year.
Remember - You're not Protected Under the National Consumer Credit Protection Act


While the Australian Federal Government has laws designed to protect constumers who borrow money, the interest-free loophole means lenders are not regulated by the National Consumer Credit Protection Act.
The Clean Energy Council explains that as a result:
In the event of a dispute, you may not have access to the impartial dispute resolution scheme that has been approved by the Australian Securities and Investments Commission. This means that you may have to go to court to resolve a dispute with the provider.
If you are unable to make your payments, you may be unable to apply for a hardship variation to change the terms of your loan.  
If you are unable to make your payments, your lender may take action against you for non-payment.
Who Infinite Energy Recommends


To ensure you purchase the system at the best price, with a loan that will leave you in the best financial position, we recommend RateSetter. A peer-to-peer lender that offers loans for clean technology products, RateSetter has an outstanding reputation for value and service.
The federal government's Clean Energy Finance Corporation has invested $20 million into RateSetter, marking the first investment by an Australian Government body through an Australian peer-to-peer lending platform.
Why Borrow with RateSetter?


Better Rates
With rates from as low as 6.50% per annum, RateSetter is one of the most affordable and valuable loans available. While this is still 6.50% more than a no interest loan, you're not having to pay an inflated purchase price, or a number of fees throughout the life of your loan.
Fast Online Applications
RateSetter allows you to apply quickly and easily online, and will provide approvals in as little as 10 minutes.
Flexible Loan Options
RateSetter offers finance for clean technology purchases of $2,001 up to $45,000, for terms from three to seven years.
Simply Smarter
With no exit or early repayment penalties, RateSetter is one of the most competitive green loans available. For more details, click here to view RateSetter's Terms and Conditions.
The Bottom Line


Choosing a transparent lender like RateSetter over a no-interest lender can save you over $1,000 on the life of your loan.
We recommend you always do your own research into any company you are looking at taking a loan out with to ensure they are the right fit for your circumstances. This should include comparing interest rates, repayment amounts and any additional fees, reading customer reviews and reviewing the contract in full before signing.
To learn more about solar financing options, request a no obligation callback by clicking here, or calling us on 1300 074 669.

back to blog