11 May 2020
Why the Benefits of Solar for Property Investors Are Too Good to Ignore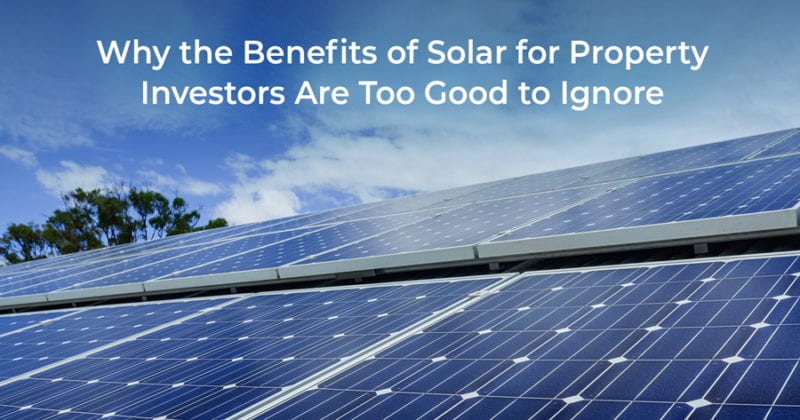 Solar energy is especially welcomed in Australia. In March 2020, more than 2.37 million Australian households have installed solar panels on their roof. The number of installations is still on the rise, as more and more homeowners understand the ongoing benefits it provides. However, despite these figures, there is almost no solar on the rooftops of rental properties.
The uneven solar take-up between homeowner and investor is largely due to a misalignment of benefits and costs, a term referred to as 'split incentive'. On one hand, landlords have little incentive to install solar on their rental property, as only the tenants will benefit from the reduced electricity bills. On the other hand, it's unlikely that a tenant will willingly pay for a solar system themselves, as they can't take it with them when they move out. But how can we start to look at this differently?
Extra rent
A study by Origin Energy revealed that tenants may be willing to pay more rent for a property with solar. It was found that 55% of renters would be willing to increase their weekly rental costs by $10 for a property with solar.
In some cases, solar can save households over $1,500 a year on electricity bills; an extra $500 a year on rent is a no brainer for many.
It's also worth noting that landlords can use solar power as a way to differentiate their property on the market. Solar power is widely becoming the new norm, and a solar PV system on a rental substantially increases the attractiveness of the property.
The survey also revealed 57% of people would pay at least $10,000 more for a house with solar panels than one without, meaning investors who plan to sell a property down the track may be able to recoup the installation costs.
Payback periods and profit
As with any property decision, an investor needs to take a long-term view to reveal the true benefits. While it may seem unlikely to expect a landlord to outlay $4,000+ for a solar system, noting payback periods is an excellent place to start. A good quality solar system should last 25 years. Recent figures show that the average payback period for a 6kW system in Perth is between 2.5-5 years, although this will vary slightly state by state.
In the case of having your system paid off through the increase in weekly rent by your tenant (as well as factoring in annual market-rate increases), it is likely your payback period will be 5-10 years. However, that still leaves 15 – 20 years of savings that you can pocket, plus tenants that are more likely to stay long-term.
The benefits of depreciation
Many investors already know the several benefits of depreciation. The ATO has determined the effective life of a solar PV system to be 20 years. Through a method called 'diminishing value', investors can claim a 10% decline in a solar systems' value each year.
For a $4,000 system, an investor could claim $400 in the first year, $360 in the second year, $324 in the third year and so on. Over a 10-year period, this equates to more than $2500 worth of deductions, which can ultimately offset the tax payable on the extra income.
The bottom line
Solar power is an investment that can benefit both the tenant and the landlord, creating a win-win situation. If you are considering installing a solar system on your rental property, contact us today for a quote. From there you can discuss things further with your accountant and have a chat with your tenant to see if they would be interested.

back to blog