14 July 2021
Canadian Solar extends product warranty to 25 years on popular solar panel range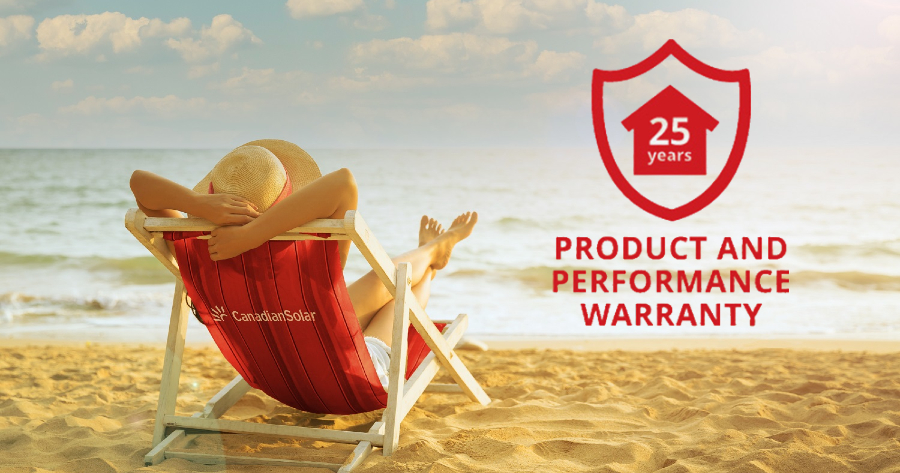 Canadian Solar have been providing quality solar panels to customers in over 150 countries for the past 20 years. The company has always been a global leader in the solar industry for their high-quality panels, value for money and excellent reputation.
In exciting news, Canadian Solar have announced they have extended their product warranty on a popular range of selected residential solar panel modules from 12 years to 25 years, making the warranty on these panels significantly more superior than other panel brands in a similar price range.
Product versus performance warranties - what is the difference?
All solar panels come with two kinds of warranties; a product warranty and a performance warranty, and it's important to carefully consider what is included in both.
The performance warranty guarantees a panel's performance won't drop beyond a certain point over a certain period of time. Most performance warranties are for 25 years, with the main difference being how much power your panels are still guaranteed to produce over those 25 years.
The product warranty, which is considered the more important part of the warranty for homeowners, covers defects in materials and workmanship. Essentially, if a panel stops working or performs poorly if due to no fault of your own, you are entitled to a repair, replacement or refund.
The extension of Canadian Solar's product warranty emphasises the confidence they have in their panels and their capability to stand the test of time.
The details for this warranty are as follows:
25-Year Limited Product Warranty
This Limited Product Warranty guarantees that for 25 years, the applicable solar panels shall be free from defects in materials and workmanship which have an adverse effect on solar panels' functionality under normal application, installation, use, and service conditions as specified in Canadian Solar's standard product documentation.
The new 25-year Product Limited Warranty will apply to all residential rooftop installs from 1st July onwards using the following products:

 *   CS3L-XXXMS black frame or all black module
 *   CS3N-XXXMS black frame or all black module
 *   CS7A-XXXMS black frame or all black module (new product – details coming soon!)
All Canadian Solar panels also already come with a 25-Year Limited Performance, the details of which are covered below:
25-Year Limited Performance Warranty
This Limited Performance Warranty guarantees that for a period of 25 years, the applicable solar panels will maintain a level of performance as per below:
During the first year, Canadian Solar guarantees the actual power output of the solar panel modules will be no less than 98% of the labelled power output.
From year 2 to year 25, the actual annual power decline will be no more than 0.55%; by the end of year 25, the actual power output will be no less than 84.8% of the labelled power output.
For more information on these warranties and their applications, please click here.
About Canadian Solar
Canadian Solar is an award-winning, leading global manufacturer of solar panel modules, who have delivered over 55 GW of solar modules to thousands of customers in more than 160 countries, enough to meet the renewable energy needs of approximately 14 million households.
To achieve operational excellence and ensure high-quality products, Canadian Solar have 442 quality control points for every module product from raw material to product delivery. With over 595 experienced R&D specialists, these quality checks ensure that Canadian Solar products are built to last for 25 years and even longer meeting the highest standards.
Residential solar customers can enjoy peace of mind when selecting Canadian Solar for their panels due to the extended product warranty, quality materials, workmanship, sophisticated technology and practical innovations of Canadian Solar.

If you'd like more information on Canadian Solar panels or would like a free, no-obligation quote, please contact us today by clicking here for a call-back or call us on 1300 074 669.

back to blog