07 February 2017
Canadian Solar Panels Ranked #1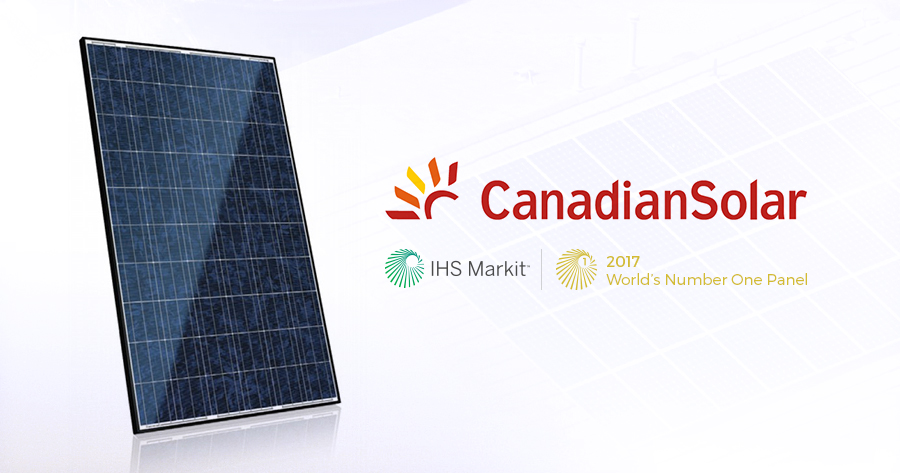 Canadian Solar, one of our most popular panel brands, has been ranked as the world's number one panel in several criteria by IHS Markit.
A global analyst group, IHS is the foremost source of information on international markets and economic developments. Their Technology Team gives businesses and governments around the world an unparalleled insight into sectors including solar, IT, media, the automotive industry, electronics, and more.
In IHS's 2016 PV Module Customer Insight Survey, which is conducted annually, Canadian Solar was ranked as the number one supplier in terms of not only quality, but also price/performance ratio.
These two criteria were identified by those surveyed as the two top reasons for recommending a specific solar panel brand to family or friends, making it no surprise that Canadian Solar was also ranked as the number 1 most purchased and recommended brand.
Chairman and Chief Executive Officer of Canadian Solar, Dr Shawn Qu, was understandably thrilled with the survey's results, commenting, "We are honoured to see our dedication to product quality and customer value reflected in PV module buyers. Our quality control starts from where our bill of materials are produced."
While the ranking is a great selling point for the company, Dr Shawn Qu trusts that Canadian Solar's commitment to quality is still their best marketing tool, "We believe the best marketing comes from consistently delivering the highest quality product with the best product value to enable customers to achieve their highest investment return."
About the IHS Markit PV Module Customer Insight Survey


IHS Markit run its solar survey between August and November every year, and survey PV module buyers including installers, integrators, and distributors across the globe.
The PV Module Customer Insight Survey is always independent of all module suppliers, and the number of respondents for each question varies as not all are mandatory.
Results of the survey are used by PV module suppliers to gain an in-depth understanding of their customer's motivations, opinions, and buying habits.
About Canadian Solar


Over the past 16 years, Canadian Solar has grown to become one of the leading companies in the solar PV panel market. Originating in Canada, Canadian Solar has distributed almost 18GW of modules to over 90 countries across the globe. Showing no signs of slowing down, Canadian Solar exhibit an unparalleled commitment to supplying customers with the best quality and price performance solar panels in the world.
Their new Smart DC Module, designed with the innovative integration of Canadian Solar and SolarEdge technology, is equipped with a built-in SolarEdge power optimiser. This addition effectively eliminates power mismatch between panels due to degradation, and significantly decreases any production losses due to shading.
This results in up to 25% more energy harvested per panel, faster and more flexible installations, and industry leading monitoring at the panel-level.
For more information about Canadian Solar's award-winning panels, including the new Smart DC Module, give Infinite Energy a call on 1300 074 669, or click here for a no obligation callback.

back to blog