31 August 2020
FAQ: How the Latest REBS Changes Will Affect You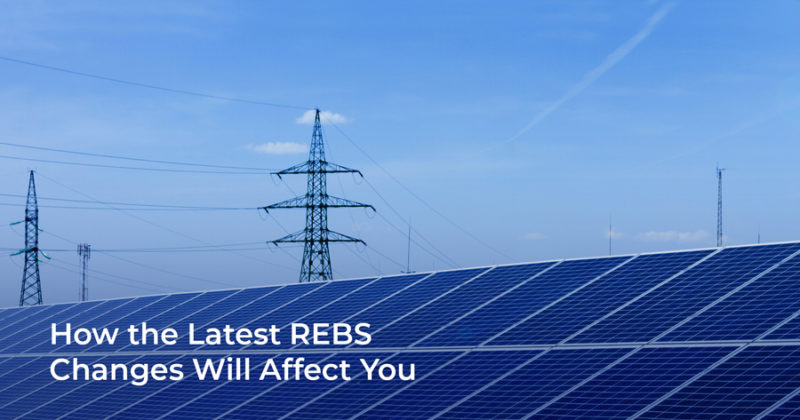 The WA Government recently announced that the Renewable Energy Buyback Scheme (REBS) will be replaced by the Distributed Energy Buyback Scheme (DEBS) for eligible new and upgraded systems. This reform, part of the Distributed Energy Roadmap, is designed to encourage households to self-consume the power generated by their solar PV system. It also aims to direct excess solar PV energy to the electricity network when required, which in turn helps stabilise the electricity network.
Customers currently in the process of installing a new system have until 7 September 2020 to submit their application for REBS. Any applications submitted after this date will receive DEBS. 
The key financial benefits of installing solar PV are:
Reducing the amount of electricity you need to purchase from the electricity network. Currently the rate of electricity is 28.82c per kWh.
Exporting power to the electricity network for a buyback rate, providing you with a credit on your electricity bill.
REBS (applications received up until 7 September)
DEBS (applications received after 7 September)
7.13c per kWh: exported to the electricity network at any time
10c per kWh: exported to the electricity network between 3pm and 9pm
3c per kWh: exported to the electricity network before 3pm
What impact does this have on the return on investment (ROI) of a typical solar installation?
Savings from a solar system is ultimately determined by the ratio of:
Power you consume (offsetting against 28.82c)
Power you export (previously 7c, soon to be 3c/10c per kWh).
The ratio will differ depending on your household's consumption habits, such as time of the day when people are home, what devices you're using, and whether you have battery storage.
For a standard home with 6kW of solar with no battery storage, assuming a ratio of 50% power consumed vs 50% sent to the electricity network, the annual difference in savings between the two schemes will be approximately:
$1,950 saved under REBS, the existing scheme
$1,720 saved under DEBS, the new scheme.
The difference in ROI between REBS and DEBS is minimal and still makes solar a great investment. You can influence the amount you save by managing your power consumption profile to self-consume as much energy as you can during the day.
Who do these changes impact?
The changes only apply to new solar customers, or anyone who upgrades their system. Those with a solar system already installed can remain on REBS if they prefer.
When do the changes come into effect?
DEBS will replace the existing Renewable Energy Buyback Scheme (REBS) for eligible new and upgraded systems. While the final date for REBS applications to be submitted is 7 September 2020, DEBS will come into effect on 6 November 2020.
If your system is installed prior to this date, eligible DEBS customers will receive the REBS rate of 7.13c per kWh up until the 6 November to allow for technical upgrades.
From this date, other distributed energy systems such as household batteries and export-capable electric vehicles will be able to export stored energy to the electricity network.
What does this mean if you're looking at installing a solar system?
Infinite Energy submits REBS applications to Synergy on behalf of our customers. Applications for REBS close on 7 September 2020, so if you're currently in the process of purchasing a solar system, we ask that you return your paperwork by Midday, Thursday 3 September so we can lodge it in time.
From 8 September 2020, Infinite Energy will submit applications for DEBS for new or upgraded systems.   
Is there still a benefit to installing a solar system?
Ultimately, yes, there's still a lot of value in installing a solar PV system. Most of the benefit derived from installing solar is from having to avoid buying expensive electricity from the electricity network, currently 28.82c/kWh.
The ratio between how much energy you consume, and how much you export back to the electricity network is the key to making the most of your system; the more you consume, the more you'll save, and the difference in savings between the two schemes is minimal.
Why the change?
1 in 3 households in WA have a solar system installed, which creates a challenge for electricity network reliability, which could potentially cause blackouts if not addressed. These changes aim to encourage:
Behaviour change by promoting self-consumption of the power solar systems generate, and
Investment in batteries and electrical vehicles that increase the self-consumption of power generated by solar and/or dispatch power to the electricity network, earning homeowners 10c/kWh

The electricity network pays more for extra power when an increase in generation is needed to meet an increase in demand.


How can you make the most of your solar PV system/battery?
To ensure you're getting the most out of your system, we recommend:
Self-consuming as much of the energy your solar PV system generates as possible. Consumption monitoring can help you keep track of your usage habits.
Consider investing in a battery to store excess energy your system produces. You can then consume this when your system isn't producing energy, such as at night or on cloudy days.
Where possible, have your solar panels installed in an East/West configuration to make the most of the evening DEBS buyback rate.
Synergy's website has more details on the changes. If you'd like more information, you can send us an enquiry or call us on 1300 074 669.

back to blog